Amboseli Tortilis Camp
Amboseli Tortilis is one of the Luxury accommodation in Amboseli National Park which is on its own private conservancy. It faces Africa's largest mountain Tortilis, one of our favorite properties in Amboseli. With a lifetime of experience behind the guides at the camp, it is said that they know every individual elephant. Also they know each hyena den and the vast majority of migratory birds that make their way to Kenya!
Location
The camp is in a conservancy called Kitirua, bordering the south west of Amboseli National Park. The conservancy is very large, and with no fences dividing the land, the game in the conservancy is often just as rich as it is inside the park. Elephant herds as well as bird viewing is particular good in Amboseli and with a backdrop of the mountain, it is one of the most photographed park in East Africa. Its location in a private conservancy also allows a more varied and exclusive game viewing experience.
Layout
Tortilis camp has 16 spacious tents, each with a mountain view and its own private verandah. The main mess area comprises of a spacious dining room overlooking Kilimanjaro. It also has exceptionally friendly staff serving guests at individual tables from a menu boasting the use of only fresh, homegrown vegetables. The camp also has a swimming pool and a spa, offering massages, manicures and pedicures to wind down from a busy day in the bush!
Rooms
Each tent has a double or twin bed, an en-suite bedroom and also a verandah to enhance the view on offer. As like other safari tents across East Africa, they stand with makuti- a thatching made from the sun-dried leaves of the coconut palm. The most recent tent edition is the Private House, accommodating up to five guests with a spacious sitting and also a dining room. Guests staying here, and in the Family Tent, can enjoy a private swimming pool in the camp.
Activities
Game viewing at Tortilis Camp raves, and rightly so, about its guiding level and expertise. Most of the staff are local, building further every day on their official guiding qualifications. With the majority of camps located to the east of the park, hence using the eastern gate entrance, guests at Tortilis Camp can enjoy an almost private Amboseli in the west, on either game drives or guided bush walks. Tortilis also offer cultural visits, bush breakfasts, sundowners in idyllic locations and can even organize weddings
Ol Donyo Lodge
"A stunning lodge in the foothills of Chyulu Hills"
Sitting between Amboseli and Tsavo East National Park, Ol Donyo is a timeless favourite! Offering ten private cottages and a range of facilities and safari activities such as bush walks, horse riding, hiking, mountain biking, conservation programs and many more, this property is competing for the best in its area..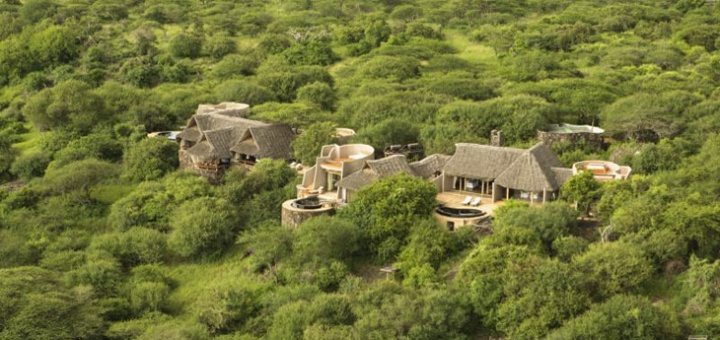 Location
The lodge sits in between Amboseli and Tsavo East National Parks, bordering the foothills of the Chyulu Hills. It is situated on a private group ranch of untouched landscape, owned by roughly 4,000 local Masai people. The conservancy fee that every guest pays, goes directly to the community to maintain the conservation and wildlife that live here. As a result of this strong relationship with the Masai people, cultural visits to see their authentic and rich culture is a popular thing to do.
Layout
The lodge is spread in the woodland and thicket, offering views across the vast Kenyan plains and a distant outline of Mt Kilimanjaro. The main area of the lodge comprises the lounge and dining areas, both displaying an open-plan layout, designed to merge your outdoor and indoor living. The lodge has a lovely swimming pool for guests to use and relax by in the heat of the day.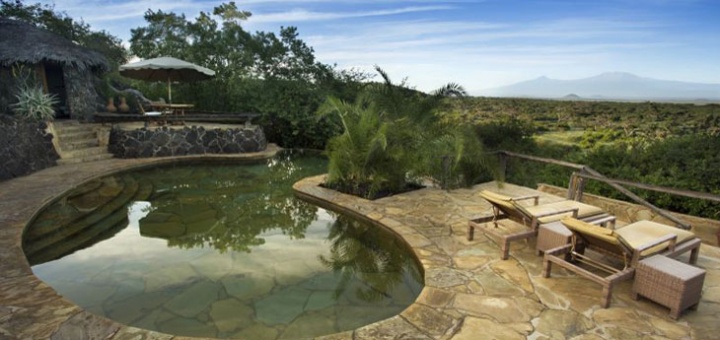 Rooms
The ten private cottages each have unique building and design. They all have a roof terrace, which can be set up with cosy beds for guests to enjoy a night under the African night sky. Staff at Ol Donyo will go out of their way to make sure guests are comfortable and if that the thrill of the optional 'starbed' meets every expectation!
Activities
Benefiting from its position on private land, Ol Donyo offers one of the biggest range of game viewing activities in this area. The surround game-filled plains home some of Africa's last giant elephant bulls, large lion prides and wandering big cats. They see these on morning, day and night drives, guided bushwalks, horse riding. Also there is hiking, mountain biking, conservation and community out-reach programs, tracking and also fly camping. Additionally, guests can enjoy the tranquility and beauty of the Kenyan plains by sleeping in an open air hide or private 'star beds' on their villa rooftop.
Kibo Villa Amboseli
"Traditional Luxury"
Kibo Villa is a Luxury accommodation in Amboseli National park secluded in five acres of gardens,lawns and a little forest of indigenous tortilis acacia trees. Its tranquil atmosphere combines luxuriant comfort with the ethereal bush appeal of its rugged surroundings. Built in natural stone and elegant gum pole structures, Kibo Villa has three large master en-suite bedrooms, a lounge, a fully facilitated kitchen, a barbeque area, and a dining area that stretches onto a large veranda. The master bedroom occupies the top floor, which opens onto a terrace where guest(s) can relax and admire the views of Mt. Kilimanjaro as well as the wildlife grazing on the plains directly ahead. The villa is accessed through its own private entrance and has a carport.
Accommodation is all-inclusive.
Guests may also use the Ol Tukai Lodge facilities, which is in close proximity.
Accommodation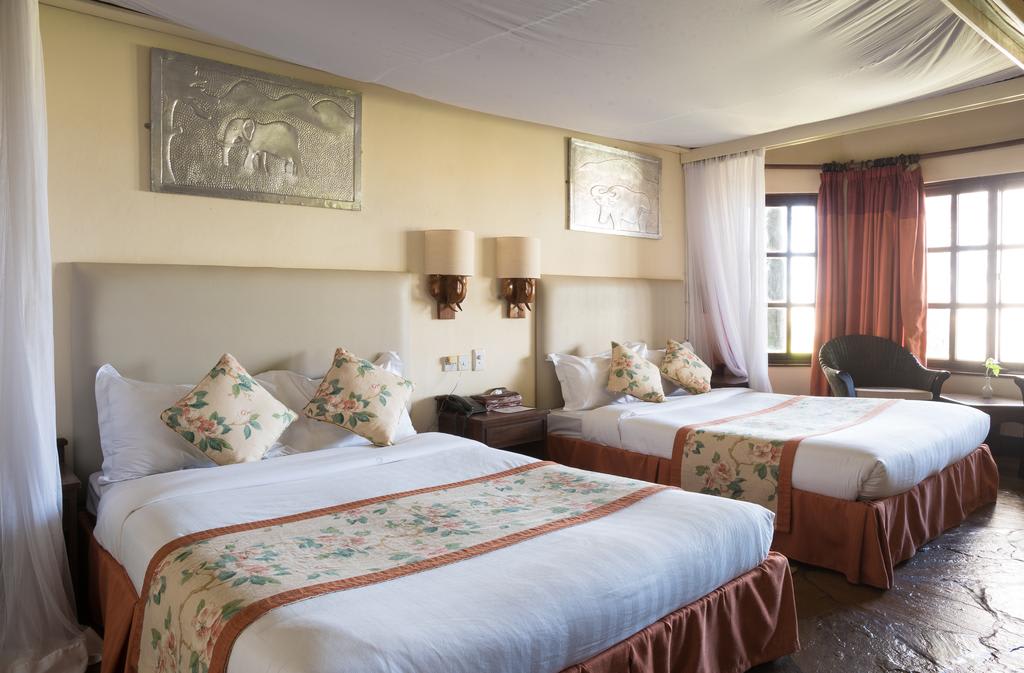 Echo Suite: This is the master bedroom with a king size bed
Adam: Equipped with a queen-size double bed
Eli: Equipped with two queen-size beds
Extra beds can also be added on request
Note:
All bedrooms have views of Mt. Kilimanjaro
Room amenities
Common Sitting Room
Large Front Balcony
Free- Wi-Fi Connectivity
Hair Dryers
Mini Bar
Private Grounds
240V/3-pin (square) sockets and shaver
Socket &TV
Dining and bar activities
Arranged Evening Barbeque
Lawn Champagne Breakfast*
Special dietary needs catered for (e.g.
Vegetarian, Kosher, Gluten free) with advance notification
How to get there
Distance from Nairobi is 230km
 By road: From Nairobi takes approximately 3.5 hours.
By air: Flight time approximately 35 minutes from Wilson Airport Nairobi to Amboseli Airstrip and 10 minutes by road to the Villa
Places of interest
Visit to the Masai Village
Observation Hill
Hyenas Den
Ol Tukai Lodge
Writers have described Ol Tukai and the surrounding Amboseli with its breathtaking scenery and unique wildlife as 'A home for the gods'.
Ol Tukai lodge is luxury accommodation in Amboseli National park which is strategically located at the heart of Amboseli National Park.
As such, it is designed to take advantage of its scenic environment; Mt. Kilimanjaro and the abundant wildlife of Amboseli, making it a world-renowned spot to observe African Elephants. We started out by offering unique Safari experiences to leisure travelers but we have since expanded our services to the corporate world.
Our strength lies in our flexibility to offer hospitality excellence to diverse travel individuals. Integrity is in our business culture. We also promote a working environment that cultivates job satisfaction. We are disability-friendly, family-friendly, and also eco–friendly.
Rooms
There are 80 luxury chalet-style twin rooms, all with an uninterrupted view of the wetlands or Kilimanjaro.
The beautifully appointed rooms provide comfort and a calming effect of home. The African artifacts and the wildlife decor have also been painstakingly handcrafted with great attention to detail.
Twin Rooms
The Twin rooms accommodate two people. Rooms are strategically positioned to either a view of Mt. Kilimanjaro or the wildlife.
Standard Rooms
Standard rooms accommodate two people together or in separate beds respectively with either a view of Mt. Kilimanjaro or the wildlife.
Triple Rooms
Triple rooms accommodate three people. Rooms are strategically positioned to either a view of Mt. Kilimanjaro or the wildlife.
Disability Rooms
Situated very close to all amenities, two rooms have been designed in accordance to EU standards to accommodate persons with disability.
Activities
Game Drives
Tourists know Amboseli for its large population of elephants. It also has other wildlife worth watching. Our well-versed driver will make sure that it is the most memorable safari of your life. Nature walks of the same magnitude can also be arranged.
Maasai Village Visit
The Maasai people are among the last remaining Kenyan tribes holding on to their culture. Interact with them and learn their fascinating way of life firsthand in one of the neighboring villages.
Bird Walk
Ol Tukai lodge harbors a staggering 400 bird species. Enjoy the bird walk that starts from the entrance of the hotel and winds its way under the canopy of acacia trees around the lodge guided by our resident ornithologist. A bird watching drive can also be arranged.
Swimming
The crystal clear waters of the swimming pool are shed by the occasional acacia trees. The pool deck has sunbeds to soak up the African afternoon sunshine before the evening game drive.
Tree Planting
Water is life, and trees play an important role in the life cycle. Plant a tree today for a better environment tomorrow.
Amboseli Serena safari lodge
"Enjoy The View Of Mount Kilimanjaro"
A Luxury accommodation in Amboseli National park at the foot of Mount Kilimanjaro, surrounded by grassland and Acacia trees, lies Amboseli Serena Lodge. Although the National Park is fairly small (392 sq. km), it is so rich in both flora and fauna that it has recently been designated an international biosphere reserve. Amboseli Serena Lodge is influenced by native Masai architecture and decorated with natural woodcarvings, traditional artefacts and local art. The lodge overlooks a saltlick and a floodlit waterhole where you can see gathering herds of elephant, buffalo and wildebeest, to name but a few. This is also an excellent area for bird viewing with over 400 species of bird.
You can enjoy the comforts and the beautiful setting, in addition to the activities on offer which include game drives, morning bird walks with the lodge's resident naturalist and visits to a traditional Masai manyatta. There are also plenty of opportunities to unwind at the lodge itself, including an afternoon spent on the veranda watching the game pass by, taking a dip in the natural spring-fed swimming pool or enjoying a relaxing massage. As part of Serena Hotels' reforestation program, they will invite you to plant a tree to help restore the land that was becoming barren from herds of elephants tearing up the trees for food.
Rooms
Amboseli Serena Safari Lodge provide a full immersion into life in the untamed bush. Each room is in a single-storey building opening directly onto the grounds. Each reflects a Maasai Manyatta theme with hand-painted wildlife murals, locally inspired furnishings and artefacts. Also  the brilliant primary colours are symbolic of these fabled warriors. Guests enjoy a balance of sophistication, comfort and harmony with nature, relishing the unique pleasure of their very own private corner of Kenya.
With amenities to rival the best safari lodges in Kenya, our 92 rooms and one suite feature complimentary wireless Internet, 24-hour room service and private balconies. For the comfort and convenience of families and groups, we also offer nine sets of interconnecting rooms.
Family room
It is decorated with local antiques, artefacts and artwork. The Family Room has a bedroom with one king bed. A second bedroom with two twin beds, a shared bathroom and also a private balcony.  This overlooks the majestic grasslands of Amboseli National Park.
Double room
It has one king bed and also a private balcony overlooking the majestic grasslands of Amboseli National Park.
Twin room
It has two twin beds and a private balcony overlooking the majestic grasslands of Amboseli National Park
Ol donyo oibor suite
Equally suited to be a presidential/CEO, honeymoon or VIP venue, our spacious and elegant Ol Donyo Oibor Suite enjoys a fabulous view of Kilimanjaro from its private balcony and rooftop terrace.
Sentrim Amboseli Lodge
A Luxury accommodation in Amboseli National park located along the border of Amboseli National Park right next to Kimana Gate.
The entirely new 60 luxurious and comfortable deluxe tents spread out evenly offering fantastic view of Mt. Kilimanjaro.
Facilities include:
Gift Shop
Restaurant and Bar
Swimming Pool
Massage Parlor
Rooms & Suite
The lodge has a total of 60 tents and 2 family houses equipped with the following amenities:
Mini Fridge
Private hot shower
In-room safe deposit box
Tea/Coffee making facilities
Each family house has two bedrooms and living area which is ideal for families.
Kilima safari camp
Kilima Safari Camp is located in the area of Amboseli National Park, next to the Kimana Gate Park entrance.
The camp also sets out on a 420 acre site with spectacular view of Mount Kilimanjaro.
The Kimana area of Amboseli is famous for its large elephant population.
Clients can enjoy great game viewing from their tents which face the animal water pools and all public areas and guest rooms are set towards Mount Kilimanjaro.
Accommodation
All 72 tents and lodges at Kilima Safari Camp include a 4-poster bed with a mosquito net with a seating area and a private bathroom.
50 Classic Safari Tents each with a large private balcony
10 Superior Safari tent with lion claw bath tubs
12 lodge rooms each with a large private balcony
Amenities
Air conditioning
Balcony
Bar
Bath tub
Beds – Double
Campfire
En-suite bathrooms
Family room
Hair dryer
Hot water
Mosquitonets
Room safe
Swimming pool
Wheel chair friendly
WiFi
Room service