Luxury activities to do in Mgahinga national park include Gorilla trekking, Golden monkey tracking, Nature walks, Bird watching, among others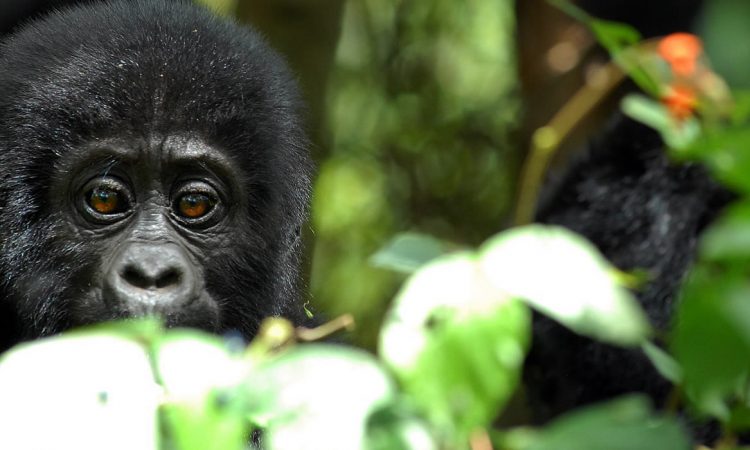 Overview
Mgahinga national park is located in the southwestern part of Uganda on the border of democratic republic of Congo and Rwanda. Mgahinga national park is the smallest national park in Uganda covering a total area of 33.7km2. The park was declared a national park in 1991 with one Tran's boundary habituated gorilla group. The park was created to create a habitant for the endangered mountain gorilla species and the golden monkeys which inhabit the dense forests making it one of the few places with these gorilla species in the whole world.
Luxury activities to do in Mgahinga national park.
Gorilla trekking
The park is one of the few places where gorillas still exist in their natural habitat in the whole world. The park has a very thick rain forest with a wide variety of tree species and thick vegetation cover which is food for the gorillas. This sometimes makes some of the gorillas migrate from Rwanda and DRC to Mgahinga though not in large numbers. The moment you reach Mgahinga, there is this warm welcoming atmosphere filled with natural beauty an invitation for you to trek. Gorilla trekking is one of the major activities that is carried out in Mgahinga Park with one habituated gorilla group which lives in this park. The fact that the park is small in size makes trekking easier since it's very easy to spot the gorillas compared to other parks.
Note that for anyone to go trekking, there is need for a gorilla permit which permits you to trek here. The gorilla permits cost USD 700 for foreign nonresidents, USD 600 for foreign residents and 250000 for East African residents and this should be booked prior to your due date especially during the peak seasons. Upon seeing the gorillas, you are allowed an hour to observe the Nyakagyezi gorilla family to see how they feed, interact, lives and continue doing their day to day activities.
Nature walks in Mgahinga national park
A hike through the forest gives the traveler a chance to obverse the wonders of Mgahinga. They include the dense forest and all that inhabits the forest like the gorillas, golden monkeys and birds. The walk to Congo border transcends different vegetation zones. Hikers can sight the calderas on top of the Gisozi hill, look out for Kisoro and Bunagana towns as well as Lake Mutanda which lies beneath.
Golden monkey tracking
These are some of the unique species in Mgahinga national park which you cannot afford to miss out on. The golden monkey track is a gentle steep but an interesting two hour hike trek through former farmland to the bamboo forest. These primates are very fast and small which makes trekking such an active adventure. There are two communities of the golden monkeys in Mgahinga national park and they have grown fond of human presence in their sanctuary due to the habituation process. The terrain for golden monkey trekking here is not as rugged as for the gorillas at Bwindi which simplifies your tracking. Trekking golden monkeys costs just USD100 for all the tourists to obtain a trekking permit. During trekking, you have just one hours' time to see the monkeys making golden monkey tracking a luxury activity.
Hiking volcanoes
There are volcanoes in this park are worth the effort, Mt Sabinyo( 3669m), Mt Mgahinga( 3474m) and Mt Muhavura(4127m). Mgahinga gorilla national park has three extinct conical volcanoes, features that put this park in one of the most striking positions. The park forms such a huge part of the Virunga conservation area lying along the border region of Uganda, Congo and Rwanda. These volcanoes slopes contain various ecosystems which are biologically diverse, their peaks provide a striking backdrop to this gorgeous scenery. This takes an 8 hour hike to cover the 14km round trip following a steep ridge up to the peak.
Batwa people encounter
The park is a huge significance of culture, in particular the indigenous group of the Batwa people (pygmies). This was their ancient home with a number of secrets which still remain a mystery. When the national park was gazette, the Batwa forcefully left the forest, abandoning their low-impact nomadic lifestyles to form new societies. A local encounter with the Batwa people will give you a chance to understand their local ways of living. For instance;
wild honey collecting
hunting techniques
fire making
the unique traditional songs and dance.
Discover the magic in the ancient Batwa's home while enjoying your nature walks and learning about their cultural heritage.
Birding in Mgahinga
Between Mt Sabinyo and Mt Gahinga in the gorge is where the most beautiful scenery for birding is; the four hour's trail between these two extinct volcanoes gives you a chance to observe different bird species like the beautiful Rwenzori Turaco. The other different birding sights like that bamboo belt which is about 2500m above the sea level provides another birding destination for birders to watch birds like;
the dusky turtle dove
cape robin-chat
kivu-ground thrust
olive thrush
brown-crowned tchagra
bronze sunbird
ragal sunbird
blue-headed sunbird
Rwenzori batis
black-headed waxbill
streaky seedeater
How to get there
By road, one can access the park from Kampala via Kabale to Kisoro, this journey takes approximately 8-9 hours. Access can also be from Rwanda, Kigali to Mgahinga which journey takes just 4 hours' time to get to the park.
By air, one can take a plane from Entebbe international airport or Kajjansi airstrip using the scheduled or chattered flights to Kisoro airstrip. This journey takes just 1 hour making it the quickest mode of access. There are daily flights that you can book in advance with Pamoja tours and travel's help.
Accommodation
A traveler should not worry about accommodation because there are various lodges suitable for accommodation and overnight. These lie along Lake Mutanda, Ntebeko and Kisoro like;
Mount Gahinga safari lodge
Amajambere lwacu camp
Lake Mutanda chameleon 'hill lodge
Kisoro traveler's rest hotel
River Mucha hotel.