Mid-range Accommodation in Queen Elizabeth National Park
Overview
Mid-range accommodation refers to a place to stay where the rooms are bigger than those in budget accommodation facilities and the amenities are more. There are various facilities found in Queen Elizabeth national park.
Bush Lodge
Bush lodge is a Mid-range Accommodation in Queen Elizabeth National Park located in Queen Elizabeth national park and provides mid-range accommodation facilities to visitors who are on safari. It is positioned in an environmentally sensitive and consists of bandas which give a feel of the wilderness. In addition, you can view various wildlife species and the Kazinga channel as well as the rolling savannah from this lodge.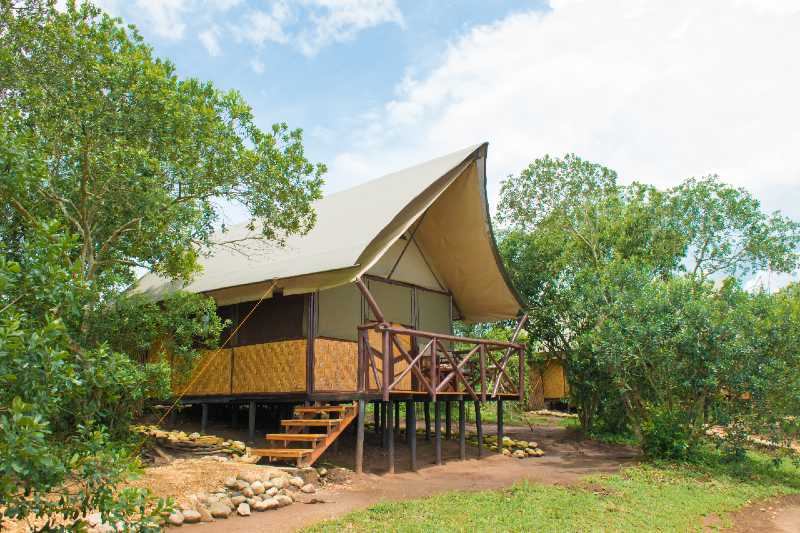 They have non self-contained and self-contained tents as well as bandas. Some of the amenities include; a raised wooden platform, an eco-toilet, outside showers and large mosquito netted windows.
Marafiki Safari Lodge
This lodge is located on the boundary of the park overlooking the magical Rwenzori Mountains and the distant edges of Lake George. It offers luxury safari tents perched on wooden floors and featuring canvas walls.
There are 4 timber cabins that can accommodate 16 people, 3 luxury safari tents, a camp fire (especially for evening hours), a restaurant and self-contained rooms with open showers.
Enganzi game lodge
We find lodge on the Kichwamba escarpment. Furthermore, this lodge is a product of local materials which exhibit African tradition. While at this lodge, you can view the rolling flats of the rift valley as well as Mountain Rwenzori.
It consists of 5 cottages with comfortable beds, single twin and double beds. There is an extra bed in case there are more than 2 people. It is also a starting viewing point to explore the park's beauty. For example the boat cruise, game drives, chimpanzee trekking, bird watching and others.
Additional facilities include a bar lounge, restaurant and free Wi-fi