Safety of children while on a Uganda safari/Everything you need to know. Going on a safari in Uganda can be a magical and adventurous experience for the whole family. However, as with any travel, there are some safety considerations to keep in mind, particularly when traveling with children. Here are some tips for keeping your children safe while on a Uganda safari:
Choose a reputable safari company
Before embarking on a safari, do your research and choose a reputable safari company that has experience with families and children. Look for a company that has good reviews, is licensed, and has experienced guides who prioritize safety.
Discuss safety with your children
Before the safari, talk to your children about safety and what to expect during the trip. Discuss what they should do if they feel scared or uncomfortable, and remind them to always listen to the instructions of their guide. Pamoja Tours and Travel has very professional tour guides and drivers who have had many safaris with children on board. Therefore, your children will be safe and will get the right instructions on what to do during the safari.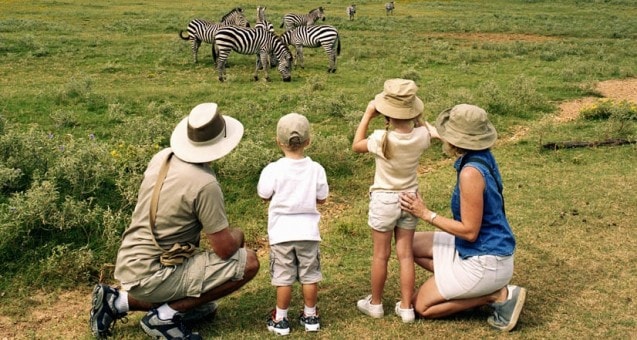 Know the minimum age requirements
Some safari activities may have minimum age requirements, so it's important to check with the safari company before booking. For example, gorilla trekking in Uganda has a minimum age of 15 years old. If you're traveling with younger children, make sure you choose activities that are appropriate for their age.
Take appropriate health precautions
Before traveling to Uganda, make sure your children are up-to-date on all necessary vaccinations and that they take appropriate malaria prophylaxis medication. It's also important to pack insect repellent and sunscreen to protect against insect bites and sunburn.
Pack appropriately
When packing for a Uganda safari with children, make sure to bring appropriate clothing and gear. Clothing should be comfortable and breathable, with long sleeves and pants to protect against insect bites. Pack sturdy shoes for walking on rough terrain, and bring a hat and sunglasses to protect against the sun. Don't forget to pack plenty of water and snacks to keep your children hydrated and energized during the safari.
Follow the instructions of your guide
During the safari, always listen to the instructions of your guide and follow their advice. Don't attempt to approach animals on foot or get too close to them, and always keep a safe distance. If you're in a vehicle, stay seated and don't lean out or open doors or windows. Remember that wildlife encounters can be unpredictable, so it's important to be cautious and respect the animals' space.
Stay in designated areas
When on a safari, it's important to stay in designated areas and not venture off on your own. This is particularly important when traveling with children, who may not understand the risks of wandering off. Stay close to your guide and stay within the designated areas to ensure your safety.
Use appropriate car seats
If you're traveling with young children, make sure to use appropriate car seats or booster seats in the safari vehicle. This will help keep your child safe in the event of an accident or sudden stop.
Be aware of your surroundings
Always be aware of your surroundings and keep an eye out for any potential hazards, such as uneven terrain or animals in the vicinity. If you're unsure about anything, ask your guide for advice.
Carry a first aid kit
Finally, it's a good idea to carry a first aid kit with you during the safari. This should include basic supplies such as bandages, antiseptic, and pain relievers, as well as any necessary medications for your children.
In conclusion, going on a Uganda safari with children can be a wonderful and exciting experience, but it's important to take the necessary safety precautions to ensure everyone has a safe and enjoyable trip. Choose a reputable safari company, pack appropriately, follow the instructions of your guide, and stay aware of your surroundings at all times. With these tips in mind, you can enjoy a memorable and safe safari adventure with your family.
Contact us for more information or any questions you have about your safari with children.