Location
Singita Faru Faru Lodge shares the Grumeti private conservancy with its sister properties, Sasakwa and Sabora Tented Camp.
It is the most eastern camp out of the three, and its location allows for an exclusive safari experience.
There is plentiful resident game in this Grumeti area. Without a doubt, the game viewing is exceptional in the months of June and July. This is because the lodge sits in the heart of the migratory route.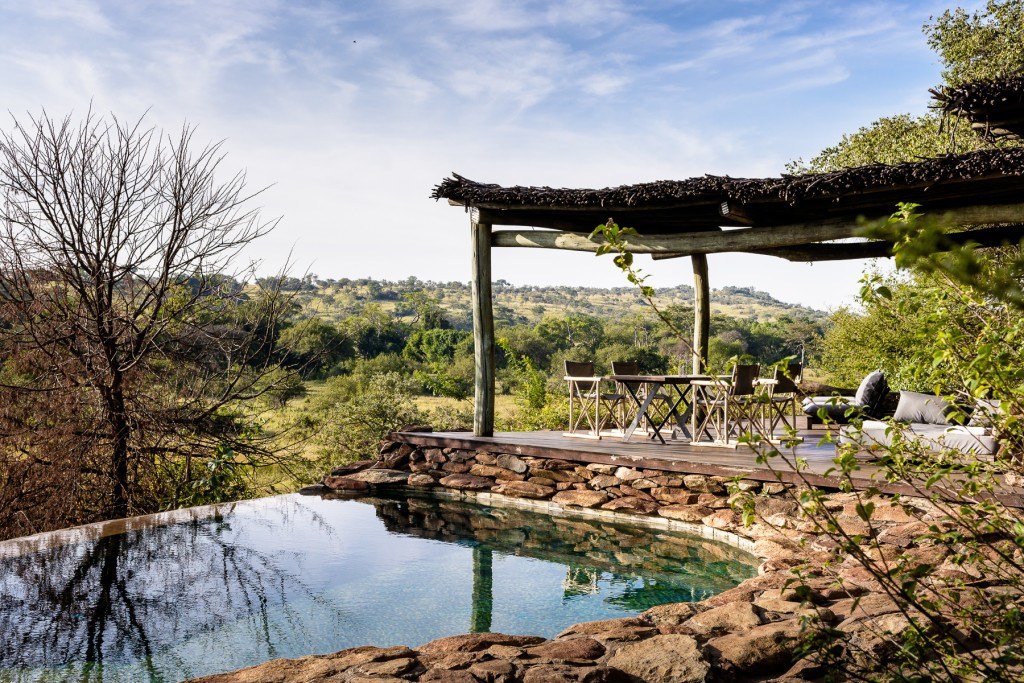 Layout
Singita Faru Faru has everything you'd want from a 5-star property. It is surrounded by incredible wildlife is the cherry on top!
Two swimming pools, spa and gym facilities and nine stunning suites make up the lodge. Its contemporary interior throughout will take your breath away!
A relaxed approach to luxury forms a golden thread throughout this contemporary African lodge. It also allows guests to experience the deeply restorative power of nature.
Decor and design
Decor & design includes airy bedroom suites, where every creature comfort is catered for. This is with intuitive ease and over sized windows welcome the wilderness inside.
Singita Faru Faru Lodge is a mix of contemporary, organic style and the quirky practicality of a traditional botanist's camp.
It is pure luxury, suites are out of this world, top-notch service, Michelin-level dining and an incredible Serengeti safari experience.
Rooms
The nine suites are very spacious and well-appointed, designed elegantly with the use of glass, wood and stone.
The rooms each have indoor and outdoor showers, air-conditioning and views out to the wilderness.
Singita Faru Faru Lodge has vast outdoor decks which allow for intimate dining and drinks.
The cafe-style bar at the heart of the lodge hums with a subtle sparkle – spilling over to the pool area.
Besides all that there is also a fire pit that makes magical evenings under starlit skies.
Activities
There is a greater variety of activities besides a greater variety of safari experiences.
These include guided bush walks, anti-poaching post visits, community visits, family activities.
Also included are game drives in the camps with your safari guide.