Why you should visit Uganda
Why you should visit Uganda. Here are some of the major reasons why you should visit Uganda. One would wonder where Queen Elizabeth National Park is Located. Well, it's found in the western part of Uganda laying between Lakes Gorge and Albert with the Kazinga Channel crossing through its 700 sq mile land area. The park was named following the visit of the Queen of England in 1954. However, it was by then called Kazinga National Park from the famous Kazinga Channel renown for the boat safari.
The park is known for its abundant wildlife, including lions, leopards, African elephant, African/ cape buffaloes, Ugandan kobs, hippopotamus, topis, waterbucks, warthogs, giant forest hogs, Nile crocodiles, spotted hyenas and primates like chimpanzees, baboons, among others. Overall, the park is home to 95 mammal species and over 600 bird species.
The park has 4 main sectors that play a very big role to the tourism development in the park. These sectors include; the Mweya peninsular, The Kasenyi plains, Kyambura Gorge, and the Ishasha sector.
Sectors in the park
Why you should visit Uganda.
Tree Climbing Lions in Ishasha sector, with just two populations of these unique lions in the whole world, explore the southern Ishasha sector to track these lions commonly seen up in the fig and acacia trees.
The Kazinga Channel is a permanent natural water channel connecting Lakes Albert and lake Gorge. It's home to a large number of hippos, Nile Crocodiles, elephants and hippos easily seen while on the Boat cruise.
The Kasenyi Plains are the most famous grounds for game drives where visitors get to see the predators. It's a home at a very large number of antelopes, the Uganda Kobs, lions and several large predators.
Kalinzu Forest, famous for the chimpanzee tracking experiences and it is located on the southeastern corner of the park. Kalinzu Forest is a home to the chimpanzees, baboons, Vervet monkeys, red tailed monkeys, black and white Colobus monkeys, blue monkeys, l'hoest monkeys among others. The forest also has a number of bird species like the Great blue Turaco, black-billed Turaco, black and white casket, cuckoo, casqued hornbill among others.
The Kyambura Gorge also known as to have the underground forest. This gorge is one of the wonders that any tourist on a Ugandan safari should visit. This forested 100m deep valley with peculiar is home to a large number of primates and popular for Chimpanzee tracking.
Maramagambo forest reserve, located in Bushenyi district and it's among the largest forests in Africa. The forest is known to have the bats cave as well as the famous Python cave which harbors millions of Bats and many Pythons.
Tourists mostly visit the park during the Dry season that runs from January to February and from June to September. However the park is open to tourists through out the year.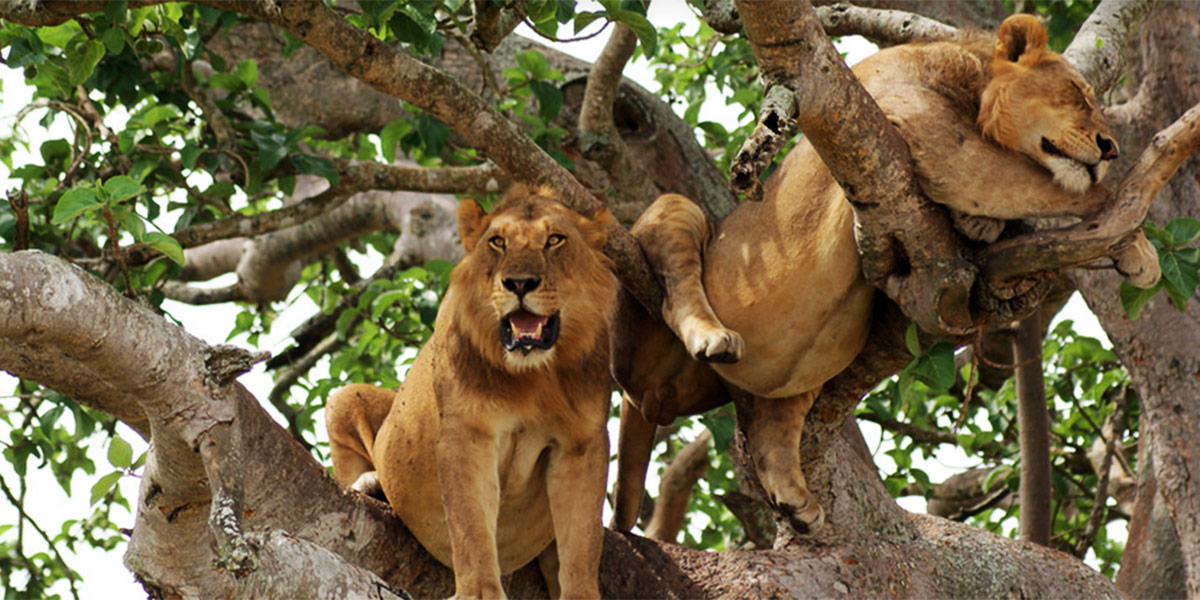 Tree Climbing Lions of Ishasha
Why you should visit Uganda, a large number of tourists flock the park to Ishasha sector to track these lions and enjoy an up-close encounter.
There are no more than 2 populations in the whole world of such lions that do actually climb trees as one of their day after day behavior. One of these populations is in Ishasha sector, south of Queen Elizabeth National Park in western Uganda. The other population is in Lake Manyara National Park in the Southern part of Tanzania.
The Ishasha Sector is actually today very famously because of its mystifying population of these tree climbing lions. They are a very exceptional attraction on any Ugandan safari, as you get to have this highlight as you visit Queen Elizabeth National Park. These Lions are normally seen lazily lying up within the tree branches of the fig trees staring down prey. This area attracts most of these lions because it's a breeding place of hundreds of Uganda Kobs and antelopes.
The worst choice you would ever make is to climb a tree when being chased by these lions in Ishasha. These lions spend the day sleeping on branches as they digest their food after feeding on the antelopes in the area.
These lions climb trees because of a number of reasons and these include, protecting themselves from the numerous biting of the insects on the ground level, as well as escaping from the heat on the ground and enjoy the cool breeze. However, there are other reasons as to why they climb trees though they still remains unknown.
Kazinga Channel
The 2 hours boat cruise along the Kazinga Channel gives you a chance to explore the oasis of wildlife among which are large schools of hippos, elephants, buffaloes, birds, crocodiles among other animals.
The Kazinga Channel is a wide, 32-kilometre long natural channel that links Lake Edward and Lake George. The channel is in the Mweya peninsular where all boat safari take place for wildlife viewing.
Normally the scheduled UWA boat sets off every day at either 09.00 am local time or at 2:00pm in the afternoon. This launch cruise usually lasts between 2 to 3hours as you explore the wildlife along the shores of Kazinga Channel. However, there are private companies offering boat safari at an extra fee and come with more time to explore the channel and get to see a number of these animals.
Why you should visit Uganda
Taking a cruise trip on the Kazinga Channel is among the highlights of any Ugandan safaris within Queen Elizabeth Park. The launch cruise offers a great chances of photography since the boat drifts slowly by the shores of the channel. The Kazinga Channel supports the biggest schools of Hippos in the whole of Africa, which means you can't miss out on seeing them.
Actually an adult male Hippopotamus weighs more compared to a fully loaded Land Cruiser.  Hippos don't swim however they just bounce their bodies at the bottom of the water in which they are in. The hippos normally stay under water simply because of safe guarding their sensitive skin from damage.
Why you should visit Uganda
During the afternoon boat ride, you can spot large herds of Elephants, Buffaloes, and a number of lone buffaloes. These lone buffaloes stay close to water as this protects them from different predators like lions and leopards. These predators usually come to the shores in the late afternoons for a drink and cool off. There are other animals like antelopes and waterbucks as well as Uganda Kob that also come by to take some water.
The Channel is a wonderful place to bird lovers, offering you an opportunity to see numerous bird species. Among these birds at Kazinga channel include: Saddle Bill Stork, Yellow Billed Stork, African Shoebill, Open-Billed Stork, Darters, Great and Long Tailed Cormorants, Jacana, the Great White and Pink-Backed Pelicans, Black Crake, African spoonbills, Cormorants, African Skimmers, among many others.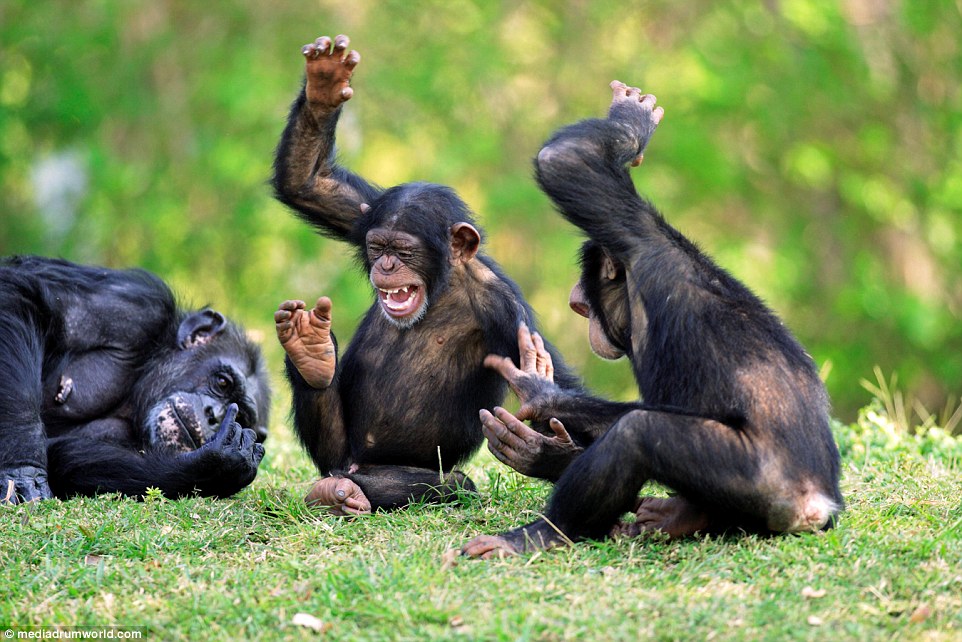 Kyambura Gorge
Kyambura Gorge lies in the northeastern corner of Queen Elizabeth National Park, within Kyambura Game Reserve. This is one of the most spectacular landscapes worth to take pictures while on your safari inn Uganda. Kyambura Gorge was created as a buffer zone that protects the park from encroaching human activities from the community.
Kyambura Gorge also known as "Valley of Apes" is approximately 1km across at its broadest point, and about 100m deep.
The gorge is drained by River Kayambura passing down the gorge seen while having you chimpanzee tracking. The landscape is among the most impressive you will find in Uganda and it is rich in wildlife bio-diversity. There are primates as well as birds that come across your eyes when you walk down the gorge. Among the primates found here include: chimpanzees, olive baboons, the black & white Colobus monkeys as well as the red tailed monkeys.
Kyambura Gorge forest is a home to a number of bird species like Bar-tailed Godwit, Black-rumped Buttonquail, Papyrus Canary, White-winged Warbler, African Broadbill, African Skimmer, Papyrus Gonolek, the Black Bee-eater, Lesser plus Greater Flamingo, Shoebill, Chapin's Flycatcher, White-tailed Lark, Corncrake, Pinkbacked Pelican as well as Verreaux's Eagle Owl, to mention but a few.
Chimps normally stay in groups known as troops, of about 30 to 80 individuals in an area. The large groups consist of smaller, very supple groups of fewer members, possibly all females, or all males or at times mixed. They feed on leaves, fruits, seeds, nuts, flowers as well as insects they gurther from the forests.
Kasenyi Plains
The Kasenyi Plains are the most famous grounds for game drives where visitors get to see the predators. It's a home at a very large number of antelopes, the Uganda Kobs, lions and several large predators. Kasenyi plains are in the north Eastern part of Queen Elizabeth National Park in the Kasenyi sector.
Why you should visit Uganda, the Kasenyi plains are captivating with endless views of savannah's roaming antelopes such as the Uganda Kob. The plains neighbor the exceptional shores of Lake George, west of the lake connecting to the famous Kazinga channel.
With Kasenyi plains having larger numbers of antelope, this gives lions and other cats an opportunity to hunt for prey. The lions and leopards around the park feed on these antelopes, making it possible to see them on an experiential game drive.
The experiential game drive that take place in the Kasenyi plains begin very early in the morning being led by researchers under the guidance of a ranger guide who drive around the park with radiation trackers. These trackers help them to find lions that have radio collars placed around their necks. The lion tracking experience takes about 3 hours while on a game drive. This is the most rewarding game drive as you can get very close to the lions in the park. Here you have over 95% chances of see these lions while having this kind of game drive.
In conclusion, Uganda is on the list among the best tourism destinations of 2023 by CNN  Travel. This gives you more confidence to travel to Uganda and have your dream safari in Uganda's national parks.
Book a wildlife safari with Pamoja Tours and Travel to Uganda and explore any of Uganda's national parks, as well as one of the World's best tourism destination.