Overview
3-day Gorilla Tracking & Lake Bunyonyi relaxation starts with the pick up by our driver guide and departs for Bwindi Impenetrable National Park. Encounter the Gorillas first-hand on your trekking expedition. With strenuous day trekking, it would be ideal to find a better place for relaxation. That place will certainly be Lake Bunyonyi – a place of little birds. You will transfer to Lake Bunyonyi after the gorilla trekking. Enjoy a swim in the Lake before a return to Entebbe/Kampala Uganda
Day 1: Transfer to Bwindi impenetrable national park
You will be picked up by one of our Pamoja tours and travel' driver/guides and start on your exciting 3-day gorilla tracking tour to Bwindi Impenetrable National Park. The drive will take you to southwest Uganda by road, cross the Equator then to Mbarara for Lunch, and through Savannah grasslands to Bwindi Impenetrable National Park. The scenic drive through Kigezi Highlands [commonly referred to as "the Switzerland of Uganda"] and banana plantations take you to the gorilla Sanctuary of Bwindi NP. You will arrive in Bwindi Impenetrable National Park and will mainly do little but just check in your accommodation, and relax as you prepare for the Bwindi gorilla trekking experience the next day.
Main destination: Bwindi impenetrable national park
Accommodation: Gorilla Mist (mid-range accommodation)
Meal plan: all meals and drinking water
Day 2: Gorilla tracking and transfer to Lake Bunyonyi
After an early breakfast and a briefing by a ranger guide, you will enter the gorilla sanctuary for your adventure. The beauty of this rainforest is spectacular! The area offers a dramatic steeply forested landscape and is incredibly dense, but crisscrossed by numerous animal trails allowing access to tourists. The time is taken and the terrain varies with the movements of these great primates.
Once you locate a gorilla group, you will be allowed an hour in their presence. The thrill of spending time observing these gentle and endangered giants is an awesome, exciting experience to be long savored.
Return to your lodge. Check out for a transfer to Lake Bunyonyi. Lake Bunyonyi is framed by lush, green-terraced hills that reach a height of (2,200 – 2,478m) but it's the 29 islands of various shapes and sizes scattered across the water that make it most magical — you could admire them all day.
Accommodation: Bunyonyi rock Resort (mid-range accommodation)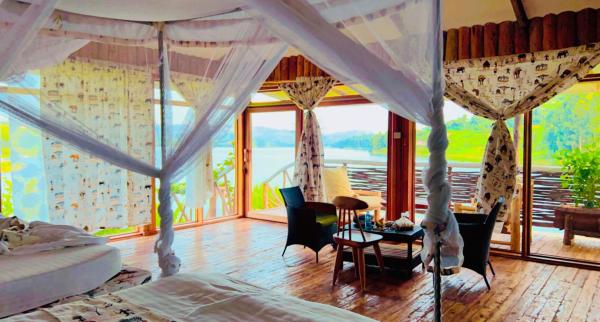 Meal plan: all meals and mineral drinking water
Day 3. Transfer back to Kampala
You will have a relaxed breakfast then you can opt for swimming in Lake Bunyonyi before you set off on the journey to Entebbe. Else, embark on your return journey to Entebbe Airport or the accommodation of your booking. Expect en route stopovers in Mbarara town for lunch and the Uganda Equator line mark in Kayabwe for some memorable photos (if you didn't stop on the first day) and maybe buy some art pieces of interest. Proceed with the journey arriving late afternoon/evening for drop off at the airport or accommodation of your booking and this marks the end of your 3-day Gorilla Tracking & Lake Bunyonyi relaxation safari.
We do recommend a late afternoon/evening outbound flight schedule for this day (if flying out). We hope to see you again
INCLUDED;
Park fees (For non-residents)
Gorilla permits (one per person, non-resident)
All activities (Unless labeled as optional)
All accommodation (Unless listed as upgrade)
A professional driver/guide
All transportation (Unless labeled as optional)
All Taxes/VAT
Round-trip airport transfer
Meals (As specified in the day-by-day section)
Drinking water (On all days)
EXCLUDED
International flights (From/to home)
Additional accommodation before and at the end of the tour
Tips (Tipping guideline US$10.00 pp. per day)
Personal items (Souvenirs, travel insurance, visa fees, etc.)
The government imposed increase of taxes and/or park fees
Why you should travel with Pamoja tours and travel Uganda Limited?
5% of the profits go to Pamoja health initiative. Pamoja gives back to the community through its 5% share of profits which go to the Pamoja health initiative, a project of Pamoja tours and travel aimed at providing free health services to Venerable communities in Uganda.
Reliability and trustworthiness. Pamoja is credited with trustworthy and reliable employees who are determined to work together with you to deliver quality services.
Comfortable safe mileage. Pamoja aims at providing the most comfortable safe mileage to its clients so as to meet their satisfaction.
Hospitable employees/ guides with broader knowledge about Uganda. Meet our hospitable employees/ guides all determined to make it to your travel destination. The employees are fluent English speakers.
Affordable quality services. Pamoja exists to offer pocket-friendly services which are of good quality to suit your taste and preference.
Thank you for choosing Pamoja tours and travel