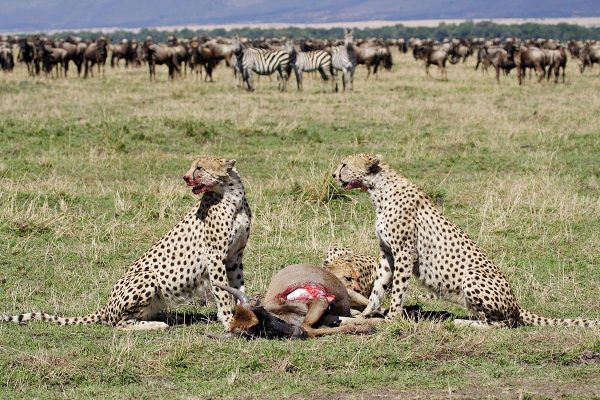 5 Days Rwanda and Kenya Safari provides a one-of the kind safari experience in East Africa, including trekking mountain gorillas in the Volcanoes as well as wildlife safaris in Kenya's Masai Mara Wildlife Reserve. Volcanoes National Park is one of Africa's four gorilla-viewing destinations with habituated mountain gorillas. This 5-day trip includes a city tour of Kigali and a wildlife tour of Kenya's Maasai Mara.
TRIP HIGHLIGHT.
Day 1: Pick up from hotel in Kigali/airport and transfer to Volcanoes National Park.
Day 2: Gorilla tracking
Day 3: Transfer to Masai Mara via Kigali
Day 4: morning and afternoon game drives.
Day 5: Departure
Detailed Itinerary
Day 1: Pick up from hotel in Kigali/airport and transfer to Volcanoes National park.
After breakfast at your hotel in Kigali, the safari guide will meet you, brief you through the itinerary. After you will start our safari with brief city tour visiting some key destination like local markets, genocide and others. After we drive to Volcanoes national park check in our lodge for lunch. Have relaxing afternoon as we acclimatize with the area where Gorilla tracking is done. Dinner and overnight.
Day 2: Gorilla tracking
Prepare for an incredible experience with one of Rwanda's most sought-after primates, the endangered mountain gorillas. We start our day with healthy delicious breakfast before we head to the park headquarters for briefing and the activity of the day. This is the absolute highlight of most travelers' African safaris. Volcanoes National Park is home to two amazing primates: mountain gorillas and golden monkeys, and it is one of the few places in Africa where you can see them. In fact, this area is home to up to 35% of the world's mountain gorilla population.
The period of gorilla trekking here varies from 1 to 7 hours! Visitors are allowed up to one hour to observe the gorillas as they eat and leap from one tree to another once the assigned gorilla family has been identified. Return from the jungles, return to your starting point, and move to your lodge for some rest and relaxation. Take a group walk in the evening to visit the Iby'Iwachu village, where you can see traditional performances, hear ancient Rwandan tales, and learn about their respective histories and uniqueness. Dinner and overnight at your lodge
Day 3: Transfer to Masai Mara via Kigali
Wake up early for your breakfast, check out of the lodge and drive to Kigali international airport to catch up with your flight to Nairobi. You will be met by our Kenya driver guide at the airport who will warmly welcome you and transfer you to the Masaai land that is Masai Mara national reserve. Check in our lodge for late lunch and refreshments as we rest little. In the evening go for the game drive to encounter with some big game in the wilderness.
The park is famous of the wildebeest migration the worlds largest animal migration that happens annually. The park also hosts all African big game with abig population of Elephants and big cats like Lions leopards and Cheetahs. Other game include rare Black Rhino, zebras, wildebeests, giraffes, impalas, gazelles, topis and many others. Birders are not left stranded with over 400 bird species recorded at the reserve. Dinner and overnight at the lodge
Day 4: morning and afternoon game drives.
Containing a mixture of semi-deciduous vegetation, volcanic craters, grassy plains and swamps, you find here at Masai Mara national Reserve stunning variety of wildlife in one of the most scenic areas of Uganda. You will go on a game drive early in the morning where you will have a chance to see numerous wild animals such as Elephants, Buffaloes, Leopards, lions, hyenas, giraffes, baboons, Rhinos, oribi, jackson's hartebeest, hippos, crocodiles and many more. Amongst these you will as well spot the big 5 and the big cats, this experience could take 3 to 4 hours for you to return to the lodge for breakfast and some rest while you brace for the next activity.
In the afternoon at 1:30pm after lunch, you can proceed for a boat ride at the bottom of the falls where you will get be able to spot quite a few animals like elephants and buffaloes drinking water at the banks as well as see numerous marine creatures such as crocodiles and hippopotamus. For dinner and overnight stays you may head to the cabin and have a comfortable sleep.
Day 5: Departure
As you recall your memories of the trip and have a laugh about it you will enjoy a drive to the airport.
Trip inclusions:
Accommodation for only the lodges mentioned
All meals
Park entrances
Gorilla trekking permit
And other activities mentioned in the itinerary
Trip exclusions:
Visa
Air ticket (domestic and international flights)
Personal drinks
Loss of personal belongings
Other things not included in the itinerary