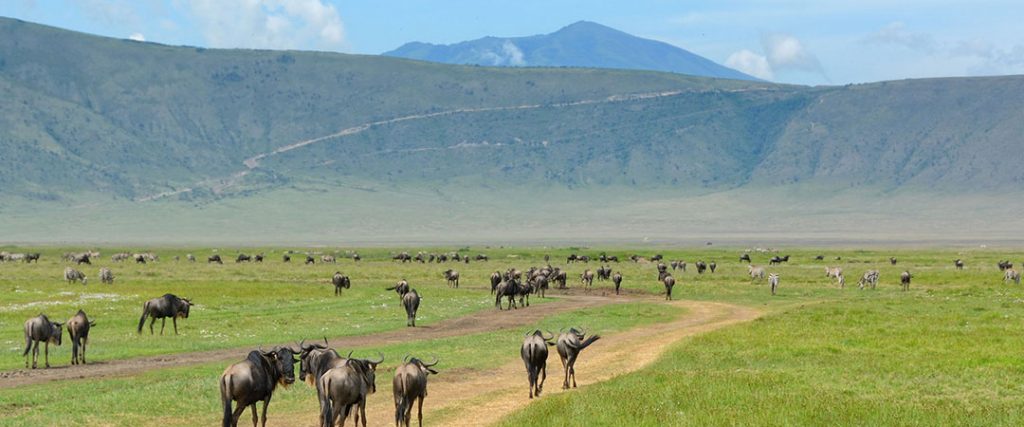 4-day Luxury wildlife safari Tanzania
On this 4-day Luxury wildlife safari in Tanzania, you will be well looked after and also see some of the best that Tanzania has to offer. Furthermore, you will experience breathtaking wildlife in the midst of some of the most diverse landscapes; monkeys in the forest, lions in trees, elephants amongst acacias, and also a huge variety of animals inside a collapsed volcano. Not only will you visit Tarangire and Lake Manyara National Parks but you'll also drive into the world-famous Ngorongoro Crater.
Tanzania has 22 national parks including Serengeti which is known for the largest annual animal migration in the wildebeest.
Day 1. Arrival and Hotel transfer
Firstly, the safari guide will pick you up from the airport and thereafter take you to the hotel. Here you will have overnight and relax in anticipation of the adventures to come. Mount Meru Hotel is Arusha's famous hotel and also Africa's largest and most exciting conference destination. An oasis of tranquility on Tanzania's gateway to major tour tourist destinations, the Mount Meru Hotel blends stylishly elegant African architecture with supremely luxurious accommodation.
Accommodation: Mount Meru Hotel
Meal Plan: All meals and drinking water
In the morning after breakfast, you will be picked up from your hotel in Arusha by your personal safari guide. Then start a 4day Luxury wildlife safari in Tanzania, you will be well looked after and see some of the best that Tanzania has to offer. You will experience a breathtaking wildlife trip to Tarangire which is on a good tarmac road, across the gently rolling Masai plains with scattered acacia trees. En route, you will pass many Masai people in their colorful dresses walking on the roadside, riding bicycles, herding their cattle, and driving donkeys carts.
Tarangire National Park is common for its large elephant herds. From the open roof of the vehicle, you will experience the seasonal swamps, savanna, and the Tarangire River. You will go in search of many animals including zebra, wildebeest, buffalo, elephant, and giraffe. It's possible that you will catch a glimpse of a lion stalking its prey or leopards watching and relaxing in the trees above. After an extensive game drive, having experienced the various sights and sounds of the wilderness, you will leave the park and head to our luxury partner lodges. Here you will enjoy dinner and an overnight stay.
Accommodation: kitela Lodge
Meal Plan: All meals and drinking water
Day 3. Drive to Ngorongoro crater
After an early breakfast, you will drive through the Rift Valley to the cooler regions of the Ngorongoro Highlands. The Ngorongoro Crater, the world's largest volcanic caldera, is almost 20 km wide, approximately 610 m deep. Ngorongoro is known for its large variety of wildlife, including the "Big Five" – lion, elephant, buffalo, rhino, and leopard. It should be recognized as one of the world's wonders. It is truly magnificent.
In addition to the Big Five, the various springs attract animals such as wildebeest, gazelles, reed-bucks, and more than 500 bird species. At a picnic site, you will have lunch before enjoying some more game viewing in the crater. You will leave the crater in the afternoon, drive up the steep road out of the crater and return to the hotel as a climax of your  4day Luxury wildlife safari Tanzania.
Accommodation: Lake Manyara Kilimamoja Lodge
Meal Plan: All meals and drinking water
Day 4. Drive to Lake Manyara National Park and then transfer back to Arusha for drop off
Finally, after breakfast, you will drive to Lake Manyara National Park, a small but diverse park 120 km west of Arusha. The park's namesake is a shallow salt lake. It covers a large area of the park, flooding and drying with the seasons, and is home to thousands of flamingos and over 500 other bird species. On your exploration of the park, you will see monkeys, giraffes, zebras, wildebeests, buffalo, elephants, and with some luck, lions lounging in the trees. In the afternoon, you will return to Arusha hence ending a 4day Luxury wildlife safari in Tanzania
Accommodation: End
Meal Plan: Breakfast, lunch, and dinner
Included
Park fees (For non-residents)
All activities (Unless labeled as optional)
All accommodation (Unless listed as upgrade)
A professional driver/guide
All transportation (Unless labeled as optional)
All Taxes/VAT
Roundtrip airport transfer
Meals (As specified in the day-by-day section)
Drinks (As specified in the day-by-day section)
Excluded
International flights (From/to home)
Additional accommodation before and at the end of the tour
Tips (Tipping guideline US$15.00 pp per day)
Personal items (Souvenirs, travel insurance, visa fees, etc)
Government imposed increase of taxes and/or park fees
Some meals (As specified in the day-by-day section)