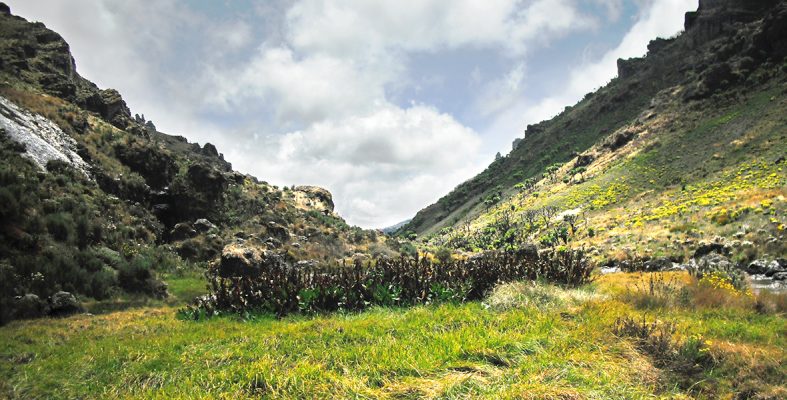 Mount Elgon at 4,321 meters high is an extinct volcano with Wagagai as its highest peak. It first erupted over 24 million years back. Actually several thousands of years ago, this mountain stood higher than today's Mountain Kilimanjaro. Covering a 50 X 80-kilometer area, Mt. Elgon is among the best Uganda Safari destinations. In addition, it has the biggest surface area of all extinct Volcanoes on the planet. Also, it is the  4th highest mountain in East Africa.
Mt. Elgon is found at Uganda's border with Kenya. However, its highest peak (Wagagai)at 4321 meters is found in Uganda and it is the best to climb on the Ugandan side. In addition, Mt. Elgon has a collapsed crater Calder that covers more than 40 kilometers at the summit. This is actually the largest known natural crater, and it is bordered by a number of rocky peaks.
Flora and Fauna in Mount Elgon National Park
Mount Elgon is an enormous watershed, and its slopes support a rich diversity of altitudinal vegetation areas. They range from lush Montana, the mixed bamboo-belt forest to the intriguing high open moorland, dotted with the really uncommon worldly plant species such as the large lobelia plus the groundsel plants unusual to Africa. The thick shrubs and luminous wild eternal flowers are another major attraction to enjoy on your Mountain Elgon safari Uganda.
Native people
The Bagishu plus the Sabiny are the two ethnic tribes that live around the gorgeous Elgon Mountain. These people are subsistence farmers. Traditionally, they conduct yearly circumcision ceremonies during which they initiate or induct young women and men into adulthood. Therefore, in case you make your safari to Mt. Elgon Uganda during the season of these customary ceremonies, you will get the opportunity to enjoy the locals dancing and singing as well as get a glimpse of their local circumcision techniques. All these will certainly make your adventure tour in Uganda very memorable.
TOURISM ATTRACTIONS/ACTIVITIES MOUNTAIN ELGON NATIONAL PARK
Hiking:
The main tourist attraction for hikers on this often-neglected and relatively undemanding mountain is its spectacular scenery. The mountain Elgon area also offers to sight a variety of unique forest monkeys and small antelopes, along with huge elephants and buffaloes.
The unique Sipi waterfalls, ancient enormous stone age cave paintings close to the Budadiri trailhead, the scenic mountain peaks, the hot springs that bubble up at 4800c and gorges are to mention but some of the thrilling attractions the Elgon area has to offer.
With a checklist topping up to 300 birds, birding safari tourists have many bird species not recorded elsewhere in Uganda to see, plus unique hot springs within her crater, Elgon is indeed a great Africa tour destination.
Trekking Sipi Falls
Trekkers have up to three main trailheads leading to the Elgon mountain peaks. One may start from Budadiri i.e Sasa trailhead, Sipi trailhead- forest exploration center-Kapkwai or may use the Kapkwata commonly referred to as the Piswa trailhead. Sasa trail passes through the park's largest area of bamboo forest, it is the most direct route to the peaks though steep with rugged climbs of over 1600m in the start and its accessible from Mbale.
The spectacular Tutum cave hidden within the extensive forest is what Sipi trail has to offer, as opposed to the towering Podocarpus forest offered by the Piswa trail, an excellent place for Wild game viewing. contrary to the two routes, the Sipi and Piswa trails start at much higher elevations and have a more gradual climb to the peaks. All trekking routes have camping sites with water sources plus tent pads and latrines.
In place is cross-border tourism between Mount Elgon National Park Uganda and Mount Elgon Park-Kenya. The two entities hand over visitors to either team at the Hot Springs. Usually, the full trekking circuit to the peaks takes about 5 days to complete.
All trekking events/expeditions require a trained ranger guide to show you the way and enrich your journey by interpreting environmental aspects such as the Flora and Fauna and ensuring your safety, these are available at each trailhead. Local porters are available for your carriage needs.