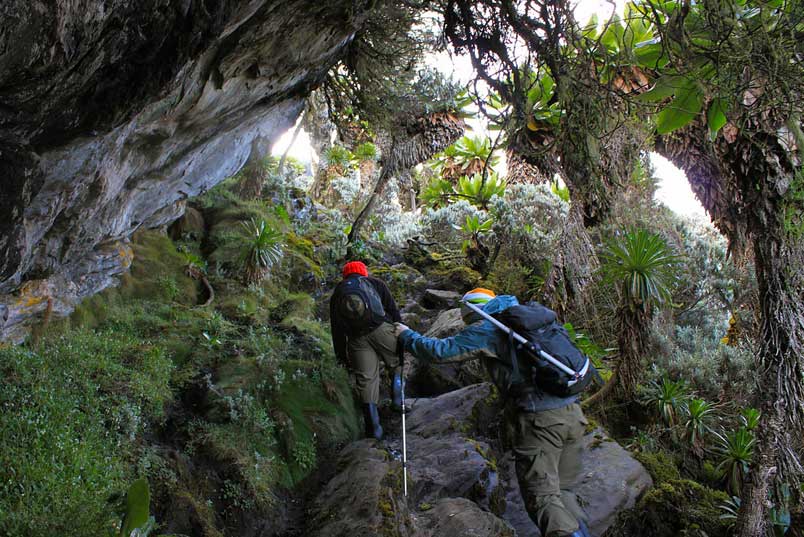 Faq About Hiking Mount Rwenzori: Rwenzori Mountain usually called Mt Stanley is located in the Eastern Equatorial Africa. Its peak is as high as 5109 meters. In addition, the mountain is permanently snow-capped and glaciated. Also, it is among the massifs that are believed to have been formed 3 million years ago.
Other Rwenzori mountains (massifs) include; Mount speak, Mount Baker, Mount Emin, Mount Gessi and Mount Luigi di Savoia (about 120 kilometers long and 60 kilometers wide). The Rwenzori Mountains are usually referred to as Mountains of the moon. Interestingly, this name originated from a Greek explorer who was trying to locate the source of the Nile. It was his merchant who reported that the source of the Nile originated from a group of mountains which were snow-capped.
Hiking
Hiking mount Rwenzori is one of the most challenging but rewarding activity with life time memories. The adventure requires you to be physically fit because hiking the mountain takes a lot of energy to reach its peak. The mountain is covered with a large number of plant life and wildlife species which vary the more you climb to its peak; from heavy tropical rainforests, bamboo forests, and montane forests to alpine vegetation.
Where is Rwenzori Mountain located?
The mountains are located in the western side of Uganda along Uganda- Congo boarder in Rwenzori mountains national park. The park is  ''the mystical challenge'' because its highest mountain range is 5109 meters above sea level.
When is the best time to book and hiking mount Rwenzori?
The park receives rainfall throughout the year because it lies along the equator. In addition, it experiences mountain and tropical climatic weather conditions.
However, there are some months (January, February, June, July, august and September) where the park is drier and there is no or less rainfall received. This time of the year is when its best to visit the park since it is less challenging with dry slopes. Nonetheless, the mountain still has the ice glaciers on the top which makes it more unique as an attraction.
Which is the best peak to hike?
Hiking mountain Rwenzori is very challenging. It takes days of hiking therefore, you need to first check your health condition before you start hiking. The peaks are very high and there are higher altitudes which is not suitable for those whose blood pressure levels are high or low.
Margherita peak is the highest and the hardest to hike but the most rewarding peak. Apart from the steep sections and the bogs at the lower levels of the glaciers which melt because of the temperature changes, all the peaks are good for hiking. Note that guides are knowledgeable in the use of ropes, this will help you through during the trek.
How long does it take to hiking Mount Rwenzori?
Rwenzori Mountains has different peaks and the time spent hiking the peak depends on which peak you are climbing. The highest peak of Rwenzori is Margherita peak which is 5109 meters above the sea level. There are different mountain peaks like Weismann's peak, Great tooth, Elena peak, Savoia peak and many others.
To hike the highest peak; Margherita peak takes you about 7 to 10 days depending on the weather, age and physical ability of the group. While there, you will be able to see Mt. Speke, Mt. Stanley or Mt Baker. Margherita peak is the most preferred and famous trail on mountain Rwenzori by the hikers because it's the highest of all.
How to book for Rwenzori trekking safaris?
Booking for such adventures is easier with Pamoja tours and Travel Company which is ready to help in any way you wish . We can book for your hiking safari to mountain Ruwenzori's peak; we will plan for your safari and budget for it according to your budget and interest. In case you need any help, contact us will your details and planned dates of your safari, we will tailor a budget for your safari and check for availability of all services like accommodation, accessibility and secure all the services once you confirm your safari by paying your invoice for your safari.
How much does it cost to trek MT Rwenzori?
The cost for your safari depends on the number of days you are planning to hike and your budget. There are inclusive and tailored packages with different costs and number of peaks to climb. The longest hike takes 10 days where you get to hike four peaks in the 10 days of Margherita, Speke, Baker and Weismann's peak.
On the other hand, the shortest trek to Rwenzori is a one day trek where you get to move through the forest along Munyamubuli River for sightseeing, bird watching or learning about different species.
The one day package is for 40USD for 1-3 people and the ten day hike costs about 1640USD for 1-3 people. Note that the fee of 35USD is separately as park entrance fee. The packages here include accommodation, food and porters. However, park entrance fee is separate. Contact Pamoja tours and travel company for more safari packages for hiking the most challenging mountains.
Other activities besides hiking Mt. Rwenzori
The park is a home of different mammal species, birds and reptiles which you can see during the hike. In addition, it is also a home of 70 mammals and 217 bird species which one can spot. The park is also great for bird lovers. More to that, there are different activities that are available after the hike like;
sightseeing nature
natural walks
visiting Bakonzo village. Get to share and learn more about the unique Bakonzo people in Bakonzo village, learn more about their music, culture and their natural ways of making herbs.
Recommendation
Pamoja tours and travel company is a credible company that provides professional tour services while putting your wants and needs first. We have conducted different hiking adventures in Uganda and work with different people in all the East African countries of Uganda, Rwanda and DRC therefore we assure you of the best safaris. We can help you plan and prepare for your hiking safaris in any of the East African countries. Please contact us in case you need any safari planned or reach our site for any extra information you need.