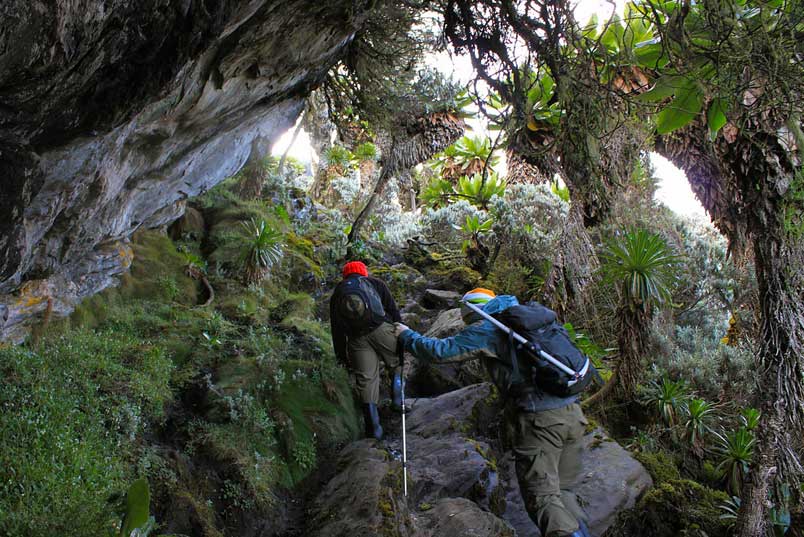 About Mount Elgon Hiking Safari: Mount Elgon lies in Mount Elgon national park. Furthermore, it is located in the Eastern side of Uganda on the boarders of Uganda and Kenya in Mbale district. The mountain is 4321 meters in height and mostly famous for its largest volcanic caldera in the whole world (40km wide).
In addition, the mountain's local name is Mountain Masaba, a name of an ancestor believed to have come from one of the caves. It is also a water pool for a number of rivers in Uganda such as Sipi River, where Sipi falls originates from.
Mountain Elgon national park is one of the most popular national parks with Mountain Elgon as its main safari attraction. It has a diversity of animal species, fauna and flora species, tree species and bird species (over 299 species).
How long does it take to hike Mount Elgon?
The duration for hiking the mountain depends on the peak you are planning to hike. For instance; Mountain Elgon's highest peak is 4321 meters above sea level called Wagagai peak, the Kiongo peak is at 4303 meters above sea level, the Jackson's summit is at 4165 meters above sea level and Mubiyi peak is at 4210 meters above sea level. The trail you wish to take directs you to the mountain peaks depending on the peak you want to climb.
Sasa trail
This is originally the route that takes you up to Wagagai peak. It takes about 3-4 days climb depending on the speed and the age group of the group taking the trail. From Budadari the trail head, you will reach Madangi cliffs, go through a bamboo forest to Wagagai peak of Mount Elgon.
Piswa trail
This is the best route for those who wish to see wildlife but the most difficult to trek. It doesn't go through bamboo stands but goes through the moorland in the caldera. This route is the longest and the highest as it takes 6 days when descending by Sasa rail and seven days when descending by Sipi trail.
Sipi trail
This is the best trail for those who wish to see and spend time at Sipi falls. The trail starts at the forest exploration Centre which is a four days trip and a seven day round trip. You will have a chance to camp inside Tutum cave which is huge in size with a small waterfall at the entrance.
Is hiking Mount Elgon safe?
There is definitely a guarantee of safety when it comes to hiking Mountain Elgon since it is one of the major tourism activities in Uganda. You will be given a guide and an armed ranger to protect you from any danger. Due to the fact that Mount Elgon lies between Uganda and Kenya, the two governments make continuous efforts for the safety of all climbers. You can also hike to the side of Kenya to see the caldera hot springs (two days' hike).
How to book for trekking safaris to Mount Elgon?
The procedures for booking a safari to Mount Elgon are the same as those of booking a safari to Uganda. These are very easier when you book with Pamoja tours and Travel Company. Simply contact us with your planned dates of the trip and your budget. We shall then tailor a safari that suites your interests and budget in the time you wish to hike Mount Elgon.
When you confirm your booking with us, we will send you an invoice of payments where you are required to pay 50% of the total invoice and the balance should be paid a month before your trip dates. The first installment is essential for booking all the services like accommodation, guides, book a cook, a porter, book hiking permits and transport in advance to avoid any inconveniences.
How much does it cost to hike Mount Elgon?
The activity is managed by the Uganda wildlife authority where hiking costs are USD50 for both foreign non-residents and for foreign residents and UG 50000 shillings for East African residents. Hiking permits are issued by UWA offices at each trail head. This includes the park entre fee for each person and guiding fees. For those who wish to use the services of porters who help to carry things around as you hike the mountain, you can get them at an affordable fee. The total costs for hiking Mount Elgon include hiking fees, transport, accommodation, guide fees, porter fees, cook fees and all other available services.
When to book for a hiking trip to Mount Elgon?
The best time to book hiking trips is in the months of June to August and December to February when there is less rainfall to interrupt your hiking. Ensure that you make ample preparation before hiking especially for the physical fitness of your body. Book your permits and hiking services in advance.
It is important to note, however, that you can go for hiking expeditions at any time of the year.
How to access Mount Elgon?
You can access the mountain by road via Jinja Sipi road from Entebbe/Kampala. The road trip is 5 hours' drive if you start your journey early enough to escape traffic. Also, on your road trip, you can stop in Mbale town for lunch. While there, you will be able to see River Nile in Jinja and Mabira forest, as you make your way to Mountain Elgon.
You can also access Mount Elgon from Kenya via Uganda-Kenya boarder but here you will need to acquire a Uganda Visa of USD50 or acquire an East African multi-entry passport. This kind of East African visa helps you enter Uganda, Kenya and Rwanda without any extra charges imposed on you.
Where to stay when hiking Mount Elgon?
There a various accommodation options when it comes to Mount Elgon. These options range from budget to mid-range facilities. After your long days climb, you need a cozy place to chill like Noah's ark hotel, Kayegi hotel, Sipi lodge, Mbale resort hotel, Sipi river lodge and so on.
Recommendation
Pamoja tours and travel company organizes budgets, mid-range and luxury safaris to Mount Elgon which suite the interests and needs of the customer. We have different popular trips from which you can choose even for those with interest in hiking Mount Elgon and visiting the Eastern part of Uganda. Our team is very helpful when it comes to planning, advising and giving the best services as we customize your trip to suite your interest. Contact us or visit our website for more information.