Amboseli national park the magical land of Kenya lies in the South Western part of Kenya. It is in the NorthWest of Mount Kilimanjaro on the border of Kenya and Tanzania covering over 392 square kilometers. The park is dominated by acacia woodland, rocky thorny bush, swamps marshland and a Pleistocene Lake. The park was officially declared a national park in 1974 with a history dating back to the times before the coming of the British colonial rulers in Kenya.
Amboseli national park is a home to a large concentration of wildlife species of upto 80 species. These include: the African elephant, cape buffaloes, impalas, lion, zebra, and wildebeest among many other animals. The park is also a home and famous for habiting a large population of elephants.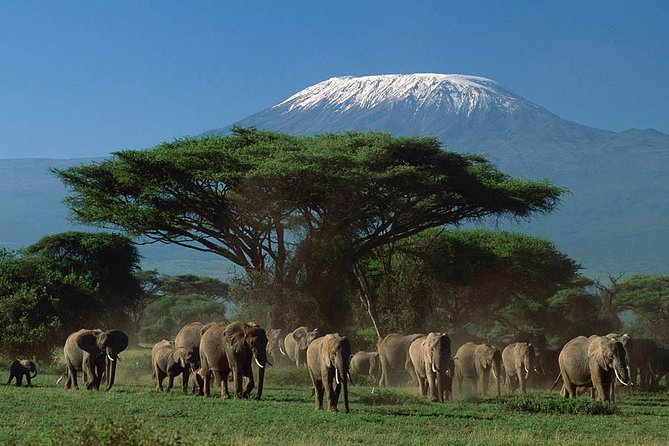 Overview
Amboseli National Park is the second most popular animal's park in the Kenya after masai mara national reserve. This place is easily accessible from the city of Nairobi by both road and air. The Amboseli National Park is home to large herds of Elephants that can be easily seen walking around the park. The water animals that live in the lake of Amboseli are only part of the park's population. The elephants like to playing along Lake Amboseli during dry seasons where they gather for cool off. The various habitats in the park create fertile grounds for plant growth which animal species feed on or reside. Other habitats in the park include, savannah grasslands, swamp, woodland, among others.
The savannah allows visitors to see a lot of animals clearly without hinderance from thick vegetation covers in the park. This is also beneficial for viewing birds such as Hartlaub's bustard, African jacana among others that fly over the savannah. Amboseli National Park has over 40 different antelope species that move or migrate in large numbers. Other wildlife species in the park include wildbeests, zebras, foxes, giraffes, hyenas among others.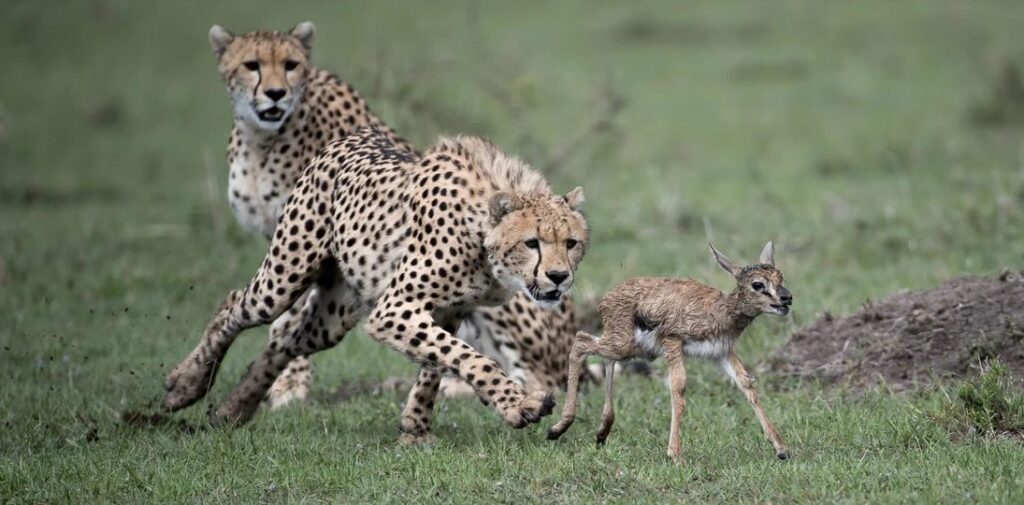 Attractions at Amboseli National Park
Amboseli national park is a home to a diverse wildlife, with the largest population of elephants in Kenya. That's why it referred to as the home for elephants and it's the best place to see them in Kenya in large numbers.
Wildlife in Amboseli national park is concentrated in five specific areas including Lake Amboseli, savannah vegetation cover, open plains, woodlands and Sulphur spring wetlands. The park is a home to a number of wildlife includig elephants, giraffes, lion, cape buffalo, blue wildebeests, spotted hyenas, zebras, cheetahs, impala, hippopotamus, Thomson's gazelle, and many more.
While on a game drive, you'll have spectacular views of the amazing wildlife mostly during dry season, June to October. The most captivating time is during the dry season where large herds of animals cross the sandy plains. They kick up a lot of dust thus offering a great opportunity for photography. Animals in the park are perfectly viewed from the observation hill and at sinet delta.
Bird life in Amboseli national park.
Amboseli national park hosts an estimate of more than 420 birds species, that are divided into three categories. These include water birds which thrive in the swampy regions, the grassland birds living in savannah plains and forest birds living in acacia vegetation.
The park is a home to bird species like African jacana, goliath heron, African swamp hen, Hartlaub's bustard, rufous chatterer, common redshank, Dickinson's kestrel, Eurasian thick-knee, greater flamingo, Hartlaub's bustard, lesser flamingo, long-toed lapwing, Pangani longclaw, rufous chatterer, rufous-bellied heron, spike-heeled lark, steel-blue whydah, Taveta golden weaver, von der Decken's hornbill, yellow-necked spurfowl and many more.
Farthermore, Amboseli National Park consists of great and beautiful sceneries that flow by the backdrop of the nearby mountain Kilimanjaro. The park has remarkable spots like observation hill where animals and other attractions in park are visible to guests.
Lake Amboseli
It's a temporary lake in the Northwestern region from the delta and occupying the largest portion of the park. The lake dries up in dry seasons, but in wet seasons the lake floods up with water. The lake is a big habitat for elephants more so in the dry season and it's also a camping site by adventurous tourists who love camping while in Amboseli national park.
Great scenery featuring clear Views of mountain Kilimanjaro
The park offers scenic views of Mount Kilimanjaro, which is Africa's highest mountain. While in Amboseli national park you get to enjoy clear views of snow capped Kilimanjaro peaks which offer the best photography opportunity.
Masai culture
The out skirts of Amboseli park are dominated by the fascinating Masai people, when in Amboseli national park visiting the Masai village is very much unavoidable as it offers the authentic African culture. In the Masai village you get to encounter Masai cultural traditions which include Masai dances, traditional song, and their unique way of addressing which is similar to the Karamojong of Uganda, local food dishes and also you can buy Masai artifacts. There is also an annual 7 day Masai gala organized in Loitoktok were most the culture, norms and traditional practices of the Masai people are showcased and Masai annual Olympics which take place in kimana.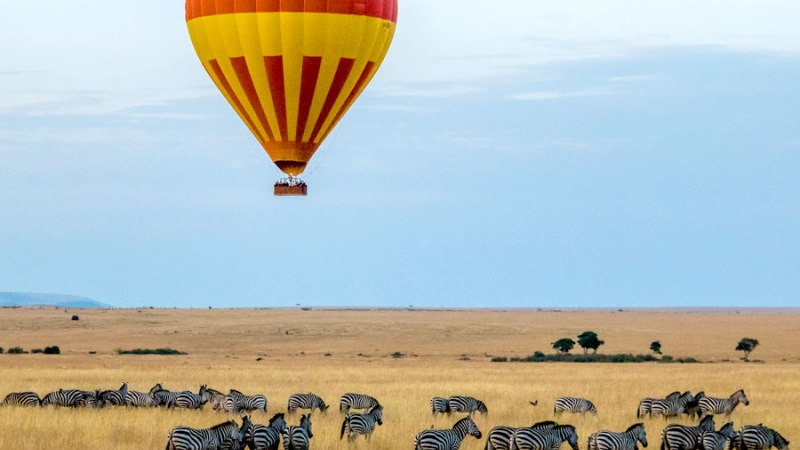 Balloon safaris
You can also enjoy wildlife viewing while in the sky in a hot air balloon together with many other individuals. There are private operators that handle these aerial view safari, and you can book for it or go through a tour company.
Best Time to Visit Amboseli national park.
The park is open to the public all year round, but it's best to visit the park during the dry season. The dry seasons runs from July to October, as we see the rains subsiding and welcoming the dry season in June.
The best time to visit bases on a few factors which include:
During the dry season, several wildlife gathers around the water holes in order to tap into the lightly scarce water during the dry season. But as the rain seasons come through, they start dispersing because of the numerous water access points.
In the dry seasons, it's quite easy to locate the wildlife because the grasses are short and scotched resulting from the dry spell.
Several water holes dry up in dry seasons hence leaving a few that attracts several wildlife from the different parts of the park.
During the dry season, the skies are clear giving you an awesome time to visit the park on a safari.
During the dry season, the Masai Mara national park also hosts the world's biggest wildlife migrations entitled the annual wildebeest migration.
Amboseli national park accommodation
In Amboseli national park, accommodation is got from Kilimanjaro Guest House, Simba Cottages, Chui Cottages, Amboseli Campsite, Oltukai Lodge, Amboseli Serena Lodge, Tortilis Tented Lodge and many more.

How to get to Amboseli National Park
By road
The has five gates that include Kimana gate, airstrip gate, kulunyiet gate, iremito gate, meshananai gate.
When using road transport to Amboseli national park you can use both private and public means of transport. There are numerous bus companies offering daily drives to Loitoktok town, where you finally connect to the park.
Note: when your driving to Amboseli national park it's important to use a 4×4-wheel car.
By air
Using air means of transport to get to Amboseli national park, there is numerous flight companies offering daily chartered flights from Nairobi's jomo Kenyatta international airport to Amboseli airport.
Companies offering domestic chartered flights to Amboseli national park include:
AirKenya flying from Nairobi
Safarilink flying from Nairobi and Tsavo west
Mombasa Air Safari flying from Mombasa, Masai mar, Malindi and Diani beach
When you are planning on using air means of transport to Amboseli it's important to book your flight earlier. This helps you to avoid delays and also have the right travel documents on time.
When travelling there, make sure you have valid travel documents that include:
A visa
Passport
Yellow fever vaccination permit and other requirements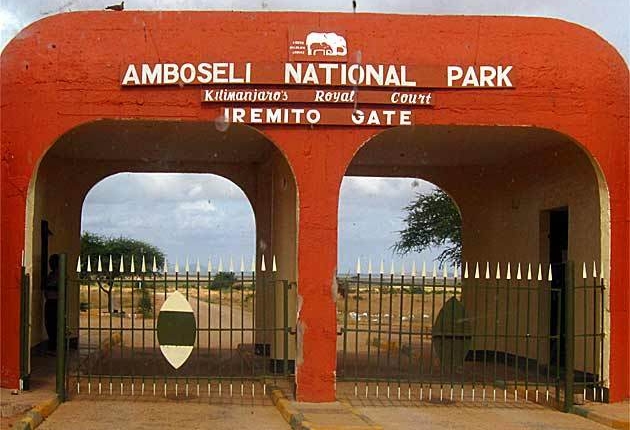 Conclusion.
When planning a safari to Amboseli National Park or any safari national park, consider going through a tour company. Pamoja tours and travel has the best offers and packages to any national parks across East africa for you.