Angama Mara (A modern lodge with arguably, the best views in all of Kenya)
Angama Mara is a safari lodge in the Masai Mara, and its panoramic views are the talk of the town. Balanced on the rim of Africa's Great Rift Valley, Angama overlooks the vast Mara plains. More to that, the meaning of 'angama' in Swahili is 'to be suspended in mid-air'. Angama is a very high-end property with a ridiculous amount of facilities.
Location
Angama is sat on the top of the escarpment, with over-hanging views down to game-filled plains of the Mara Triangle. Furthermore, the lodge is spread along three kopjes of the Oloololo escarpment, with the third kopje a setting for one of the most memorable scenes from the film 'Out of Africa'. Interestingly, Angama has continued the tradition, using the same kopje for private sundowners and romantic dinners.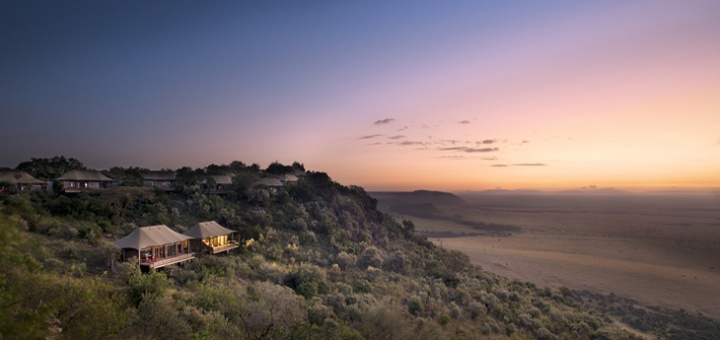 Layout
Angama has two separate camps, North and South Camp comprised of 15 tents each. The camps are completely identical. Each tent has its own guest area and lounge, an open-plan bar, a library, an outdoor dining area. Additionally, there is a viewing platform that homes panoramic views across the great Kenyan plains. The camps are both self-sufficient, but there are two things that the camps share. Firstly, there is a pavilion that is home to an infinity swimming pool, a well-equipped gym and a safari shop. Secondly, there are vast views that each camp and every tent share.
Rooms
The rooms sit on the rift valley's rim, allowing guests to experience the breath-taking views from their beds, the sitting area, the shower, the freestanding bath, or the private verandah. The roofs and three of the sides are of light canvas material, with the final side being a glass frontage. In addition, the rooms are very unique, as the bed, sitting area and the freestanding bath are in the same 'room', offering a very open-plan and spacious feel. Both North and South camp both have two sets of interconnecting tents which are perfect for families.
Activities offered by the camp
The Mara Triangle is always delivering game all year round. This gives travelers an opportunity to enjoy game viewing at a relaxed pace.
More to that, game drives in the Mara Triangle are flexible, depending on the guests' safari experience or interests. No matter what age or fitness level, guests can also discover the Rift Valley on a walking safari with the knowledgeable local guides. Additional activities include;
hot air balloon safaris over the Masai Mara
visits to local homesteads of the Masai warriors
private sundowners and dinners in exclusive settings