Entanda cultural center
Entanda cultural center is community initiative that was established in 2013 with intentions of preserving and promoting Buganda's cultural practices and natural environment through tourism.
Buganda kingdom is one of the largest, strongest and most influential pre-colonial kingdoms in East Africa. The kingdom occupies an area of 61,405 sq-kms with rich history and a strong culture since the first king Kintu.
At Entanda cultural centre is located in Mityana district along the Kampala-Fort Portal highway, driving for about 2½ hours. You branch off from the main road as you reach Mityana town and drive for about 20 minutes to Entanda.
The word "Entanda" is a Luganda word which means an offering or a gift given to a loved one. Mostly used during "Okwanjula" which is a buganda traditional function where a mother or ssenga gives her daughter Entanda that will help her in the future in marriage. Also those going for long journeys or war had Entanda from parents or partners to carry with them. Entanda has no measurements since it's like a gift, so one gives out according to what they can offer.
Getting to Entanda cultural center
As you leave the main road, you get to see a lot of isolated homes since this cultural centre is in a remote area. You get to see tea plantations alongside the natural ever green vegetation cover of the area. As you travel through the marum road, the children you find on the way will always wave at you as a sigh of welcoming you in their community.
At Entanda cultural centre, visitors get a warm welcome with a traditional Kiganda dance by both the young and old, and visitors also engage in the dance as it is so entertaining. The dance continues as the guests settle down in the seats already set for them under a shade as they enjoy the dance.
As you settle down, your eyes will be looking at a fresh buffet of fruits that are enough for everyone on the trip.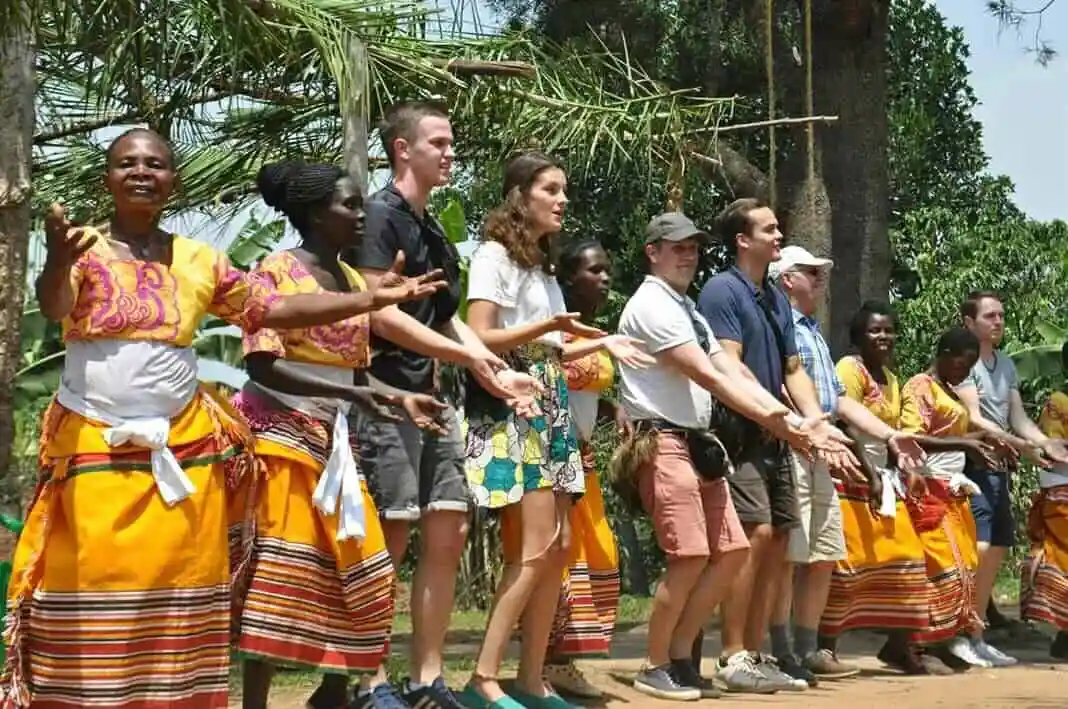 Entanda cultural center as an initiative
As an initiative, Entanda cultural center ensures promotion of traditional music, traditional talks, local games, controlled hunting, backcloth making, food preparation and dining, Buganda totems and taboos among many others.
The initiative has developed a number of activities that have brought in a good number of guests. Entanda cultural center was also the best cultural tourism initiative in Uganda, in 2017. That same very year, Entanda finished among the top 15 best cultural tourism destinations under the UNDP Global Equator Initiative 2017. The initiative was chosen as a tourism model by UNDP in 2016, and then taken on a case study for all delegates in an international meeting in Kampala. This initiative shares a strong partnership with Makerere University Business School as tourism students take it as a case study every year.
As an initiative, Entanda cultural center collects revenue from the tourists that visit the place, and these funds are distributed. Some of these funds go to paying off the workers of the initiative to improve their livelihoods. Others are used to support the community through training, grading the community roads, supporting the only village school in existence, formation of developmental SACCOs and supporting agriculture. The people living in the community enjoy social capital that enables local economies to grow.
Activities done at Entanda
When going to Entanda cultural center, expect the following activities:
Community walks
Farm visits
Fresh fruits buffet for all visitors.
Tea plantation visits.
Playing soccer with the locals
Local food preparation
Hunting
Learning Traditional music
Backcloth making
Honey testing and harvesting
What to pack for Entanda cultural center.
Closed shoes
Soccer shoes and jersey
Sun glasses and a Hut
Items to give out to the community
When to visit Entanda cultural center.
Visitors are welcome to Entanda cultural center at any day of the year since there aren't hindrances in movements there. However, it's always better to go through a tour operator in order to have a complete and wonderful package.