UGANDA FLY-IN SAFARIS
Fly In safaris in Uganda is the perfect way to reduce travel time, especially on long journeys. A Flying Safari is an inspiring exclusive adventure experience for travelers planning their Safari in a limited time. Visitors can enjoy their Safari by air, then on a ground trip for a short distance using a private 4WD Safari vehicle.
Uganda fly In safaris to visit the beautiful and scenic game parks are recommended as the best solution for travelers who have limited Vacation days and would love to spend most of their little time viewing wildlife. It's a perfect plan, then taking a long drive on Uganda roads from Entebbe International airport to carry out activities in national parks such as Bwindi forest, Queen Elizabeth national park, Kidepo valley national park, Murchison falls Kibale and many other places of interest.
The national parks
In general, Uganda has 10 national parks and 11 wildlife reserves. These are all widely spread across the country, meaning it requires enough time ranging from 3-10 hours to travel by road from the international airport to these game parks of which some of the roads are not in good condition. But no worries, the solution available is that these national parks can be accessed by air either directly to the park or to the nearest airstrip where the distance to travel on road is shorter. These flights are convenient, and comfortable and save time to travel to different destinations. A flying safari also gives you a chance to view different attractions from the skies and also have aerial photos.
How you get to your destination
Take a flying Safari on your vacation in Uganda and just a few hours of your flight you will enjoy a lot up to an airstrip of your convenience followed by a short drive to your destination. From the airstrip, a tour driver/ guide will be there to pick you up and transfer you to your beautiful lodge in a nice and comfortable safari jeep before you begin your tour in the park to see wild animals, and possibly do other adventure experiences according to your program.
There are several domestic air flight companies that operate within Uganda offering daily flights from Entebbe or Kajjansi airstrip to different game parks. You can take a flight to your specific destination. These domestic flight companies include; Aero link Uganda, which is the most famous charter flight in Uganda and East Africa. There is Eagle air which operates mostly in the Northern part of Uganda and many more.
Fly In Safaris Uganda
Uganda fly in safaris by Aero link, charters flights for tourists to different Uganda national parks taking not more than one hour and a half. The routes take you to the following destination below;
Bwindi Impenetrable National Park
This park is famous for mountain gorilla trekking and many other activities such as birding watching, Hiking, Community walks, and many more. It can be accessed through Kisoro airstrip and Kihihi airstrip.
Kisoro airstrip: Entebbe to Kisoro- 7am departure time, Kisoro to Entebbe- 8:25am departure. One can connect to Kihihi, Mweya, Kasese and Semuliki airstrips to go to the next destination.
Kihihi airstrip: There are two flights per day to and from Kihihi; From Entebbe to Kihihi there are flights at 7am in the morning and 12pm in the afternoon. From Kihihi back to Entebbe flights are at 9:45 am and 14:55pm in the afternoon. You can connect to Kisoro, Mweya and Semuliki airstrips.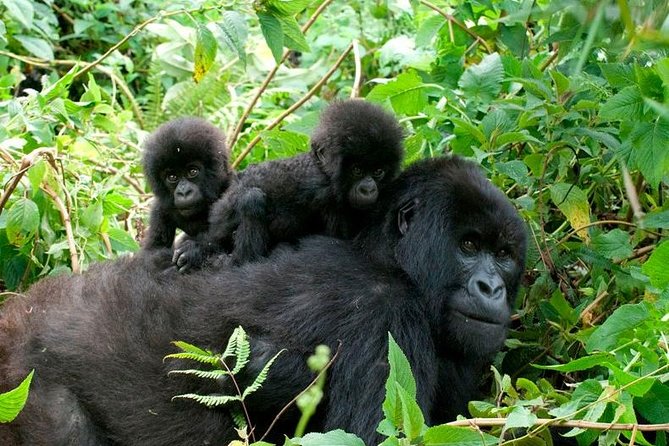 Queen Elizabeth National Park
It is well known for tree-climbing lions, the beautiful Kazinga channel, and forested gorges with Chimpanzees is the most visited national park in Uganda. There are three daily flights to and from Ishasha, Kasese airstrip or Mweya airstrip that is to say from Entebbe to Kasese/ Mweya flights depart at 7 am, 10:15 am and 12 pm, from Kasese/ Mweya back to Entebbe flights depart at 10:20 am, 12:20 pm, and 14:55pm. From Mweya and Kasese airstrips one can connect to Semuliki, Kihihi, and Kisoro airstrips to go to their next destination.
Murchison Falls National Park
One can access it through three airstrips that's Pakuba airstrip in the north. Bugungu airstrip in the south and Chobe airstrip in the east which is privately owned. Flights from Entebbe leave at 12 noon to Pakuba, Bugungu and Chobe airstrips. Also, flights back to Entebbe leave these airstrips at 13:15pm. Tourists can then fly to Kasese/Mweya in Queen Elizabeth national park, Kihihi airstrip, and also Kidepo valley national park
Semliki National Park
It is in the Bundibugyo district in western Uganda one can access it by charter flights which operate three times a day. From Entebbe to Semuliki flights are at 7 am, 10:15 am, and 12 pm, and from Semuliki back to Entebbe flights depart at 10:20 am, 12:20 am, and 14:55pm. From Semuliki travelers can connect to Mweya/ Kasese on the way to Queen Elizabeth and Kihihi and Kisoro as you head to Bwindi Impenetrable national park.
Kidepo National Park.
Flights to Kidepo depart at 12:30pm from Entebbe and the flights back from Kidepo to Entebbe international park set off at 15pm. You can fly from Kidepo to Pakuba/ Bugungu and Chobe airstrip in Murchison falls National Park.
Lake Mburo National Park.
Entebbe to Mbarara flights depart at 10:15 am and from Mbarara to Entebbe, Flights depart also at 12;45pm
SCHEDULE FOR FLY-IN SAFARIS BY AERO LINK UGANDA
AM FLIGHTS
7 AM Departure time:
EBB-Kisoro airstrip: EBB – Kisoro*- Kihihi – Mweya – Kasese – Semliki* – Depart 07:00 hrs from Entebbe.
Kisoro – Kihihi – Mweya Kasese – semliki* – Entebbe: – Departure-  08:25am from Kisoro.
Mid-Morning flight daily except April, may November
EBB – Mbarara – Kihihi – Mweya – Kasese – Semliki* Departure 10:15 hrs  from EBB
Kihihi – Mweya – Kasese – Semliki – Mbarara – EBB: Departure 11:40 hrs from Kihihi Airstrip.
PM FLIGHTS (Service from Entebbe may route via Murchison falls national park subject to loads)
EBB – Kihihi – Mweya – Kasese – Semliki* – Departure 12:00 hrs from EBB
Kihihi – Mweya – Kasese – Semliki* – EBB –  Departure 14:55 hrs from Kihihi.
Jinja to Kihihi/ Kasese/ Mweya/ Kidepo flight on request at a surcharge of $950.
Aerolink does not operate to Kisoro on schedule in PM Flights, only 07:00hr from EBB
Semliki flight requires a minimum of 4 pax.
NORTH
Murchison fall national park (Pakuba, Bugungu and Chobe airstrips) Daily flights
EBB – Pakuba/ Chobe/ Bugungu ( minimum 4pax) Departure 12:00 hrs.
Pakuba/Chobe /Bugungu – QENP*/ BINP* (Minimum 4pax) Departure 13:15hrs
Pakuba/ Chobe/ Bugungu – EBB (Minimum 4pax) Departure 13:15hrs.
Kidepo Valley Nationa Park (Apoka Airstrip) Wednesday, Friday and Sunday
EBB – Kidepo (Minimum 7pax) Departure12:30hrs.
Kidepo – EBB (Minimum 7pax) Departure 15:00hrs
Aerolink operates Charter flights if their scheduled flights do not meet your travel requirements.