Hiking Mount Bisoke in Rwanda is one of the most memorable activities in Rwanda. Mount Bisoke, sometimes known as Visoke, is roughly 12,126 feet above sea level and may be ascended in one day.
Plan your trip such that you may go gorilla trekking one day and walk up Mount Bisoke the next. Mount Bisoke is located in Rwanda's volcanoes national park, which shares a border with the Democratic Republic of Congo's Virunga national park.
Hikers on the Mount Bisoke trek are rewarded with breathtaking views of two lovely crater lakes, one near the summit and the other approximately halfway through the hike. Mount Bisoke last erupted in 1957, leaving a massive crater lake in its wake.
Reason for the trek
Apart from the crater lakes, which are the main reason for the trek, Mount Bisoke is home to a variety of magnificent tourist attractions, including primates such as Mountain Gorillas, which are one of Rwanda's most popular tourist attractions.
As previously stated, climbing Mount Bisoke is a one-day activity that takes around 6 hours to reach the peak and 2 hours to descend. The hike begins with a briefing at Kinigi, where the park offices for the volcanoes national park are located.
Following the briefing, hikers are transported to the hiking trailhead and escorted over well-marked pathways through the thorny horns at the mountain's foot, ascending to the first Crater Lake before continuing to the summit to see the second lake. Expect to stop along the way and relax a bit while you see a variety of sights, including primates such as gorillas and golden monkeys.
Other wildlife
Hikers can also spot other wildlife animals such as buffaloes, elephants, a plethora of birdlife, and many more. Though you are not allowed to photograph these primates because they may be unaccustomed and dangerous to humans, other wildlife to spot include mammals such as buffaloes, elephants, a plethora of birdlife, and many more.
You'll be rewarded with breathtaking views of the entire volcanoes national park, including its harsh forest cover and other adjacent volcanoes in Rwanda and the Democratic Republic of Congo, from the summit.
Taking up the one-day Bisoke Hike in Rwanda is such an exciting and gratifying experience. Volcanoes National Park hosts the Mount Bisoke Hike. If you're planning an exciting safari to Rwanda for gorilla trekking, don't forget to include a trip up the volcanoes to round off your adventure in the land of a thousand hills.
How long does it take to hike Mount Bisoke in Rwanda?
As previously stated, the hike to the peak of Mount Bisoke is difficult yet manageable. The hike takes about 6 hours from the starting point, passing through local farmlands and plantations before continuing through rocks and ragged vegetation cover at the base of Bisoke/ Visoke volcano, with a good number of stopovers to catch your breath and enjoy your packed lunch while relaxing and taking in the stunning scenery. Ascending is exhausting, especially during the wet season when the trails become slick and difficult to navigate.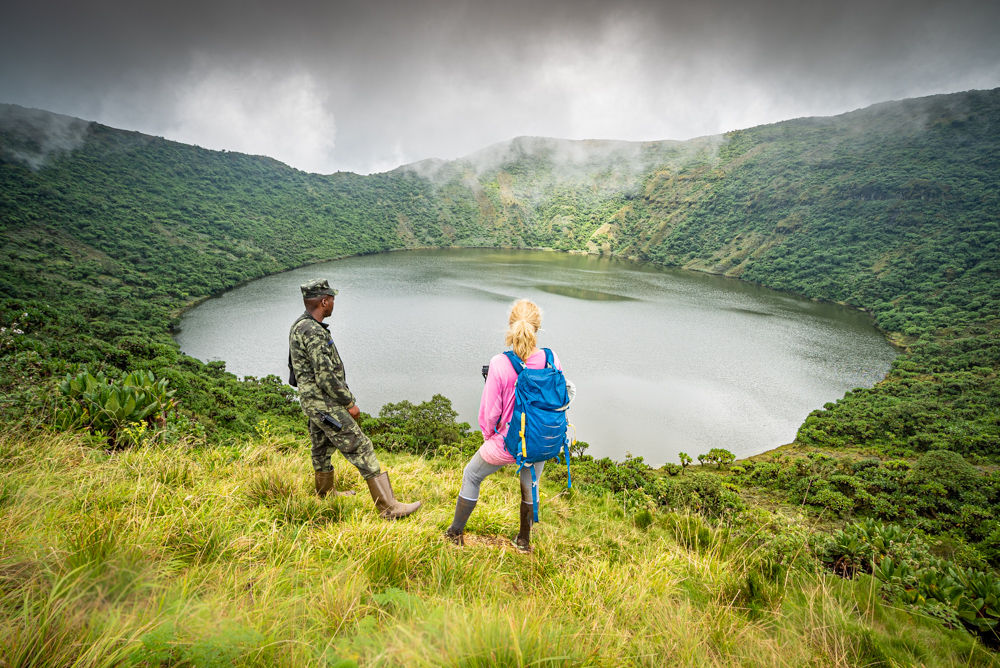 The descent, on the other hand, is quite simple and takes around 2 hours or less. This depends on the speed and nature of the paths.
Cost of Hiking Mount Bisoke in Rwanda.
A permit to hike Mount Bisoke costs $75 per person. It must be purchased ahead of time and picked up at the park headquarters on the day of the hike. The Mount Bisoke hiking permit covers park entrance costs to Volcanoes National Park as well as ranger fees, but not porter fees, tips, or gratuities. As a gesture of gratitude, we normally advise our clients to tip the porters and rangers. This is at the end of their trip.
Packing list for visitors hiking Mount Bisoke in Rwanda.
Mount Bisoke hiking permit
Appropriate hiking shoes which should be waterproof and light in weight and comfortable for easy walking.
A hiking stick, though sometimes it is provided during briefing but carrying your own is acceptable.
Enough snacks to keep you energized while toiling with the challenge
Enough bottled drinking water to keep you hydrated throughout the hike
Remember to hire a porter in case you have a heavy backpack that requires assistance
Appropriate hiking attire should be worn including long-sleeved shirt to protect your arms from insect bites. Also, this is to protect you from thorny plants. Wear long trousers, a rain jacket for just in case it rains. Also, get a warm sweater to keep you warm as you go higher, sunglasses, garden gloves, and a cap
A sun scream
Insect repellant to assist you in expelling away insects
A camera as usual since you need to capture any moment spent on your adventure.