Kichwa Tembo camp
Kichwa Tembo camp is a luxury tented camp with a modern décor and a sleek finish. The camp looks directly onto the open plains of the Masai Mara, home to the most plentiful and diverse wildlife in Kenya! This camp offers great value for money, with very comfortable accommodation and a wealth of amenities. However, it competes in location with the likes of the Governors Camps which are undoubtably better in position, sat inside the Mara Triangle.
Location
Kichwa Tembo is situated just outside of the northern part of the Mara Triangle, on the edge of the Oloololo escarpment. It sits where the riverine forest and the vast plains meet, providing an authentic dose of African wildlife all year round. Additionally, the game is heightened between the months of July and October, the Great Migration can be seen in the area around the camp!
Layout
The camp has 40 tents spread amongst the bushy environment. These tents provide a sense of privacy even with high guest volumes in peak season. More to that a collection of modern and very open-plan wooden structures make the main area of the camp. There are also facilities like;
a bar
a lounge area
a shop, a spa
a pool
a kitchen and dining area.
The kitchen use fresh produce, with their very own vegetable garden growing in the sunlight adjacent to the dining room, for guests to have a little look. These split-level spaces offer alternatives to guests sitting and relaxing in their private rooms.
Rooms
The 40 tents comprise of 12 luxury tents and 28 superior tents. The tents are traditional in style, with canvas walls and stone bathrooms. Moreover, the Masai-inspired rooms are contemporary, elegant and timeless. Also, the furnishings in the room are light wood in nature, creating a soft and airy feel immediately.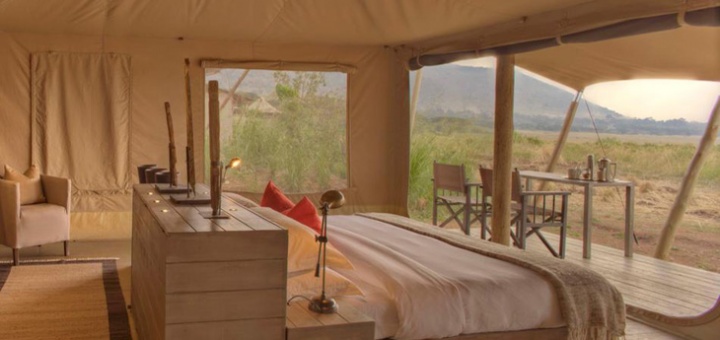 Activities
You can shared game drives with other tourists in the Masai Mara Reserve and in the private concession. This accommodates night drives and bush walks along the Mara River or Oloololo Escarpment. One can also request for a hot air balloon ride over the vast plains of the Masai Mara. In addition, there is an option of cultural village tours and massages (at an additional cost).