Location
Located on the shores of Lake Bunyonyi, Lake Bunyonyi Rock Resort is your comfortable, affordable, eco-friendly, and best place to stay on your Uganda safari to southwestern Uganda. Whether you travel for gorilla trekking in Bwindi forest/Mgahinga gorilla national park, golden monkey trekking, Batwa community visits, visiting Lake Bunyonyi, or also touring any other tourist site in southwestern Uganda, Lake Bunyonyi Rock Resort offers you exceptional food and also sleeping services at affordable rates.
Rooms
They have a total of 22 rooms 19  of which are luxury (self-contained)  while three are basic (not self-contained). Five of the luxury rooms are in the  Rock Bungalow three rooms upstairs and two rooms downstairs. Each of these rooms has a private balcony, private showers, and also clear views of the lake and neighboring communities. The arrangement of the rooms can be single, double, twin, or triple depending on the number of visitors received and the choice of their sleeping arrangements.
Their restaurant serves guests all kinds of local and international foods, Vegetarian and also gluten-free options to meet all our guests' dietary requirements, and the bar is fully stocked with all local, and international drinks.
Besides food and accommodation services, Lake Bunyonyi Rock Resort offers travelers with additional activities such as gorilla trekking, swimming, boat cruising, mountain biking, and also airport transfers to reward travelers with memorable experiences.
Having served in the tourism industry for over 10 years, Bunyonyi Rock Resort guarantees travelers exceptional services worth the penny. The professional staff (chefs, waiters, waitresses, and also housekeepers) ensure smooth service delivery.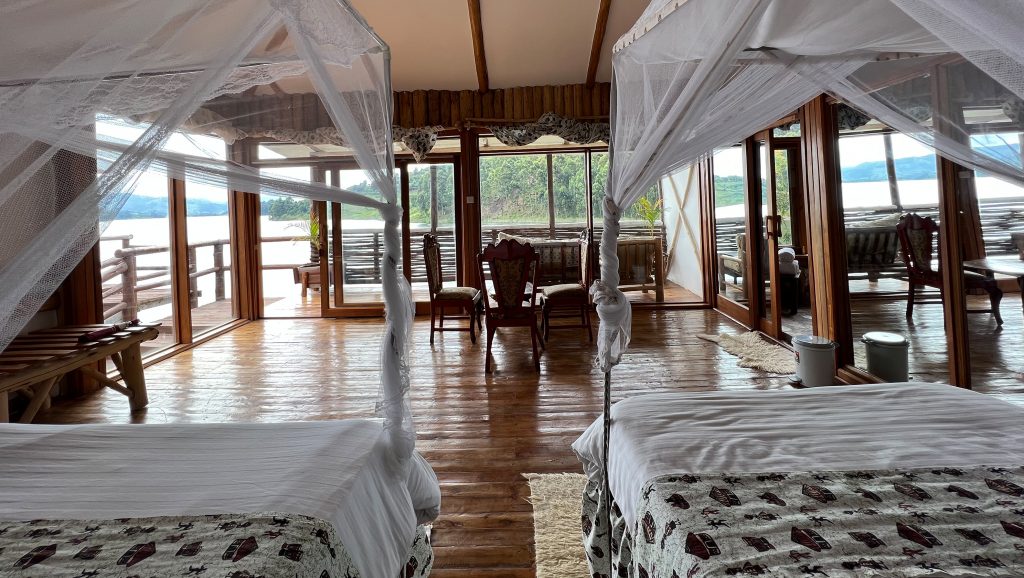 The Cottages
Single Cottage
Are you a solo Traveler? Our single Cottage offers you a comfortable, safe, and also enjoyable stay. Enjoy the lake views of a single Cottage at Lake Bunyonyi Rock Resort. The Cottage is also big enough with a sitting area and also self-contained.
Family Bungalow
Are you traveling as a family? The family bungalow has five rooms hence your best room to stay with your family.3 rooms upstairs and 2 rooms downstairs each self-contained, with a private balcony and clear views of the lake.
Double Cottage
Enjoy the comfort of the double Cottages on your visit to Lake Bunyonyi. The beds are big enough to give you a comfortable sleep. The Cottage is self-containing, with a  sitting area,  private balcony, and clear views of the lake and communities.
Twin Cottage
Traveling with your friend/mate? The twin Cottage is the best place for you to stay. Each twin Cottage has 2 beds medium size to offer you a comfortable and sweet sleep. All twin Cottages are also self-contained with a sitting clear and alsoa private balcony.
Triple Cottage
They have the best triple spacious Cottages for you and two friends. A triple Cottage comprises of 3 single beds hence the best sleeping arrangement for a group of 3 mates. They are self-containing, with sitting areas and also clear views of Lake Bunyonyi.
Basic Cottage
Stay in the basic Cottage for a fresh feeling of an African home. Unlike the other Cottages, basic Cottages are not self-containing but they are lovely in their own kind. The arrangement of basic Cottages can be single or double.
Check out these packages where you can sleep at this incredible resort:
14 Days Uganda Big 5 safari – Primates and Tree Climbing Lions