Luxury accommodation in Lake Nakuru National Park
Sarova Lion Hill Lodge
"A great lodge to experience the Great African Rift Valley"
Sarova Lion Hill Lodge is one of the luxury accommodation in Lake Nakuru National Park, famous for its flamingo and white rhino populations. Its location within a two-hour drive from Nairobi, makes it a favourite with residents and visitors to Kenya. Savora Hill Lodge is a fantastic base for those particularly interested in bird watching and being surrounded in beautiful landscapes.
Location
This lodge is nestled along the Lion Hill overlooking the flamingo pink rimmed Lake Nakuru in Central Kenya. The lake takes up about a third of the park size, and it is the lake that has become famously inhabited by huge populations of flamingos. Depending on the season, the lake can be shimmering with thousands, if not millions of bright pink legs.
Layout
Savora Lion Hill Lodge is large for safari standards, hosting 67 luxury chalets across the beautiful grounds. The lodge has its very own spa which is peacefully tucked away near the swimming pool, where guests can enjoy a range of treatments in ultimate relaxation. They have the space and facilities to also host weddings, banquets and conference events.
Rooms
The rooms are split into 64 standard rooms and 3 suites. The rooms are spacious and well-appointed each with en-suites and private patios with panoramic views of the lake. The beds, which can be single, double or triple, are very comfortable and each has a mosquito net provided.
Activities
Game drives from the lodge are done on marked tracks around the lake and all over the national park. Bird watching is also particularly popular, as there are over 400 recorded species of birds to be spotted, including flamingos, a wide range of waders including avocet and pelicans. The lodge also offers excursions to Baboon Cliff (one of the highest points on the hills), across the rift valley and to the rhino sanctuary so there is definitely enough to keep you busy!
Deloraine House
"A cozy, colonial house perfect for equestrians"
As part of the Offbeat portfolio, Deloraine House offers beautiful accommodation just outside of Lake Nakuru National Park. The house itself offers a variety of activities with horse riding on the top of the list – an equestrian's heaven! With the main house a cottage combined with a house and beautiful scenery, it is a home away from home.
Location
The farm is set on the lower slopes of Lon Diani Mountain, which is a forest and bamboo shrouded extinct volcano, on the western edge of the Great Rift Valley. It is 45 minutes away from Lake Nakuru National Park in Kenya. The park has plenty of wildlife including lion, leopard and buffalo, but the lakes are particularly famed for its bird diversity including flamingos (greater and lesser).
Layout
Deloraine House comprises of 3 large double bedrooms, a large dining room, a drawing room, a hall and veranda. There is also a cottage adjacent to the house which homes another 3 double bedrooms so there is plenty of space. The grounds are tropical and spacious, with a swimming pool, tennis courts, croquet lawn and well-kept gardens.
Rooms
The house was built in the 1920's by a prominent early settler in Kenya, named Lord Francis Scott, so the architecture is colonial and the décor is grand. The rooms are very large and well-appointment, with dark furniture and light fabrics.
Activities
Deloraine House offers a huge variety of activities so you could easily spend a couple of nights here. The house is run by the Voorspuy family who are well known for their Offbeat Riding Safaris so of course, horse riding is top of the list (hacking, cross country and polo). Day trips to the lakes (Nakuru, Bogoria and Baringo) are offered and for those who want to spend a morning or afternoon relaxing, there is a swimming pool, tennis court, gardens and a croquet lawn.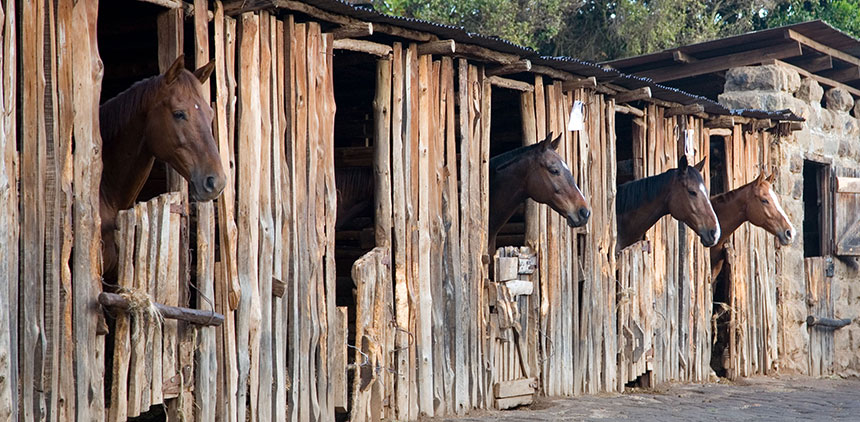 Lake Nakuru Lodge
"The jewel of Lake Nakuru National Park"
A Luxury accommodation in Lake Nakuru National Park. Lake Nakuru Lodge is a beautiful eco-lodge situated inside Lake Nakuru National Park boasting unobstructed views of the lake and wildlife.
This property also has one of the best-rated locations in Nakuru! It offers accommodation with free WiFi, seating area and flat-screen TV. There is a private bathroom with bath and free toiletries in each unit, along with a hair dryer. A buffet breakfast is available each morning at the property. There is an in-house restaurant, which serves a variety of Indian, African and American dishes and also offers dairy-free, gluten-free and vegetarian options. The lodge offers an outdoor pool as well as a garden where guests can relax.
Rooms
The lodge offers accommodation in 95, spacious deluxe rooms-which have a glass sliding door- all with ensuite bathrooms with permanent showers, and also have great views of the park, garden or lake, and 2 suites with private veranda and a sitting room. There is also a special treat….the zebra room which is the oldest at the lodge and is now 100 years old.. .it was the first building on the site. Guests will enjoy excellent cuisine at the Mutarakwa restaurant, serving buffet breakfast, lunch and dinner on live cooking counters. Mama Nikki bar comes alive at night where traditional dance performances take place.
Restaurant
This restaurant (Mutarakwa Restaurant), consists of 2 parts, the inside area and outside area. The inside area is the main dining area and sits approximately 150 – 180 guests. On the hand, the outside area is slightly smaller and accommodates about 42 guests. Additionally, it is graced by a watering hole which allows our guests to see the wild animals as they enjoy their meals.
For many years, we have gone to great lengths to ensure that we provide exceptional cuisines that meet all of our client's dietary requirements. Our chefs are professional to create unmatched, mouth-watering delicacies that are of international standards.
Activities
Tree Planting
We love for our guests to leave a little bit of themselves at our lodge; our tree planting sessions allow this to happen. Once you plant your tree, we look after it for you for a lifetime. We usually provide our guests with a choice of trees to pick from, or if they would like to bring their own, they must ensure to get approval from KWS. We advise our guests to request tree planting sessions in advance in order for us to adequately prepare.
Horse Riding
Our horse riding excursions take place at Flamingo Stables, located on the perimeter of the Lake Nakuru National Park. Flamingo Stables has been in existence for over 35 years and offers residents of Nakuru as well as our guests, the very best of horse riding services in the entire region. Experience a variety of wildlife as you meander through the outskirts of the park.
Bird Watching
Our Lodge is a great birding paradise destination for all bird watchers and enthusiasts, with more than 500 species of birds recorded at this park. The Lake Nakuru is a soda lake, which is a hotspot and supports a lot of birdlife, including large flocks of pelicans, flamingos, amongst other popular bird species such as the striking, Long-Tailed Widowbird and a good variety of raptors including Verreaux's and Long-Crested Eagle. The best time to visit is from November to April, as this is also breeding season, many species are nesting at this time
Bush BBQ / Bush Breakfast / Sundowners
Our Bush BBQ, bush breakfast as well as Sundowners are provided upon request, they allow our guests to relax and enjoy nature at its best. This services offer our clients the most unforgettable memories of bonding with nature.
Game Drives
Can you really say you visited us if you don't take a game drive? Our location inside the park ensures that all our guests take a short mandatory game drive in order to access us. Expect to see well-known wildlife such as Lions, Rothschild Giraffe, Zebra, Waterbuck, Rhino and Buffalo's among others.
Swimming
After a long day of travelling and game drives there's nothing like a refreshing dip in our pool which allows our guests to be a part of the action without having to leave the pool. It overlooks a watering hole frequented by local wildlife and the park and lake beyond. Relax and soak in the most exotic views of the park.
Flamingo Hill Camp
The Flamingo Hill Camp lies within the famous Lake Nakuru National Park. Furthermore, it is within the Great Rift Valley of Kenya. Also, it is among the top Luxury accommodation in Lake Nakuru National Park.
Approximately 30 minutes by air or 2 hours by road from Nairobi. Nestled between the "honeymoon hills", and set in beautifully landscaped grounds with natural foliage and a variety of indigenous African plants and flowers, Flamingo Hill Camp provides superb, tented accommodation.
Flamingo Hill Camp is an eco-friendly establishment. Part of the money from the camp is for environmental restoration and protecting species that are close to extinction.
Cosy, warm and inviting with a personal touch, Flamingo Hill Camp offers the traveler a home away from home
Rooms
Small and exclusive, comprising 25 tents. The tents have luxurious furnishing that is suitable for the modern traveler. With decorations of calming safari tones, natural woods, wrought iron and crisp cottons, each tent is in position to maximize comfort. All tents have the following facilities:
Four poster beds & mosquito nets
En-suite with shower, WC and flush toilets
Writing desk
A private verandah overlooking the plains
Hot and cold running water
Voltage at 240 volts
Restaurant
An Unforgettable Dining Experience
Our experienced chefs will prepare meals to tantalize taste buds!
Breakfast is served daily, between 6.00am & 9.30am
Lunch is served between 12.30 noon & 2.30pm
Dinner can be enjoyed between 7.00pm & 9.30pm
We also cater for any special dietary requests made by our guests. We pride ourselves on the food we serve our guests. Quality and excellence is simply one way to describe what we offer!
Bar & Lounge areas
The bar has local and foreign beverages.
We serve our guests with the famous flamingo hill cocktails whilst relaxing in our comfortable and open Lounge with a view of the plains. Recline, get pampering from our staff and enjoy an African sundowner!
Socialize with other guests around a cozy fire in the evenings or simply get comfortable with a book from our Library.
The Cliff – Nakuru
The Cliff Tented Camp Nakuru, Kenya is a high-end luxury accommodation in Lake Nakuru National Park, while "Luxury" is the simplest description, in reality, the Cliff defies conventional labels, being a combination of a safari lodge, tented camp and boutique hotel. The Camp is full of elements from all over the world, including exclusive furniture and fabrics that resonates old European style and Safari Africa.
Lake Nakuru's newest and smartest addition is a 10 room luxury camp, The Cliff. While 'luxury camp' is the simplest description, in reality, The Cliff defies conventional labels, being a combination of a safari lodge, tented camp and boutique hotel, constructed and furnished in a contemporary European style.
This luxury boutique hotel offers you an experience that is exceptionally enchanting, far from the standardized camp atmosphere. Many of The Cliff's guests will be frequent travelers and are discerning in matters of service. The Cliff Nakuru aims to ensure that the guest is home away from home is a place where they can enjoy the pleasure of being themselves, making it the perfect destination for love, life, and living.
The property lies at the edge of a Cliff; all the rooms have stunning and expansive views of the lake.  Other facilities at The Cliff Nakuru include a bar lounge where you can unwind , an open Dining room where you will explore your palate, a spa to ease tired muscles using natural products from Africology, a  fully equipped fitness area with state of the art Techno gym equipment to continue your fitness regime, an infinity pool to soak in with views of the park and a conference room that will allow for executive encounters.
Rooms
Each tent is 100 square meters – the largest for any deluxe tented camp, with details in the décor that transport a guest to a time in Europe but in the wilderness of Africa. This elegant style, combined with the canvas feel, the acacia surroundings, and the Lake's magnificence, make The Cliff Nakuru the most unique retreat in Lake Nakuru National Park.
The Cliff Luxury Tents
The Cliff literally allows Nature in, so you can feel like you are outside – all areas are open. Additionally, there are many trees and a vast grass area.
Each of the accommodation suite at the Cliff provide you with a sweeping view that you can enjoy through the day. In the morning, you can watch the sun rise from beyond the hills spreading its light across the expanse of the Lake. During the day, you can watch the Lake morphing into a mystery of unusual shadows creating a sense of suspense. Alternatively, in the evening, you can bathe with a glass of wine in your hand, unwinding and letting go.
Each tent stands on solid foundations at the edge of the cliff and faces the lake. This allows guests 180 degree views of the panoramic paradise while maintaining privacy. Also, the tent is spacious and the freestanding bath looks outwards. The exterior environment at The Cliff is purely African. The room interiors combine organic chic with international design to create the understated style of a modern boutique hotel.
Guests can sit on the veranda to catch the rising sun in the morning as it spreads its vivid light across the lake.
At sun set, the atmosphere of the park settles into the comforts of the unfolding night and the nocturnal sounds of the wilderness.
Hotel Facilities 
The Gym
Continue your fitness regime by training at the gym (with a personal trainer). Conversely, take a dip in the pool, or relax and enjoy the wildlife.
Yoga
Begin your day with stretches and occasional yoga classes. Alternatively, spend the day at the spa with treatments from Africology.
The Spa
The Cliff has the largest tent Spa and gym pavilion. We will also be offering spa treatments on the deck at a later time, making this a-pampering-at-its-best experience.