Hemingways
"A hotel truly fit for a king"
To begin with, Hemingways is the ultimate Luxury accommodation Near Nairobi National park. On arrival, guests are appointed a personal and attentive butler to make a stay a truly memorable one. Additionally, the expansive and delicate suites with enormous en-suite bathrooms are a luxurious haven, aside from the busyness of Nairobi's city center. Although it's on the higher end of the price range, the experience at Hemingway's will be an unforgettable one and guests absolutely adore it.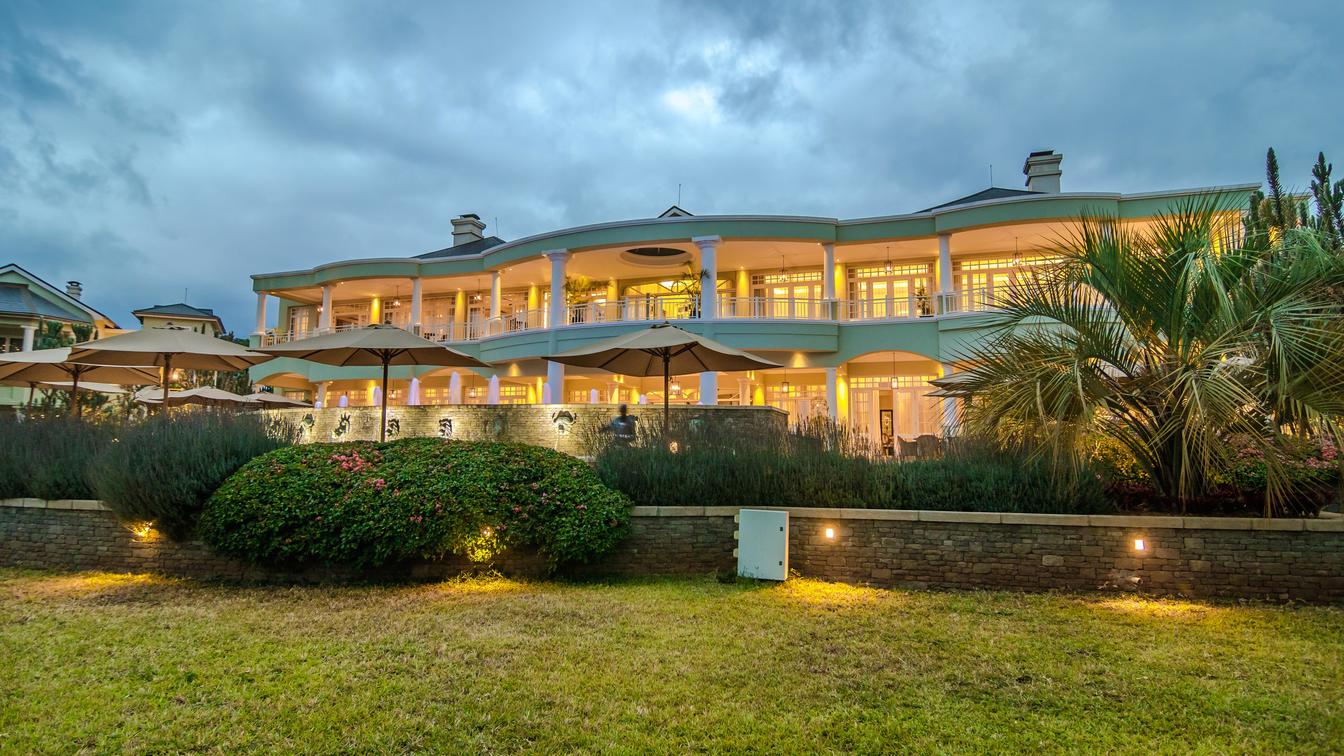 Location
Situated in the chic suburb of Karen, Hemingways is less than an hour's drive from Nairobi's international airport. In addition, this exclusive community offers a range of things to do such as the Giraffe Centre, the Daphne Sheldrick Wildlife Trust for orphan elephants, and the Karen Blixen Museum. Also, there are a number of craft workshops, handmade jewelry shops and beautiful boutiques for a day of shopping if need be.
Layout
The entrance to Hemingways immediately shows off the degree of elegance it is famous for, as two marbled staircases mirror each other, shaping the huge, delicately designed reception. The hotel has an array of amenities. For instance; an outdoor pool, a spa, a brassiere, a stylish bar, and lounge area, and a restaurant with exquisite food and dining. The stunning rooms and suites are set away from the main area in a three-story modern building. Additionally, guests are escorted by their butler to the entrance of their room, in a white leather golf buggy, of course.
Rooms
Hemingways has 45 spacious and high-ceilinged rooms, of which two are penthouse and presidential suites. In addition, the rooms are contemporary, with subtle tones of brass and leather, referring back to the class elegance of vintage East African safaris. Also, the bathrooms are very spacious, lined with marble and glass, giving the room a bright and airy feeling. Additionally, the free-standing bath is the ultimate sophisticated centerpiece.
Ololo Safari Lodge & Farm
"A boutique Safari Lodge on the edge of Nairobi National Park, Kenya"
To begin with, Ololo Safari Lodge is a Luxury accommodation Near Nairobi National park, owned and run by an Australian farming family, offers the warmth and comfort of a home with effortless style and personalized service.  Secondly, originally an old Kenyan homestead and since converted to a small lodge, Ololo is perfectly situated, on the beautiful banks of the Mbagathi River which forms the southern border of the Nairobi National Park.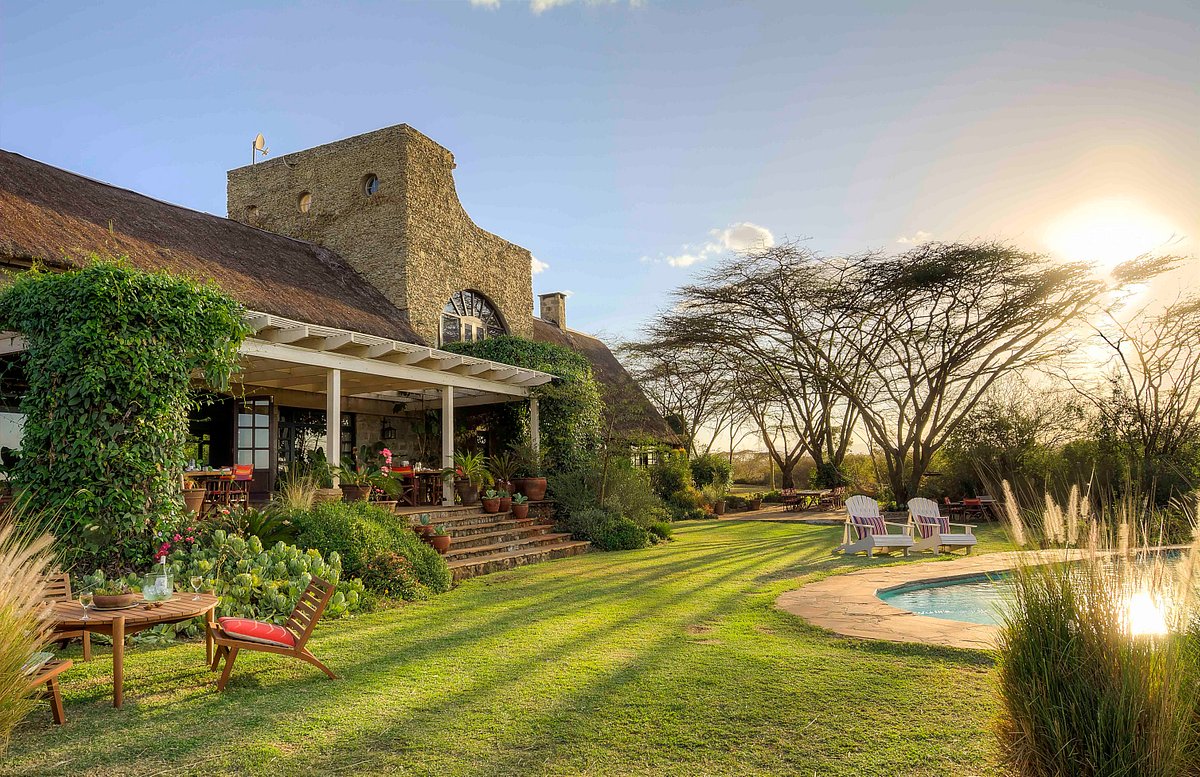 The lodge is a mere 45-minute drive through the park from Nairobi and both main airports, yet the lodge's secluded location feels like a world away. Set on a productive 20-acre working farm, Ololo offers the joys of delicious 'paddock to plate' fresh ingredients. Also, with our established and secluded gardens, guests are able to settle in and soak up a unique safari experience.
Wildlife is right on our doorstep and all can enjoy breathtaking views over the national park, to the famed Ngong Hills in the west, sundowner in hand. Alternatively, you may like to while the hours away at the lodge by the pool, adventure on a safari into the park, take a tour of the Ololo Farm, or perhaps an excursion with us into historic Karen.
Ololo's rooms are unique and diverse, each tastefully appointed with attention to historical detail. The accommodation at Ololo ranges from the farm's old converted stables, our tented cottages under makuti thatch, and to the original suites in the main house of the lodge.
In the cooler months, guests may sit by the fire pit in the garden or cozy up to our blazing fireplace in the inviting living room. Our stone-clad cellar and small library are close at hand. Whatever time of the year you visit, it's easy to enjoy the serenity and home-style comfort that Ololo offers.
Accommodation
The Terrace Room
This spacious suite has a traditional living area with armchairs and an open fireplace, colonial furnishings, artworks, flowers from our garden, and a marble bathroom with a classic roll-top bath. The suite's private terrace is a cool and tranquil space to relax or a setting for a romantic private dinner.
The Tower Room
Located in a stone-clad tower with a balcony and a private rooftop terrace, the Tower Room has extensive views right across the park, and to the famed Ngong Hills in the west. Additionally, this contemporary suite is light and airy and furnished with pieces of furniture made by our clever fundi carpenters, in the Ololo workshop.
Tented Cottages
Our three tented cottages provide guests with a bush experience, sleeping under a traditional makuti thatch roof, with canvas and stone walls. These safari-style king-sized rooms are nestled amongst our gardens with their spreading and shady acacia trees.  All have private terraces that overlook the national park.
Each tent is self-contained, with large beds, comfortable armchairs, and modern bathrooms. Drift off to sleep to the sounds of Africa – the cough of a lion, the calls of monkeys and baboons, and the rustle of hundreds of species of birds
The Stable Cottage
This delightful three-bedroom cottage is located at the end of the Stable Rooms and was once the farm's hay shed. Now featuring modern, light-filled interiors the Stable Cottage sleeps a maximum of six guests, and has two bathrooms, a kitchen, and a large outdoor terrace. The cottage is perfect for families, groups, or extended stays.
The Old Stables
The original stone-walled stables of the property once housed the horses of the Ololo Farm. They have now been transformed into seven comfortable and cozy rooms with an average room size (including the bathroom) of 17.6 square meters.
Each room is designed and furnished individually, with attention to historical detail.
The Stable Rooms have en-suite bathrooms and small pergola-covered terraces at the front of the building.  The terraces overlook our gardens, with their abundant birdlife.
The Family Wing
Ololo's new, light-filled Family Wing overlooks the Nairobi National Park and our gardens, with a private sunny stone terrace and potted leafy plants. The interior of the wing is light-filled, relaxed, and furnished with pieces of Ololo's handcrafted furniture.
Upstairs is a king-sized bedroom in a cozy mezzanine area, with a delightful en-suite bathroom and an old classic bath under makuti thatch.
Downstairs at the end of the rondaval-shaped living area is a separate sleeping space for the family, with a second bathroom and kitchenette.
The Emakoko
The Emakoko is a boutique lodge and among the Luxury accommodation Near Nairobi National park uniquely positioned on the edge of the Nairobi National Park. It is located a short 45-minute drive from either of Nairobi's airports. The drive through the park itself, with its beautiful scenery and abundance of plains game, is a superb way to start any East African safari.  What better way to start a holiday than by supporting the conservation of this unique area and in particular, by supporting the endangered Black Rhino which is prolific in this park.
The Nairobi National Park, despite its proximity to the capital city of Kenya, boasts a spectacular assortment of birds and wildlife, with over 400 species of bird recorded in one day. With an excellent possibility of spotting four of the Big Five, many Nairobi residents find the lodge a perfect antidote to the hustle and bustle of city life. By staying at The Emakoko you are directly contributing to the protection and conservation of Nairobi National Park and its wildlife.
 Rooms
With only 10 rooms The Emakoko offers an exclusive and personal environment for our guests to enjoy. There are five rooms at the main level and five on the cliff face higher up. The climb to the upper rooms is worth it for the spectacular views, but if you do not fancy the climb you can always jump onto our funicular lift.
Our room designs and interiors are designed for comfort, from huge, luxurious beds to black-out curtains. Each room has its own private veranda.
Nairobi tented Camp
The Nairobi Tented Camp is the only camp in the Nairobi National Park. The Nairobi National Park is a unique ecosystem and is the only protected area in the world close to a capital city. The park is only 7 km from Nairobi city center.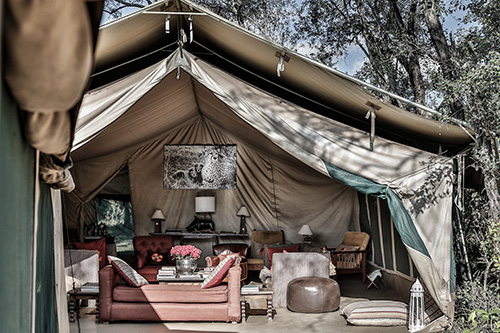 It is the first accommodation of any sort to be eligible in this unique safari destination. There isn't anywhere else in the world like it; a wilderness escape where you can savour the thrill of camping in the heart of thick bush land right on the doorstep of Nairobi
Accommodation
The camp consists of nine guest tents each with accommodation for two people. Each tent has its own toilet and shower, so you can enjoy the luxury of en-suite living 'safaris style', with hot water heated over a log fire and brought to your shower when you're ready.
The meals at Nairobi Tented Camp are crafted to complement the authenticity of the safari experience. All meals are available on a menu basis, with warming hearty breakfast in the morning, light invigorating lunches under the shade of an olive tree and dinners of soufflés and tender beef fillet under the beautiful sky. Everything at Nairobi Tented Camp is homemade and cooked with special care and attention.
Whether you are in Nairobi for tourism, a night stopover, international business or conferences, producing a film or simply looking for a weekend break as a resident, Nairobi Tented Camp has something for everyone.
Nairobi Serena Hotel
Location
Nairobi Serena Hotel is a luxury hotel in a coveted location in the city center, adjacent to Central Park, a five-minute walk from the Central Business District and a 30-minute drive from Jomo Kenyatta International Airport.
Rooms
Deluxe rooms
Deluxe room allows you to experience views of the Nairobi Cathedral or Central Park with your choice of a garden view or a city view. Rest on comfortable twin beds or Queen-sized double beds and enjoy a private bathroom with a bathtub and glazed windows. Interconnecting rooms can be provided for family groups.
Executive floor
Executive floor is located on the 7th Floor of the Nairobi Serena Hotel.
The floor features 1 State Suite, 1 Business Suite, 4 Executive Suites,1 Corner Suite,10 Club Rooms and an Executive Lounge that have a tastefully design and a lay out in line with the needs of top executives and VIPs.
The lounge is intimately styled based on our signature Pan African theme and is complemented by a charming atmosphere offering guests that much needed peace and quiet.
Superior room
Superior rooms have king sized Double beds and a private veranda. All rooms have private bathrooms with bath tub and a shower. Rooms have large double glazed window panels overlooking the Nairobi skyline and lush hotel gardens. All rooms have air conditioning with WIFI internet connection.
 Garden Suites
Garden Suites offer serenity and calm in the Centre of the city. The three open-plan Garden Suites include a spacious King-sized bedroom extending into a sitting room. The sitting room opens on to a private garden patio with a charming outdoor pergola offering a table to seat four, a water feature and a lounging area with a sunbathing bed. The terrace also has a gate that opens directly on to the hotel grounds. In addition, the private bathroom provides both a walk-in shower and a bathtub.
Executive suites
The spacious Executive Suites are equally suitable as a Presidential, a CEO, a honeymoon or a VIP venue. The open plan features a King-sized bed, an extended seating area with couches and a workspace in addition to a private veranda. Each suite also has a modern bathroom with a separate walk-in shower and a bath tub.
Business suite
The well-appointed business suites offer a separate bedroom with a King-sized bed, a sitting room with a work-space, a dining area with a table to accommodate four, a private veranda and a guest washroom in addition to the private bath.
State suite
The magnificent State Suite features a spacious master bedroom with;
an en-suite bathroom and dressing area
an extensive drawing room with a plasma TV
an audio center and an integrated workspace
a private dining room
a kitchen
a bar
an entrance lobby
a guest washroom.
Radisson Blu Hotel, Nairobi Upper Hill
Enjoy upscale comfort near Nairobi National Park at our stylish hotel in the Upper Hill area/
Radisson blu hotel is one of the Luxury accommodation Near Nairobi National park Located just 20 minutes' drive from both Nairobi National Park and the airport, the new Radisson Blu Hotel in the heart of the fast-growing business district of Upper Hill is the perfect base for a Kenyan safari or business trip. Discover Nairobi National Park -a well-known wildlife preserves with herds of zebras, wildebeests and giraffes—right on your doorstep.
Modern accommodation in the Kenyan capital
271 rooms and suites come complete with free Wi-Fi and a minibar, along with lovely city or park views. Nutritious breakfast buffet includes;
excellent hot and cold drinks
fresh baked goods
cereals
an egg and pancake station, our signature "Morning Mary" and much more.
It's a great way to kick start your day. Dine on international classics and Kenyan dishes all day in the Larder restaurant. Alternatively, you may savor haute cuisine at Chop House, its fine dining restaurant. You can also enjoy food and glass of wine at the Humidor Bar & Cigar Lounge.
Superb spa facilities and versatile meeting space
Stay in shape on your Nairobi trip at our state-of-the art gym, before relaxing in the spa. Scenic swimming pool lets you bask in the warm African sun or cool off with a refreshing dip. Planning a meeting or event in Nairobi? The hotel has one of the largest meeting facilities in Kenya, with 14 versatile meeting rooms, a spacious pre-function area, a business center, the latest in audiovisual technology and secure parking for all guests hence one of the Luxury accommodation Near Nairobi National park.
The Sarova Stanley
The Sarova Stanley is amongst the best five-star hotels in Nairobi. Situated in Nairobi's Central Business District, it offers 212 stylish rooms and suites, and dedication to service. The hotel is a stone's throw away from Kenyatta International Conference Centre (KICC). Also, it is close to several popular attractions and business centers.
Additionally, it is very well located for quick access to areas. For instance;
the Nairobi National Park
Jomo Kenyatta International Airport (JKIA)
Wilson Airport
Government Offices
the United Nations offices in Nairobi.
The luxury of this heritage hotel delivers a wondrous old world charm. Meanwhile, it offers modern facilities and legendary service, to create Nairobi's top 5-Star hotel experience. This unique experience is complete with;
indoor and outdoor restaurants
a rooftop swimming pool
courtyard
a glamorous jazz bar
Conferencing and banqueting facilities are available in our heritage spaces and ballroom.
The restaurants at Sarova Stanley offer the best of local flavors and a host of international cuisines.
Rooms and suites
Stanley heritage suites
Sarova Stanley suites offer the most distinctive experience amongst accommodation options in Nairobi. Guests booked under Stanley Heritage Suites and Club Rooms have exclusive access to the 1902 Club Lounge.
 Stanley Club Rooms
Club rooms offer a very comfortable stay featuring elegant interiors and amenities. For instance;
a floral arrangement in the bedroom
fluffy white terry towel robes and slippers
free internet access
42 inch flat-screen televisions
Club Room guests also enjoy evening canapés on the house followed by aromatic candles and chocolates for turn down service. Guests booked under Stanley Heritage Suites and Club Rooms have exclusive access to the 1902 Club Lounge.
Stanley rooms
Stanley Rooms at Sarova Stanley offer the rare luxury of space, the largest in their category in the city. The rooms are done up in classical style with chintz furnishings and plush carpeting hence the conclusion of Luxury accommodation Near Nairobi National park article/Travel blog