Overview
Luxury accommodation in Volcanoes National park: To begin with, this is one of the outstanding national parks in Rwanda. It is located in the Northern region of Rwanda and a 2 hours' drive from Kigali International Airport. More to that, this park is home to some of the endangered mountain gorilla families such as Susa, Kwitonda and Amahoro and is also the best gorilla trekking destination in the country.
In line with the foregoing, this national park covers an area of 160 square kilometers and has other amazing tourism activities such as golden monkey tracking, nature walks and forest guided walks.
While on safari to this spectacular park, these are some of the luxury accommodation facilities that you can check out:
Mountain gorilla view lodge
In the first place, this is a 4 star luxury lodge located in Musanze district in the Northern region of Rwanda. More to that, it lies on the outskirts of Volcanoes National park near Kinigi head offices.
Additionally, the lodge was constructed using local materials such as stones and thatch which explains its natural beauty and safari feeling.
Accommodation;
The accommodation is offered in 30 chalets, with each one being fully equipped and furnished with a spacious bed, woolen carpets, bed side tables, a living room, fireplace, private veranda and an en-suite bathroom.
Facilities;
Tea/coffee maker in each room
Restaurant
Bar
Fireplace
Bisate lodge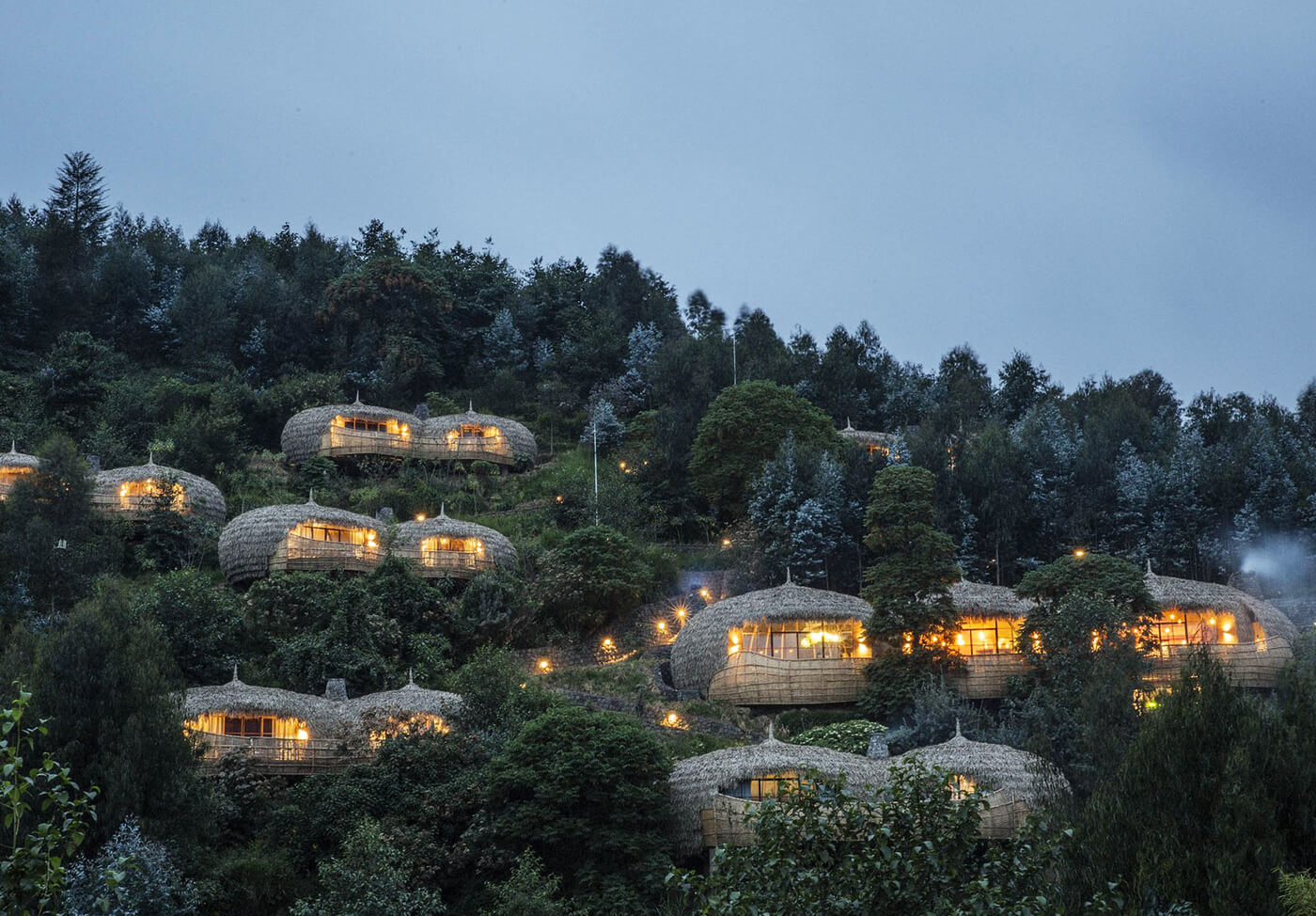 To begin with, this is a luxury lodge whose villas are uniquely designed in the shape of a volcanic cone. It is situated on an eroded volcanic cone with views of Bisoke, Karisimbi volcanoes and the afro-alpine forests.
More to that, the lodge offers accommodation to only 12 people per night through its 6 en-suite rooms.
Also, each room consists of a stone fireplace, a wooden roof, an en-suite bathroom and a private deck.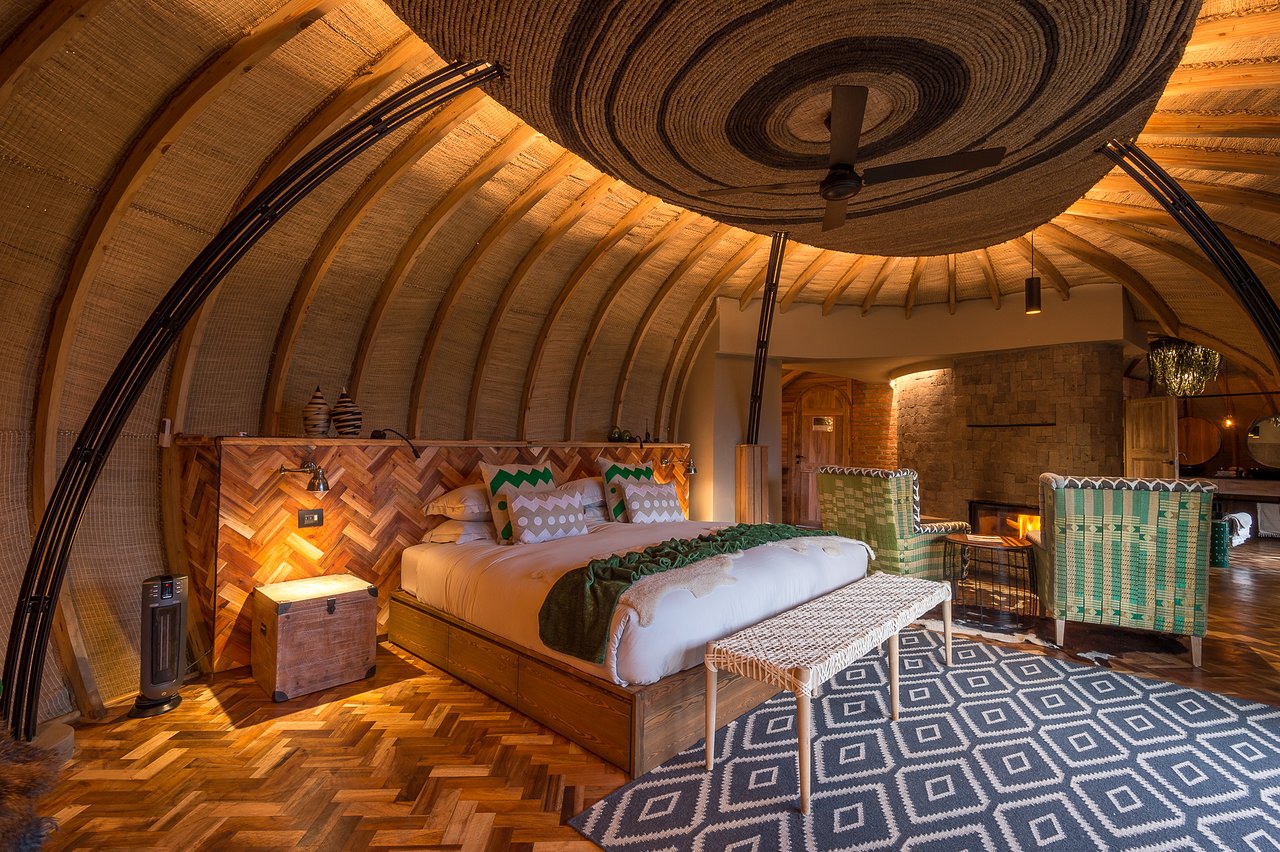 Facilities;
Fitness center with a gym
Bar and lounge
Laundry service
Restaurant
Airport transportation
Free parking
Free WIFI
Virunga lodge
To begin with, this is a luxury accommodation facility that is found along the boundaries of Volcanoes National Park, about 1 hour's drive from the park's headquarters in Kinigi. Furthermore, it sits on top of the hill overlooking the stunning twin lakes, Lake Burera and Lake Ruhondo. Also, the lodge has wooden floors, stone walls and beautiful verandas.
Accommodation
In the first place, the lodge consists of 10 spacious stone bandas which are divided into 4 double rooms, 3 deluxe rooms and 4 twins. Each banda consists of large verandas and spacious sitting area. Additionally, every room has a short connecting walkway to a private toilet and shower.
Facilities;
Charging facilities available in each banda
Dian Fosey Map room
Spa and sauna
Personal butler service
Free WIFI
Fully stocked bar
Massage
Traditional entertainment by Indore dance troupes
Sabinyo silverback lodge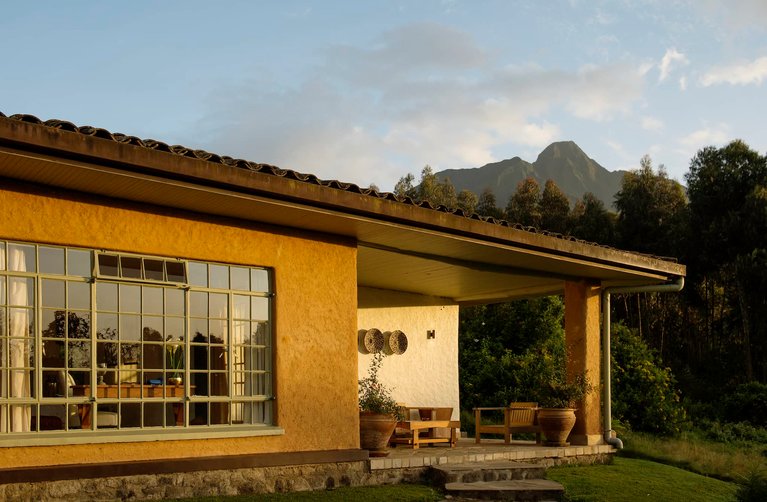 Basically, this is a 5 star luxury lodge that it is situated in Musanze district in the Northern region of Rwanda. More to that, it lies in the rolling green foothill of Virunga range close to the headquarters of Volcanoes national park in Kinigi on the boundaries of the park.
Accommodation
Firstly, the lodge has 8 cottages comprising of 2 suites, 1 family cottage (with 2 independent en-suite rooms and a shared verandah) and 6 cottages with double/twin or single rooms.
Room facilities;
Sitting room area
Fireplace
Bedroom and dressing room
Large en-suite bathroom (bath and shower)
Hot and cold running water
Other facilities;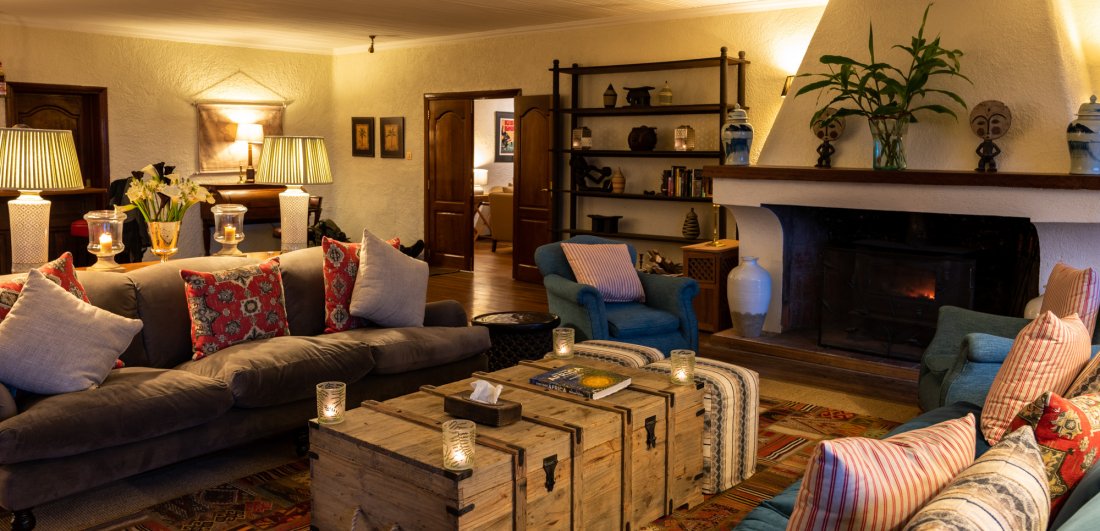 Sitting room
Reception
Dining area
Tourism/community awareness room
Library
Gift shop
Two patio rooms
En-suite bathrooms
Five volcanoes boutique hotel
To begin with, this is a 5 star luxury lodge in Musanze district (a 15 minutes' drive from the head office of Volcanoes National Park). In addition, it consists of 13 bedrooms which are categorized into double/twin rooms and 1 VIP cottage.
Room facilities;
Air conditioning
Flat screen television
Refrigerator
Fireplace
Kettle
En-suite bathroom with cold and hot shower water
Other facilities offered at the hotel;
Fireplace
Garden
Bar
Restaurant
Swimming pool
Traditional sauna and steam sauna
24 hour front desk and staff