Overview
Mid-Range accommodation in Murchison Falls National Park offer you the best facilities and services at a pocket friendly cost. They offer you an excellent base for your Safari and a close encounter to the wildlife even before you head for the safari. There is an opportunity to experience stunning panoramic views of the Albert Nile.
Some of the Mid-Range accommodation in Murchison Falls National Park
Murchison River Lodge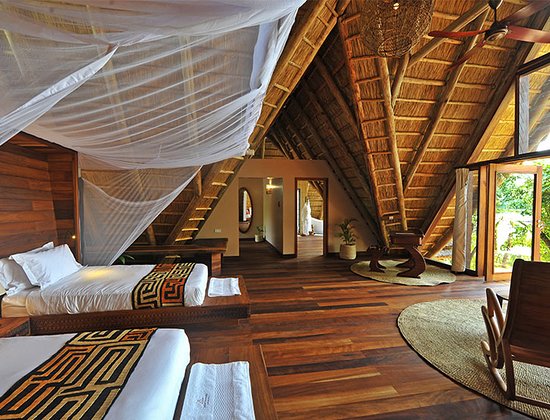 Murchison River Lodge is situated directly on the Southern bank of the River Nile overlooking Murchison Falls National Park (Uganda's largest National Park). More to that, it is presented in thatched cottages and thatched safari tents and simple camping tents. There is also harmonious savannah and clean environment that will give you comfort and great relaxation.
it is a well facilitated Lodge with an excellent swimming pool, a pool lounge, well stocked bar, Restaurant, en-suite bathrooms, outside private verandas all offering diverse and bountiful views of wildlife animals like the elephants, buffalos and the famous hippos that come along the River shores for food, drinking water and cooling off.
For those that come along with kids, Murchison River Lodge is the way to go as facilitated with a playing ground.
Pakuba Safari Lodge
Pakuba Safari Lodge is on the Eastern Bank of the Albert Nile in the Murchison Falls National Park overlooking the spectacular River Nile. Its location offers you panoramic views of the mighty River Nile and a chance to sight riverine animals like the giraffes, elephants, antelopes even before heading for your safari. However on rare occasions, you can see some leopards.
Pakuba Safari Lodge offers marvelous services that will make you experience Africa's natural wonders in comfort and style. It has over 41 en-suite guest rooms each with a private bathroom, free Wi-Fi and so much more.. It has as well got an outstanding swimming pool and so many other facilities all of which offer you impressive scenic and wildlife views.
Budongo Eco Lodge
This Lodge is located in the heart of Budongo Central Forest Reserve with in the Murchison Falls National Park boundaries in the Northwestern Uganda. It is only a 41hour drive and 42.7km away from the park. Its location provides you with breathtaking views of the Budongo forest canopy.
Budongo Eco Lodge offers simple but comfortable accommodation cabins that contain large room suitable for those that come in groups. It has comfortable stylish rooms with double beds, mosquito nets and private verandas. You can relax and have an excellent view of the superb forest canopy while there.
If provides free internet to visitors. This is available in all the rooms and all the public places. For those that enjoy continental meals, Budongo Eco Lodge is the place to be.
It provides a comfortable base for forest exploration. Come enjoy Chimpanzee Trekking, Forest walks and many other activities that this lodge offers.
Twiga Safari Lodge
Twiga Safari Lodge lies on the Bank of the River Nile in Mubaako Paraa just opposite Murchison Falls National Park. It is a 5minute drive to the Park.
The lodge offers free Wi-Fi that enables you share your adventurous moments with your people back at home.
This Lodge is in well relaxation environment of Uganda's wildlife where you will be able to sight some monkeys and various bird species freely moving through the lodge grounds. Guests are as well able to view different park animals lounging in the river during the day grazing around the lodge at night.
Twiga Safari Lodge also gives you an excellent view of the sunrise and sunset while enjoying game activities.
Sambiya River Lodge
Sambiya River Lodge is situated in the heart of Murchison Falls National Park in the Northwestern part of Uganda. It is located a few kilometers from the ferry crossing area, the top of the Murchison Falls and Budongo forest. The Lodge is a very convenient base to catch up with the Park activities like the Chimpanzee Trekking, boat cruise, visiting the top falls and many more.
Sambiya River Lodge has a restaurant that prepares all your desired meals including the African dishes. Special meal arrangement is available on special orders.
It also offers free internet, outstanding swimming pool and a well-stocked bar.
Other Mid-Range accommodations in Murchison Falls National Park include;
Parkside Safari Lodge
Bwana Tembo Safari Lodge
Amuka Safari Lodge
For further inquiries, please feel free to contact us through Emails or direct phone calling.