Overview
Mid-range accommodation in Mgahinga National Park: Mgahinga national park is located in the South Western corner of Uganda and borders Rwanda and Democratic Republic of Congo. Despite being the smallest national park (33.7 sq. km) in the country, Mgahinga is endowed with various gifts of nature such as the endangered mountain gorillas, endangered golden monkeys and a wide variety of flora and fauna.
For travelers who are interested in visiting this beautiful national park, there are mid-range accommodation facilities which offer comfortable and affordable accommodation such as;
Birds Nest at Bunyonyi Resort
The resort is a mid-range accommodation facility located on Lake Bunyonyi. Due to its position, guests can be able to enjoy the gorgeous scenery and even get an opportunity to take part in the cultural, natural and eco-tourism activities which are offered at the lodge.
Birds Nest also organizes relaxing day trips in the local district to allow visitors to discover exclusive local spots and also interact with the local people as well as nature.
Furthermore, due to the strategic location of the facility, one can be able to get a trip to Queen Elizabeth National Park or a day trip to Rwanda.
Accommodation; all room rates include breakfast, lunch and dinner
Accommodation facilities include the following;
a fireplace
Tour/travel desk
Conference facilities
on-site restaurant
Bar
Laundry/dry cleaning services
Swimming pool
Library/reading room
Gift shop
The facility also organizes activities such as;
bird watching
motorboat trips with a guide
canoe hire(with or without guides)
Swimming in the pool or lake
Fishing
Hot springs visit
Visiting local community with guide
Going to Kisizi Falls and the Percussion workshop
Bunyonyi Overland Resort
The resort is located at Lake Bunyonyi in Kabale, South western Uganda. It offers spectacular mid-range accommodation in comfortable safari tents, rooms, cottages. In addition, they offer a camping option for those with their own equipment and those who want to rent tents with or without bedding arrangements. The camping grounds are situated in their beautiful gardens.
While at the resort, you find a wide range of exciting activities which will keep you busy. Also, due to its strategic location, you can easily access Mgahinga National Park for your gorilla trekking experience.
Some of these activities include;
Volleyball
Badminton
Indoor games
Swimming
Canoeing
Motor boat hire
Bird watching
Mountain biking
Fishing
Community walks
Additionally, for those who prefer to relax while having a drink or reading a book, the facility has terraces which are suitable for that. You can also enjoy the beautiful views over the lake from there.
Accommodation;
10 furnished safari tents sitting on raised platforms (with each having its own terrace)
4 Rooms(part of the terraced block)
12 cottages (with twin and double occupancy options)
2 family cottages(completely self-contained and fully furnished)
With regard to travelers who want to rent tents at this resort (those without their own equipment), this resort is always ready to cater for your needs. You just need to choose a pitch of your liking and the staff will set it up and furnish it for you.
In addition, the resort provides room for guests who want self-camping (those with their own equipment). There are gardens that provide a calm, safe and comfortable environment for your camping experience.
Room facilities;
Fireplace
Fan
Hot water
Private bathroom
Cable/satellite television
The resort also offers wonderful on-site facilities such as;
Secure car parking
Restaurant with fire place
Conference room
Craft shop
Picnic and relaxation areas
Library
Travel information
Satellite TV
Grocery store
Car hire and taxi
Laundry service
Internet access
Most importantly, in a bid to carry out responsible tourism, the resort is working on some projects such as a tree planting campaign to ensure environmental conservation. Travelers can also take part in this great cause (by planting a tree).
Nkuringo Safari Lodge
Nkuringo Safari Lodge is located on the shores of Lake Mutanda and overlooks the infamous Virunga Volcanoes. It is divided into two levels; the main lodge and the lower lodge.
In addition, this lodge was constructed using local stone and hard wood and this creates a warm environment for relaxation and comfort. Also when you stand on the top deck area, you can be able to clearly view Virunga volcanoes and Lake Mutanda. At that same location, there is a restaurant and restaurant where you can relax near the fireplace.
On the other hand, the lower deck is used especially during the day time for early breakfast lunch buffets. There is also a lounge, a bookshop and a well-stocked library which provide a good environment for relaxing.
Accommodation;
7 self-contained tented rooms(at the shores of the lake)
More to that, these tents were built with a permanent stone bathroom at the back and raised decking supporting the vast tent at the front.
Each tent also has a private front porch for travelers' relaxation
With regard to activities offered at this facility, some of them include;
the Sun Downer Cruise (A small pontoon boat takes guests on the cruises around the islands that are located on the lake)
the Lake Canoe Safari (Canadian style canoes take 4 guests at a time with a guide on a tour of the lake shores). While on these tour, you can be able o view a wide variety of birds.
Virunga Hotel and Campsite
It is a small and friendly hotel located behind the national park's office in Kisoro town on Mutanda road. The hotel offers a cozy atmosphere to travelers. In addition, it is furnished with beautiful colors and welcoming public areas.
The on-site amenities at this hotel include;
bar
breakfast room
24-hour front desk service
Other facilities/amenities include;
Clean toilets and hot water showers
Restaurant
Secure parking
Spacious camp site
Wireless internet
Free evening entertainment
Elegant rooms
Beautiful gardens
Maximum security
Interestingly, Virunga hotel is a popular hangout for backpackers and independent travelers moving with or without their vehicles that wish to stay in Kisoro town.
More to that, they have plenty of information on their notice boards concerning gorilla trekking. Also, they offer assistance in issues such as obtaining gorilla trekking permits for Rwanda and Democratic Republic of Congo.
Kisoro Travelers' Rest Hotel
Kisoro Travelers' Rest Hotel is a colonial style hotel that is located about 14 kilometers from Mgahinga national park, outside Kisoro Town. It is positioned in a way that one can easily access the national park from there.
One unique thing about this hotel is that visitors are welcomed by the amusing ibis sound. In addition, the beautiful green gardens are home to a variety of bird species which are exciting to watch.
Secondly, when a guest is sitting and relaxing on the terrace during the day, he/she is rewarded with a sweet perfume smell from the honeysuckle.
Conversely, in the evenings, visitors can enjoy the warmth from the fireplace in the lounge backed up with the unique artifacts and Congolese masks on the walls.
With regard to the breathtaking views at this facility, one can see the Massifs of the Virunga Volcanoes, the Rift valley and the emerald-green Lake Mutanda in the distance.
Dian Fossey
In the sixties, there was an American woman who was popularly known as the "gorilla woman", and she was called Dian Fossey.
It was further documented that Fossey frequently visited this hotel to relax, do some paperwork or meet people. Interestingly, she referred to it as her second home and this was such an amazing expression.
Furthermore, the amenities offered at this hotel include;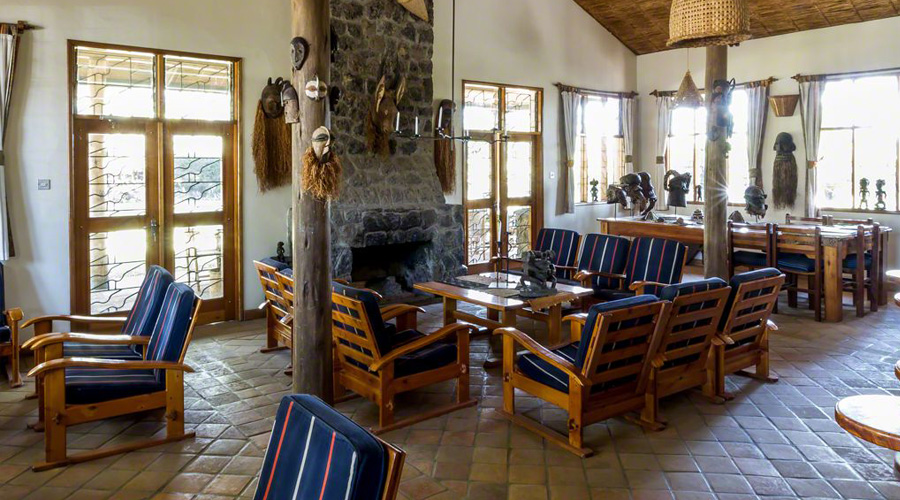 travel desk
bikes to rent
lounge area with fire place
Bar
gift shop
Restaurant
Huge selection of Congolese masks
Internet access
Accommodation;
private bathrooms with hot water
rooms: single, twin, double, triple and a suite
Activities organized at the hotel;
cycle rides to Lake Mutanda
Paying visits to the local primary school where deaf children study from
Traditional dances by the local orphan group
Visiting the local market
Batwa Forest Trail
Kisoro Tourist Hotel
Kisoro Tourist Hotel is the most pleasant and comfortable hotel at a budget tariff price and offers the best accommodation facilities in its self-contained rooms. More to that, enjoy the warm lounge with a true fireplace. There are also massage services and a steam bath for people/couples who want to relax after the day's activities.
Even better, the hotel prepares delicious food (both local and international dishes) with the best standards, quality and professionalism.
Facilities/Amenities provided at the hotel;
on-site restaurant, on-site bar
gift shop
fitness room
Tour/travel desk
Conference facilities
Internet access
Laundry services
Private bathrooms with hot water
In addition to all the above, the hotel carries out responsible tourism in a bid to conserve the environment and give back to the local environment. Some of the activities involved in this campaign include;
Performances from a women's dance group as well as massages to raise awareness about environmental conservation
Drama performances to discourage illegal activities such as poaching
With regard to giving back to the community, the hotel provides assistance to AIDS awareness campaigns in schools. There is also a craft shop at the facility which sells products from the locals.