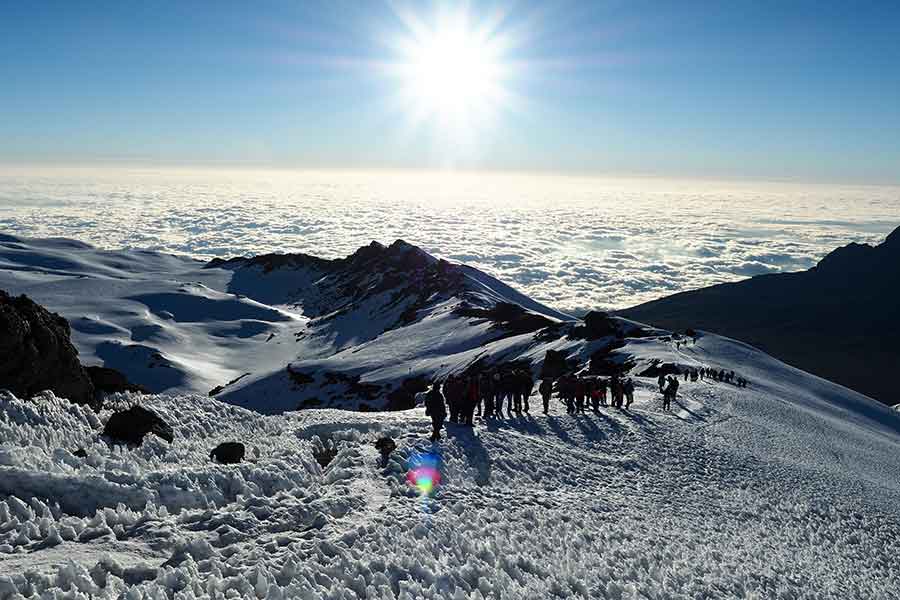 Mt. Kilimanjaro Routes to Take to the Summit. …When you choose Mt. Kilimanjaro as your next destination, you will find you have a handful of different routes to pick from to climb to the peak.  All paths available will give you the incredible breathtaking views you hope to see on the mountain but can differ in terrain, difficulty level, and comfortability. You will find tours for each route can also vary in cost.
Let's dive into your trail options for reaching the summit:
Marangu Route
The Marangu Route—sometimes referred to as the Coca-Cola Route—is the oldest path to Mt. Kilimanjaro's top. The Marangu Route is a six-day roundtrip trek that differs from every other route option. Here,  your sleeping arrangements for each night will be in designated dormitory huts.
It is the easiest and most comfortable, so if you are not feeling confident in your trekking skills or physical abilities or are climbing the mountain for the first time, we highly encourage taking this route to ensure a safe and successful climb to the summit.
You can expect to cover 50 miles on the Marangu Route, which generally costs around $2,450 with a reputable tour guide.
Machame Route
The Machame route up to Mt. Kilimanjaro's summit has earned the title Whiskey Route, as it is a step-up in difficulty from the Coca-Cola Route and tends to be the most popular way to reach the mountain peak. This is an excellent option if you want a more rugged experience during your climb.
Traveling this route will take seven days to reach the summit alone—longer than the Marangu Route's six-day roundtrip. However, you'll be surprised to find that the Machame Route is actually shorter in distance than the previous trek.
The significant factor that creates this difference is the difficulty level. To help climbers acclimate to the challenges they may face on the Machame Route, tour guides will add additional time for traveling. Each night, you can expect to stay in a tent to sleep and rest until the next leg of your trek.
The cost for this seven-day trek is usually around $2,540.
Lemosho Route
The Lemosho Route is one of Kilimanjaro's newer routes and offers you the opportunity to get contrasting views of other trails. This route is more challenging than the previous two options but has been praised as the most beautiful way up to the summit.  So, if you are feeling up to the challenge of facing one of Kilimanjaro's more strenuous trails, you can expect to be rewarded with stunning scenery.
In total, you'll cover a distance of 43 miles in your choice of seven to eight days. Because this is a more challenging route, it is encouraged that beginners opt for the eight-day trek. You can expect to pay about $2,590 to travel with a guide for the Lemosho Route.
Rongai Route
This path to Kilimanjaro offers the opportunity to get off the "beaten track" in many ways, as you will be approaching your trek from the opposite side of the mountain from all the other routes.
The Rongai Route has the appeal of being a less wandered path and has significantly less foot traffic on it, which is often a calling card to those who are coming to Kilimanjaro for a second trip. Because this trail is more remote, you are more likely to find undisturbed nature and wildlife. However, previous climbers have claimed that its scenery does not quite live up to the expectations of other trails on this list.
The route is 44 miles in length and usually takes seven days to complete. Its remoteness makes it the most expensive trail to travel, costing approximately $2,630.
Umbwe Route
If you feel ambitious and want a real trekking challenge, the Umbwe Route is the perfect choice for you. It is the most challenging way to the summit, so be prepared for a tough journey that requires you to be in the best shape to guarantee you can make it to the top.
Due to this route's difficulty level, many people avoid choosing this option, meaning fewer crowds are on the trail (regardless of the season).
For this 32-mile, six-day trek to the top, you can expect to pay around $2,590.
Final Safety Tips for Climbing Kilimanjaro
Even if you have all the gear and meet all the requirements for starting your climb up Mt. Kilimanjaro, you still need to know a few safety protocols to ensure you have a safe journey.
This is why having an experienced tour guide by your side on your first climb is encouraged; they'll have all the necessary equipment on hand—such as emergency oxygen, pulse oximeters, etc.—should an emergency occur. They can also perform regular safety checks and make sure you're doing well as you climb higher up the mountain.
However, personally looking after your safety is just as crucial; keeping yourself aware and alert throughout the trek will be just as essential to ensure the safety of you and everyone on your trip. Here are some vital safety tips to keep in mind on your journey:
Pace Yourself: 
When you are hiking, especially on multi-day, high-altitude treks, you should remember that it is a marathon, not a race.  Taking your time and not being in a rush can help you avoid fatigue. Remember, it is the journey, not the destination!
Prevent yourself from burning out in the long run. This becomes increasingly important as you get closer to the summit, where the air becomes thinner and the chances of altitude sickness increase with each step.
 If you can acclimate to higher altitudes before beginning your trek, you will feel more fit and prepared for what's ahead on your way up the top.  An excellent way to do this is to arrive at your destination a couple of days earlier and condition yourself with some day hikes.
There is probably nothing more important than staying hydrated on your Kilimanjaro climb. Frequently drink water throughout the day and while resting in the evening.
Following these safety tips can amount to having a safe and enjoyable experience on any hike (big or small), especially when dealing with long-distance treks that reach an altitude as high as Mount Kilimanjaro's.
Final Thoughts
You want to climb Mt. Kilimanjaro in Tanzania, Africa?Be happy to hear that the experience is open to just about everyone. You just have to prepare. By following the tips offered above, you'll be ready to cross climbing Mt. Kilimanjaro off your bucket list in no time!
Book your hiking safari now with Pamoja Tours and Travel.