Planning an African safari with kids can be an exciting and memorable experience for the whole family. Here are some tips and a first-timer's guide to help you make the most of your safari adventure: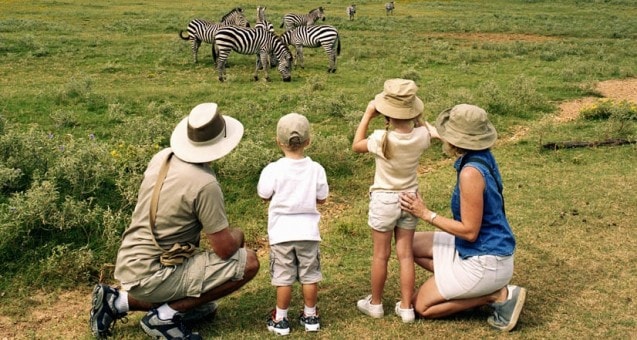 1. Choose a Family-Friendly Destination:
Research and select a safari destination that caters to families. Uganda, South Africa, Kenya, Tanzania, and Botswana are popular choices with a range of family-friendly accommodations and safari activities suitable for children.
2. Timing and Duration:
Consider the best time to visit your chosen destination. Avoid peak seasons to minimize crowds and maximize affordability. Plan a safari itinerary that suits your family's preferences, but keep in mind that shorter game drives at first are usually more manageable for younger children.
3. Consult with a Travel Agent:
Seek assistance from a travel agent who specializes in family safaris like Pamoja Tours and Travel. They can provide valuable advice, arrange transportation, accommodation, and suggest child-friendly activities.
4. Choose Accommodations with Family Facilities:
Opt for lodges or camps that offer family rooms or suites, swimming pools, and outdoor areas where children can play safely. Some lodges may also have dedicated kids' clubs or babysitting services.
5. Research Wildlife Reserves:
Look for reserves that have a reputation for being child-friendly.
These reserves may have shorter, child-oriented game drives, wildlife talks, or interactive programs to engage kids and educate them about the wildlife.
6. Be Prepared for Long Drives:
Safaris often involve long drives between destinations or within the reserves. Pack snacks, drinks, games, and activities to keep the kids entertained during these journeys. Also, consider bringing motion sickness medication if necessary.
7. Safety Precautions:
While safaris are generally safe, it's important to follow safety guidelines. Keep children close, avoid standing up in safari vehicles, and follow the instructions of your guide at all times.
8. Age-Appropriate Activities:
Look for safari activities suitable for children, such as nature walks, bird watching, or visits to local villages. Engage your kids in educational experiences to foster their appreciation for wildlife and the local culture.
9. Pack Essentials:
Remember to pack essential items like sunscreen, insect repellent, hats, comfortable clothing, closed-toe shoes, binoculars, and a camera. Also, bring any necessary medications or first aid supplies.
10. Maintain Flexibility:
Be prepared for unexpected changes or delays that can occur during a safari. Keep a flexible mindset and embrace the adventure. Remember that children may have different interests and energy levels, so be adaptable to their needs.
11. Respect Wildlife and the Environment:
Teach your children about the importance of respecting wildlife and the environment. Emphasize the need to observe animals from a safe distance, not to disturb their natural habitat, and to follow the park or reserve rules.
12. Capture the Memories:
Encourage your kids to document their experiences through drawings, journals, or photography. These mementos will help them cherish their safari memories for years to come.
Remember, each safari experience is unique, and it's important to tailor your trip to suit your family's preferences and the age of your children. By following these tips and guidelines, you can ensure a safe and enjoyable African safari adventure for the whole family.