Sipi Falls
Sipi Falls are three waterfalls found in the village of Sipi, in Kapchorwa district in the Eastern part of Uganda. It is a distance of about 276kms from Kampala which takes you about 5 hours driving on road from Kampala.
Kapchorwa Town is located on the northern slopes of Mount Elgon which lies at an altitude of 1.800 meters above sea level. This makes it's climate cooler than most of the country, and the weather tends to be pleasant all year round.
The series of these falls were named after the Sipi River, which was named after a locally grown plant called 'Sep'. This plant resembles a wild banana plant and is medicinal plant to the locals as it's believed to treat measles and fevers.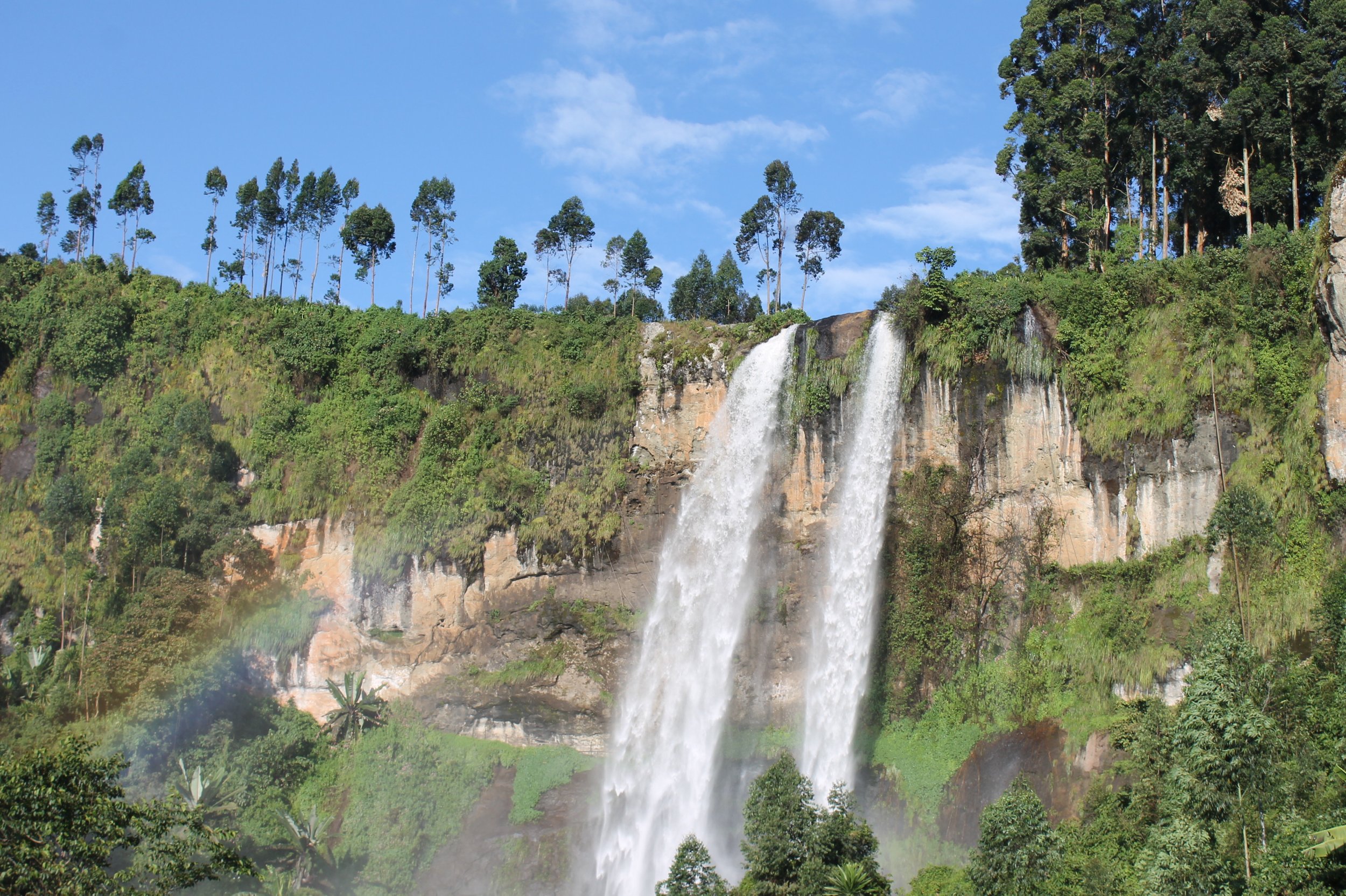 Hiking Sipi falls
Hiking to all the 3 falls takes you about 3 hours which involves stopovers to take pictures and rest time. As you hike, you get to see a lot of beautiful natural landscapes and appreciate the amazing sceneries of the areas.
These waterfalls flow on river coming from Mount Elgon and each falls is uniquely different to the others though flow in the same line and direction beginning from the top.
All the three Falls differ in height with the deepest drop at 100 meters, and the other two waterfalls at 75 and 85 meters deep.
The three water falls
The second-highest waterfall comes first just right next to the main road before reaching the beginning point of your hike. It's 85 metres deep before concluding in a spectacular splash on the rocks, creating an eye-catching and romantic scenery.
The next fall which comes in the 3rd position in terms of height, at 65 meters tall/ deep. This waterfall has a cave below it where you can rest during your hike while you observe the falls. When it's dry, you can be able to stand under it and if it's been raining, you can stand in the cave behind the falls.
The last waterfall which is also the tallest at 100 meters, which is the reword for your hike reaching there. You can carry your swimming costume, as the plunge at the bottom is large enough for you to swim in.
While hiking the 2nd and 3rd waterfalls, there are some little pools in between which are used for a refreshing bath. As you are at Sipi Falls, there are numerous trails you can follow leading you to Mount Elgon. This hike will also bring you up closer to the boundary of Mount Elgon National Park.
Explore the Elgon region
The nearby communities and villages have very hospitable people and majorly the Sabiny and Bagishu live around this area. While planning to hike, please carry something physical items to give out to the people/ children you may find on your way.
The people in these villages are farmers and mainly grow Arabica coffee which is the major cash-crop in this land. This coffee is grown on altitudes between 1600 meters and 1900 meters above sea level. While on a tour to Sipi falls, one can engage in visiting these coffee plantations being led by a local tour guide.
Coffee plantation tour
The coffee plantations are set mainly around mountain Elgon due to the volcanic soils which are perfect for this type of coffee. The cool weather of this place/ area ensures good growth and healthy coffee plants.
The plantations being in the Bugisu region, you will also have enough time to hanging out and meeting the people.
The coffee production line includes, farming, processing, exporting as well as roasting, of which tourists can engage in some of these activities.
Many tourists like partaking in the roasting and sorting of the coffee and prepare their own cup of coffee straight from the source, which they finally test. This experience gives you a complete package for your trip to Sipi falls. You will appreciate the process and every cup will be more enjoyable as it comes out of your own making.
Activities to do while at Sipi Falls
Hiking the three Sipi falls
Abseiling is the most unique activity at Sipi falls.
Coffee plantation tours and coffee cup testing.
Community encounters with the local people.
Rock climbing is another exciting activity to engage in.
Visiting mount Elgon national park
Visiting the Nyero rock paintings in Kumi District.
Visit Pian upe wildlife reserve
Accommodation at Sipi Falls.
Rafiki lodge Sipi
Sipi falls lodge
Sipi valley resort
Sipi coffee lodge
Sipi river lodge
Sunrise home stay Sipi
Home of Friends Guesthouse
Marina Terraces Hotel
Best time to visit Sipi Falls.
You can travel or visit Sipi Falls any time of the year you wish to. However, the best time to visit Sipi Falls is during the dry seasons from June to August and December to March.
What to have for your hike at Sipi falls:
Carry at least one bottle of drinking water as you hike.
Put on appropriate clothes that are light on your for a smooth hike.
Carry your bathing clothes and a towel if you'd like to swim
Also carry a hat or cap because of the hot temperatures during dry seasons.
Wear comfortable walking or hiking shoes
Carry a camera or phone to take pictures as well as videos.
Chose Pamoja Tours and Travel for all your travel plans to Uganda, Rwanda, Kenya and Tanzania
Book your safari to Sipi Falls/ Uganda with Pamoja Tours and Travel.