The history of gorilla tourism
The History of Gorilla Tourism. Over the past 100 years, mountain gorillas have had a quiet history, with numerous people and groups working together to ensure their survival in Africa's jungle forests. Their history dates back to 1902 when Robert Von Beringe, a German captain and the first European observed the Mountain Gorillas on the Sabinyo Volcano, which Matschie later (in 1903) named Gorilla gorilla Beringei.
In 1925, an American naturalist named Carl Akeley convinced his Majesty Albert the king of Belgium, to create Albert National Park, the first National Park in Africa. The government later widened its boundary in 1929. In 1959, George Schaller, an American zoologist, undertook a basic study of the Mountain Gorillas of Albert National Park.
Ecology and Behavior
Little was known about the life of gorillas in the wild until George Schaller publicized The Mountain Gorilla: Ecology and Behavior in 1963, which first conveyed to the general public just how profoundly intelligent and gentle gorillas are, contrary to then-common beliefs. Schaller also, in 1964, recounted this epic two-year study in The Year of the Gorilla, which also provides a broader historical perspective on the efforts to save one of humankind's nearest relatives from the brink of extinction.
The National Geographic Society
With assistance from the National Geographic Society and Louis Leakey, the American zoologist Dian Fossey followed Schaller's ground-breaking field research on mountain gorillas in the Virungas. Schaller and Fossey were instrumental in dispelling gorillas' public perception as brutes by demonstrably establishing the deep compassion and social intelligence evident among gorillas and how closely their behavior parallels that of humans. Everything after that is the history of mountain gorillas and gorilla trekking.
No one who looks into a gorilla's eyes – intelligent, gentle, vulnerable – can remain unchanged, for the gap between ape and human vanishes; we know that the gorilla still lives within us. Do gorillas also recognize this ancient connection?
A Detailed History of Gorilla Tourism
The 60's
After the independence of Belgian Congo (which became Zaire later on) in 1960, the Volcanos National Park was divide into two parts. The Volcanoes National Park in Rwanda and the Virunga National Park in Congo.
In 1967 Dian Fossey, an American Zoologist began her first long-term study on Volcanoes National Park's wild gorillas. It succeeded where by habituation of the gorillas to human presence began.
In 1973, an office in Rwanda called the Rwanda Office of Tourism, and National Park Development was created and started giving Rwanda new laws governing the National Parks and hunting of wildlife.
The 70's
During the 1970-80 decade, the history of mountain gorillas mainly was about controlling poaching and counting the number of gorillas. The killing in Volcanoes National Park of silverback Digit in 1978 and the other five gorillas within a short period marked the worst moment ever. However, it helped raise an international concern about the survival of gorillas. Visitors can still find Digit's Tomb at the old Karisoke Centre near Dian Fossey's tomb.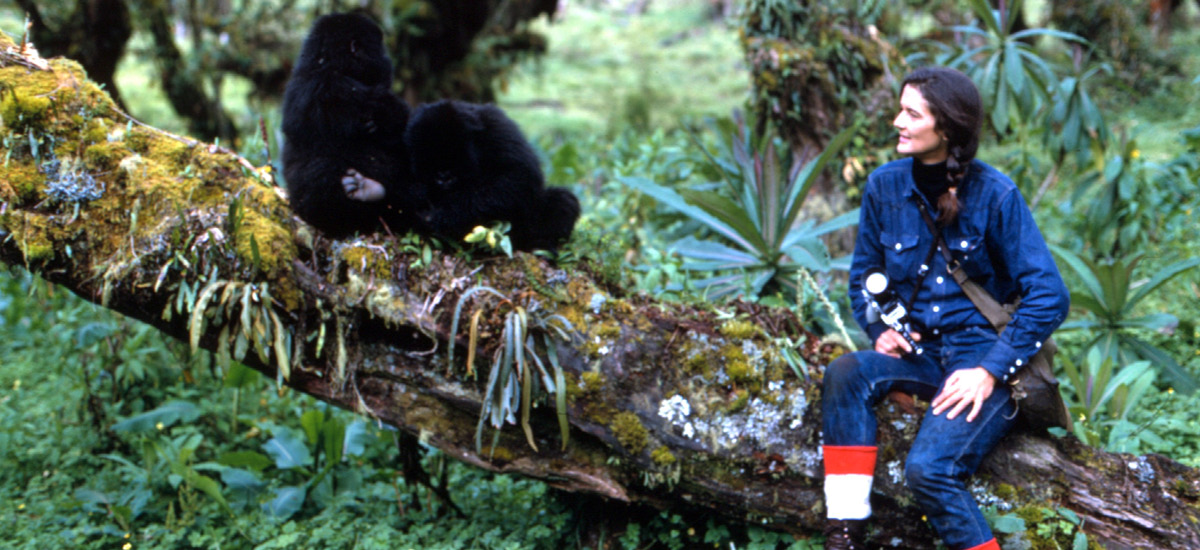 The first attempt to link gorilla conservation and tourism took place in Dr. Congo (then Zaire) at Kahuzi Biega National Park in 1973.
The park was first gazetted in 1970 and in 1975 was further expanded to up to 6,000 square kilometers. In 1973 the first gorilla trekking experience was introduced. Later, there were not enough studies and experience over the human–gorilla contact implications, and the "gorilla rules" were not yet clear.
The Mountain Gorilla Project in 1979 was a turning point in the history of gorilla conservation. It follows a convention between Rwanda Government and a consortium formed by several private organizations interested in Nature conservation, such as the AWLF (African Wildlife Leadership Foundation, today African Wildlife Foundation), WWF, and FFPS (Fauna and Flora Preservation Society).
The idea was to introduce gorilla tourism and education on top of anti-poaching efforts as a vehicle to achieve better gorilla conservation. The ability to generate tourism-based jobs and revenues would turn local and national political attitudes in favor of gorillas.
Two groups of gorillas near Karisoke (Group 11 and 13) were selected to introduce an exercise of "habituation" to give way to tourist activities later. Other families were not considered for some gorillas' bad temper regarding humans or their distance from the starting point of the trekking.
The first experimental trekking
Particularly Group 11 had a very calm silverback, called Stilgar, and at the time with four infants. The first experimental trekking started in October 1979 with some residents from Kigali. First non-residents' tourists to visit the gorillas were the Europeans from TransAfrica overlanders in November 1979.
This first gorilla trekking expedition was limit to six people per gorilla family and to stay with them for only one hour. Prolonging the visit would turn the attitude of the silverback against humans. The first gorilla trekkers paid USD 20 for a permit.
Gorilla trekking paved the foundations for the gorilla trekking rules that were later streamlined. In other words, the regulations restrict what humans should do or not do when encountering the gorillas in their habitat. And they are a reflection of the reactions of the gorillas themselves to human visits.
The flow of visitors to Volcanoes National Park soon contributed to the improvement in the accommodation in Ruhengeri. Gorilla trekking created jobs like patrolling guards, tracking, rangers, and trekking guides to employ the same locals who would be killing the mountain gorillas.
The 80's
On December 27th, 1987, Dian Fossey was killed by unknown assailants in her cabin at Karisoke Research Center and her death still remains a mystery.
She was buried at Karisoke in a cemetery she created for the gorillas, next to her beloved Digit silverback. After her death, the census of the population of mountain gorillas in 1989 began. There were approximately 324 Gorillas in the Virunga Conservation Area and 320 in the Bwindi Impenetrable Forest for a total of 644.
The 90's
In 1991, the Government of Uganda gazetted Bwindi Impenetrable National Park under the management of the Uganda Wildlife Authority. After a prolonged lock on all wildlife tourism due to unending civil wars, Uganda opened the jungles to the rest of the world.
UWA's first task was to take the Mubare Gorilla Group (Buhoma) through the following 3-year gorilla habituation process. The lead silverback, Ruhondeza, proved to be of an excellent character interacting with humans, therefore, paving the way forward for gorilla tourism. Mubare family was first open for gorilla tourism in 1993.
In 1992, poachers killed the male silverback gorilla called Mrithi of "Group 13" (one of the habituated gorilla families).
The genocide and gorilla tourism
In 1994 the Rwanda civil war broke out. The process, militia and poachers killed approximately 18 to 22 mountain gorillas during the civil unrest. Also, in addition to the sad genocide atrocities, another genocide was quietly unraveling in the Virunga jungles. A story that would slap gorilla tourism for a long time to come. Volcanoes National Park was off for gorilla tourism.
It was not until 1999 when the Rwandan Office of Tourism and National Parks (ORTPN) reopened Volcanoes National Park for gorilla tourism. They set the price for gorilla trekking at USD 250, then later increased to 360 USD and in 2006 / 2007 further increased to 500 USD.
The 2000's
On October 17th, 2002, Mountain Gorillas Conservation Fund hosted the 100th anniversary of the identification discovery of the mountain gorillas in Rwanda, and in 2004 Keesling won a lifetime achievement award from British Airways for worldwide conservation efforts for gorilla protection.
In 2012 Rwanda's Volcanoes National Park had nine gorilla families open for gorilla tourism and charged USD 750 per person for a gorilla permit. Definitely, this considerable revenue from gorilla tourism is something that only a decade back was not even expect. Moreover, there is much more potential from the investment from gorilla tourism back to the conservation of the gorillas.
By 2004, there were already four gorilla families open for gorilla tourism in Uganda, including the Mubare family, the Rushagura family, the Habinianja family, and the Nkuringo family that opened for gorilla trekking in Uganda the same year, heightening the Uganda safari experience.
By 2012, Bwindi Impenetrable National Park had nine gorilla families habituated for gorilla tourism. In the same years, UWA opened up two new trailheads in Ruhija (Eastern Bwindi) and Rushaga (South-Eastern Bwindi), totaling four trailheads.
Gorilla Tourism Today
Today Rwanda Development Board issues less than 100 gorilla permits per day to trekkers. Ragers are restrict to guide only eight people per gorilla family. There are 12 gorilla groups available for gorilla tourism in Rwanda. The other 6 gorilla groups are aside for research.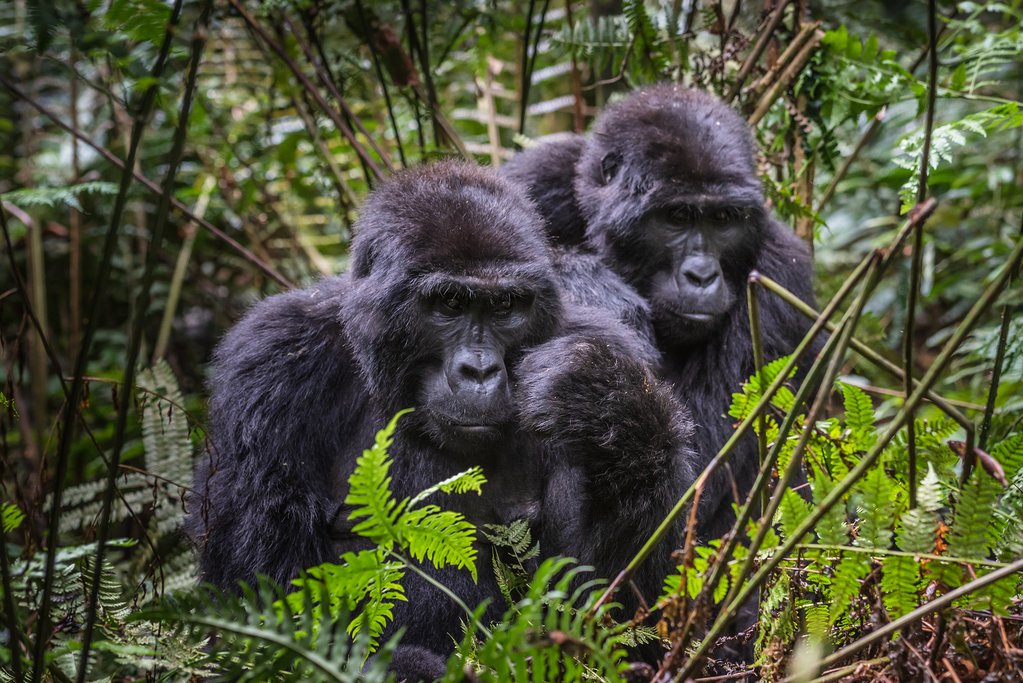 Uganda currently (2021) has 19 habituated gorilla groups available for gorilla tourism in Bwindi Impenetrable National Park and Mgahinga National Park. Three gorilla families are aside for research, while two (Rushaga Sector) are available for gorilla habituation experience.
Uganda issues out 152 gorilla permits per day, with a gorilla permit costing USD 700 per person. UWA allows only eight people to trek a single gorilla family. Also, there are strict guidelines to protect mountain giants from human infections. Trekkers are to stay with the mountain gorillas for only one hour.
For a more profound experience, Uganda offers the gorilla habituation experience. This is for trekkers that want to spend more time with gorillas. It goes at a higher cost of USD 1,500 per person. The experience allows you at least four hours in the company of researchers, rangers, primatologists, and other 3 trekkers. UWA per day issues only 8 gorilla habituation permits in Bwindi Impenetrable Forest.
Book your gorilla safari now with Pamoja Tours and Travel: