Overview
Budget Accommodation in Murchison Falls National Park offer you brilliant comfort and relaxation at the lowest cost rates possible that is within your budget. Therefore, no need to cancel your safari because of insufficient money. Please go ahead and fulfill your adventure dream to the Murchison Falls National Park at these budget hotels/lodges.
Some of the Budget accommodation in Murchison Falls National Park
Red Chilli Rest Camp
Red Chilli Rest Camp is an elegant safari lodge located at the outskirts of Paraa, the southern sector of Murchison Falls National Park in the Northwestern part of Uganda. It sits close to the Southern River bank of the River Nile. The Camp is as well positioned right in the middle of the park and so far rated the best lodge for budget travelers.
Red Chilli Safari Rest Camp has comfortable stylish bandas and Safari Tents. Each has an en-suite bathroom and a flushing toilet with solar heated water. The bandas are very free especially to those that enjoy outdoor camping.
The Camp cottages have single beds, double beds and family cottages. Therefore you get the opportunity to choose which one to go with depending on the number of people that you have come with.
It is well facilitated with an outstanding Restaurant with impressive River Nile views that prepares very delicious English and local dishes that are prepared by highly experienced chefs in the country. Special meal orders are also prepared depending on your order. For the coffee/Tea lovers, Red Chilli Rest Camp Restaurant has got you covered.
The camp's bar is well stocked with both soft and hard drinks. Cocktail lovers, here you go
A Camp fire is always set in the evenings as you relax and enjoy the African sparkling stars after having a hectic day in the Park. This gives warmth to your bodies as you enjoy a drink or having your dinner if you choose to have it from around the fire place.
At the Red Chilli Rest Camp, there is an opportunity to do Nature walks, Community walks where you will be able to interact and get entertainment from the local people around the camp.
Global Village Guest House
Global Village Guest House is a budget accommodation in Pakwach in Murchison Falls National Park typically built to make your stay memorable. It takes you only 1hr 50minutes to get to the Park.
The rooms are decorated and maintained with well-furnished with beds of different sizes in various rooms, nice and comfortable chairs, tables and wardrobes in a way that meets your accommodation expectation. The rooms can be shared by 3-4 people without extra charges.
The outstanding beauty of the Global Village Guest House will leave you fascinated as it gives you panoramic views of the African homesteads and the Murchison Falls National Park
Budget travelers always expect less but you will be overwhelmed by the superlative facilities/services at the Global Village Guest House. The lodge offers pleasing free and secure parking space. It also has a good Restaurant that offers you with cozy meals plus a well-stocked bar with all the drinks you may need during your stay at this lodge.
The garden at the lodge is a perfect place to relax from after a long day of game driving. Enjoy the cool breeze as well as the chirping birds in the ambiance.
Kalalo Cottage Inn
Kalalo Cottage Inn is located in Pakwach in the Northern Part of Uganda. It is only 5km from the Murchison Falls National Park. This Lodge has got 13 cabins each with a panoramic view of the Park. Each cabin has got a private bathroom with free toiletries.
The rooms at Kalalo Cottage Inn are single, double and family room. They all have free daily housekeeping services and laundry services.
Kalalo Cottage Inn has an outstanding Restaurant that offers free daily continental breakfast and an exceptional  bar/lounge containing all the spirits, soft and hard drinks.
Wi-Fi and the ample parking space are totally free at Kalalo Cottage Inn.
New Court View Hotel-Masindi
New Court View Hotel is a spa lodge located in Masindi town in Northwestern Uganda just a few kilometers from the Murchison Falls National Park. It is a 4hr drive from Kampala. The Hotel was built in an African style with grass thatched roof tops that give you a real African experience.
The hotel has got 3 cottage categories;
The Double en-suite cottages
Twin en-suite cottages
The single en-suite cottages
There is an arena of breathtaking gardens surrounding the rooms where you can go and have some fresh air as you see and enjoy different birds singing.
New Court View Hotel has got an excellent Restaurant that serves both local and continental dishes and a stocked bar/lounge. It is has facilities such as a conference hall, Restaurant, bar/lounge, gift shop with tight security.
Since it is located close to the Murchison Falls National Park, expect activities like Game Drives, Bird Watching, Boat cruises, Guided nature walks and many more.
Uganda Wildlife Campsite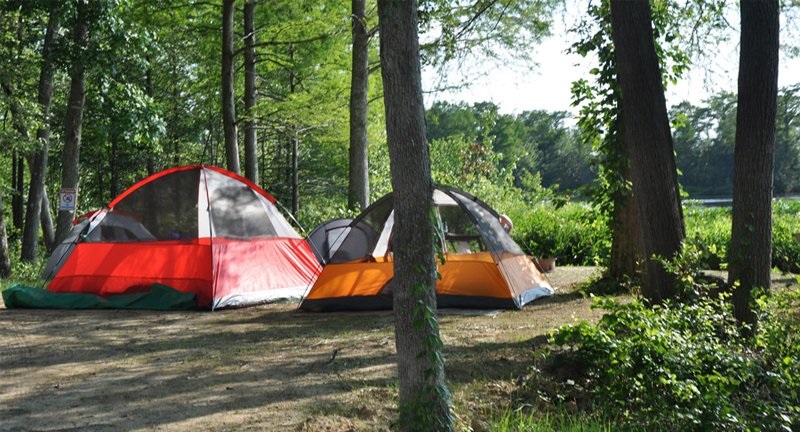 The Uganda Wildlife Campsite is in the Southern sector of the Murchison Falls National Park. It lies on the top of the park thus offering you panoramic views of the park with lots of different animal and bird species.
The Campsite is the best and safe place for those that enjoy camping as you experience the Africa's wilderness basing in a setup camping tent or a self -contained banda. Meanwhile in the evenings, you can enjoy stories told by experienced tourist guides around the campsite fire.
Parkside Safari Lodge
The Parkside Safari Lodge is at the edge of the Murchison Falls National Park and it's only a 5min drive from the park.
The lodge has single, double and family self- contained cottages. Each has a private veranda where you can base and get stunning views of the Nile. Furthermore, there are different animals grazing, drinking water and cooling off along the Nile shores since it is located near the Albert Nile. These cottages are far apart from each other to provide privacy to visitors.
The Lodge has electricity, laundry services, kitchen bar/Lounge and many more facilities and amenities.
Activities
Boat cruise
water rafting
community cultural walks
bird watching
Chimpanzee trekking
Heritage Safari Lodge
Heritage Safari Lodge is in Pakwach, just 3km from the Tangi gate in the Northern part of Murchison Falls National Park. That is where game viewing encounters take place.
The accommodation at Heritage Safari Lodge consists of 10 cottages as well as tents with impressive views of the Albert Nile, morning sunrise and the hot spring flowing into the Nile. The cottages stand as single, double, triple, quadruple and family. More to that, they have a traditional Acholi architecture with step-like thatched huts that bring out a complete African touch feeling.
The cottages have got en-suite bathrooms, standard or shared depending on your budget. There is also free daily room service, laundry services and fresh percale linen.
Heritage Safari Lodge has an outstanding onsite Restaurant that prepares both la carte and buffet meals by professional chefs in Uganda. The bar contains different drink brands. It as well offers Airport transportation, 24hr service desk, free parking as well as free Wi-Fi throughout the lodge premises.
Activities
Riverside breakfast,
heritage hot springs
Board Games
Fishing
Murchison Falls visit
Nature Walks
Game Drives
Birding
Music, Dance and Drama
Bwana Tembo Safari Lodge
Bwana Tembo Safari Lodge is located near the Murchison Falls National Park gate in Pakwach in northwestern Uganda. The Lodge's location offers you with magnificent views of the Murchison Falls National Park with different bird species that are always seen jumping and chirping in the lodge premises.
The Lodge has 6 cottages. Some are single, twin and others are triple cottages. They have space between them for privacy.  In addition, there are 4 twin complete tents at the upper side of the camp.
Bwana Tembo Safari Lodge offers free onsite parking, daily housekeeping services, and front desk services (limited time) and much more…The Lodge is as well facilitated with a restaurant which prepares mouth-watering Italian foods and other dishes. The outstanding bar/lounges at the Lodge has got a wide range of drinks.
Since the lodge is close to the Murchison Falls National Park, activities like fishing, bird Watching, community/Nature Walks, Game Drives, Gorilla Trekking are available.
Other budget accommodation in Murchison Falls National Park include;
Bomu Women' group bandas
Ziwa Rhino Camp
Shoebill Campsite
Masindi Hotel
Budongo Eco Lodge
For further inquiries about Budget accommodation in Murchison Falls National Park or Booking a Trip with us, please feel to contact Pamoja Tours and Travel through email or a direct phone call.