Budget Accommodation in Queen Elizabeth National Park
Overview
To start with, budget accommodation refers to a place to stay where the services are provided at a low cost and has small rooms as well as basic facilities. There are various budget accommodation facilities where visitors can stay when they visit Queen Elizabeth National park.
About Queen Elizabeth National Park
Queen Elizabeth National park is the second largest national park in the country. Additionally, it is located in Western Uganda (Kamwenge, Rubirizi, Rukungiri and Kisoro districts).
In addition, this park is one of the most sought after national parks due to its diversity in flora and flora. With particular regard to that fact that it is a home to 4 of the big 5 African mammals. For instance;
elephants
buffaloes
leopards
lions (including the tree climbing lions in Ishasha sector).
Some of the other animals in the park are bushbucks, chimpanzees, red tailed monkeys, warthogs, various bird species
This national park also has a wide range of activities that can make the stay of its visitors unforgettable and remarkable. Some of them include, among others, bird watching in Maramagambo forest, chimpanzee trekking in Kyambura gorge, game drives in Ishasha and Kasenyi plains, boat cruise on Kazinga channel and so much more.
The budget accommodation facilities in this park therefore provide services to visitors that are travelling with limited funds and thus make their safaris memorable and comfortable.
Tembo safari lodge
To begin with, the lodge is a Budget Accommodation in Queen Elizabeth National Park located within Queen Elizabeth National park and is positioned in a way that it is overlooking the Kazinga channel which connects Lake Edward to Lake George. Tembo safari lodge offers good accommodation facilities at an affordable price to budget travelers.
Some of the services and facilities at this lodge include;
Basic double/twin rooms with sleeping linens, a private bathroom, shower, towel, toiletries, daily housekeeping
Cottages (2 twin beds, a private bathroom and a shower)
Restaurant that serves breakfast, local and international dishes
Free internet in some public areas
Satellite television
Fully stocked bar
Kazinga Channel view resort
This accommodation facility is located in Katunguru (1km off Kasese-Mbarara road along Kazinga channel). It is made up of bandas which are established privately with single and double roomed cottages. The bandas are self-contained with double twin beds and are in a block house. There are also camping sites at Kazinga Channel view resort and they require visitors to come with their own camping equipment.
This resort has extremely beautiful scenic views of the Kazinga channel and you can get an opportunity of going for a boat cruise on this magnificent water body. You can also view elephants, buffaloes, warthogs, and some bird species.
The resort has various facilities such a restaurant, a bar, a playground for children, free internet and laundry services.
Mweya hostels and cottages
Located near Mweya safari lodge (a luxury lodge) and managed by the Uganda Wildlife Authority, this budget accommodation facility provides a fantastic view of Kazinga channel as well as the different animal and bird species within the national park.
Furthermore, the facility has single and double self-contained rooms as well as self-contained guest houses which cater for 4 to 6 people. Some of its services/facilities include; a bar, a restaurant that serves all meals (both local and international), free internet, a canteen and a living room.
Engiri game lodge
Engiri game lodge is located in Katunguru within Queen Elizabeth national park on the shores of Kazinga channel (300m off Mbarara-Kasese road). This lodge offers tents (each with two beds for 2 adults), camping sites for those who want to use their own camping equipment and also camping tents for hire.
More to that, at this lodge you can be able to get a clear and wonderful view of the elephants, buffaloes, hippos, warthogs and different bird species (from your verandah).
This place also offers a suitable environment for relaxation after a game drive through the park or a boat cruise on the Kazinga channel. Other facilities include; a bar, a restaurant, coffee, free English breakfast, free internet, dry cleaning, laundry services and designated smoking areas.
Pumba safari cottages
These cottages are located in Kyambura gorge (Eastern part of the park). They are privately established, self-contained, grass thatched cottages.
Other services/facilities include; restaurant, bar, gardens, free WI-FI, free breakfast, coffee shop, warm water and laundry services.
Simba Safari camp
Situated on a hill overlooking Lake Kikorongo (2km away from the Equator) and near to Mweya peninsular and Kasenyi plains is this gorgeous camp. It provides great views of the park. Additionally, you can see the Kazinga channel, Lake George and the crater lakes.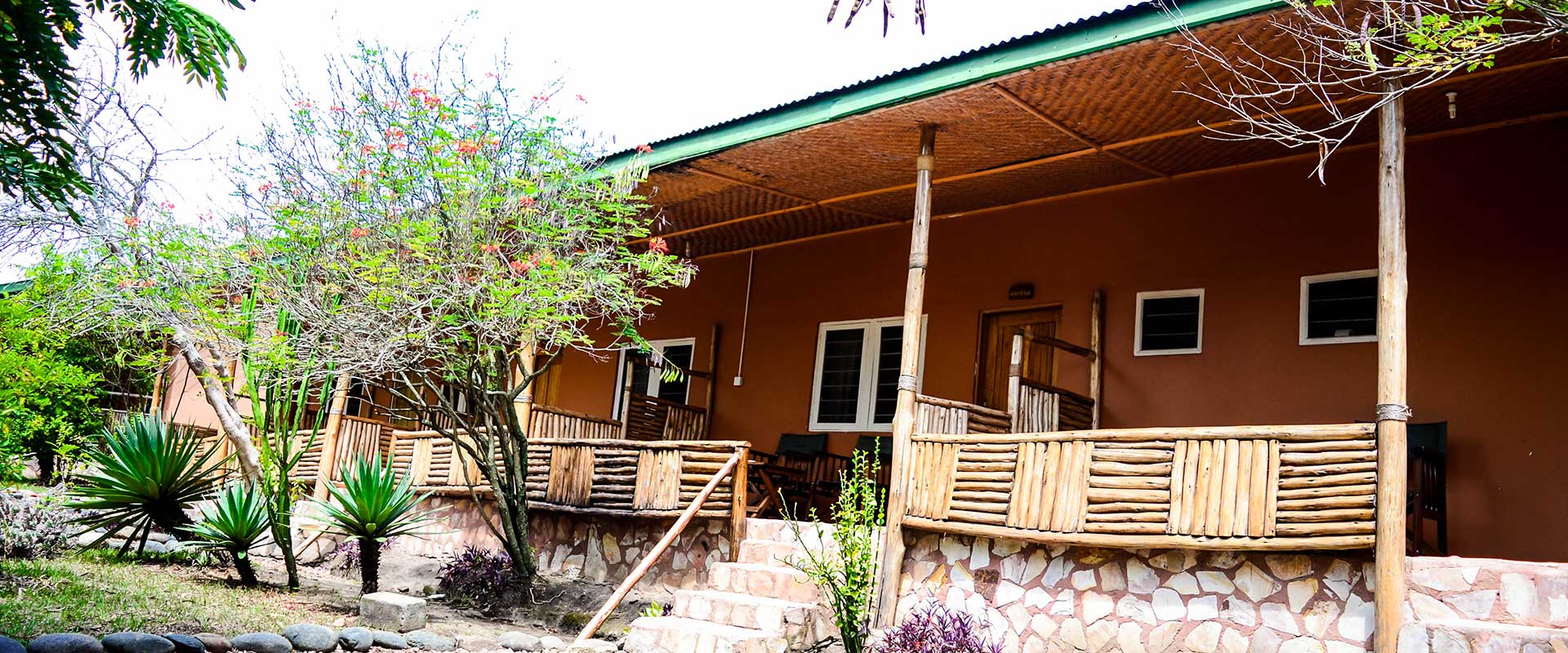 The camp is also comprised of en-suite rooms, lounge area, dormitory, family cottages and camp sites.
Other facilities include; a bar, a restaurant, a lounge area, free internet in public places and wall fans.