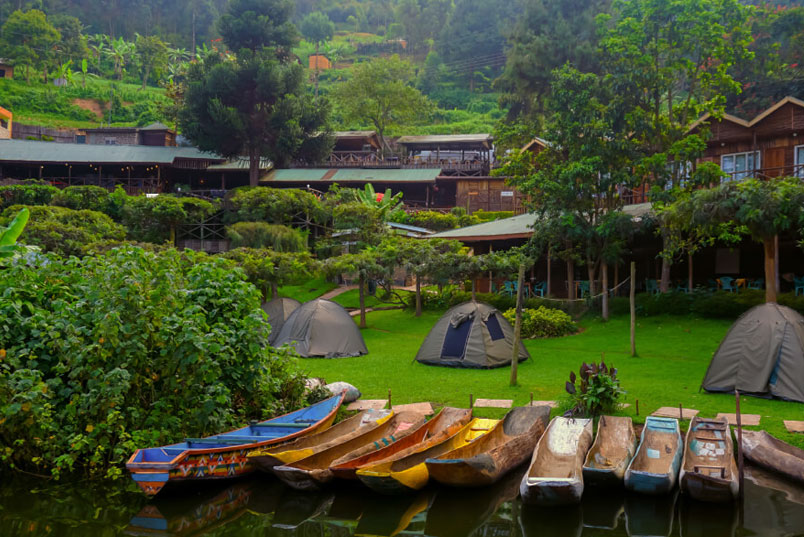 Overview
On the lake shores of Lake Bunyonyi is Bunyonyi overland resort offering you a base to explore the lake. More to that, this may be a wonderful stopover on your way to see the mountain gorillas in Uganda and Rwanda.
Furthermore, the resort is located along Kabale Kachwekano, Kabale Uganda with lake Bunyonyi a minute walk from the lodge. The resort is situated as follows; Kabale golf club a 10.1 km distance, Kabale regional referral hospital 10.5 km, Kabale university 12.6 km and Bwindi impenetrable national park 39.7 km which can be accessed with an airport shuttle( surcharge).
Rooms
The lodge has 12 cottages, 2 family cottages, 4 superior rooms, 10 luxury/ furnished tents, mobile tents for renting and self-camping space. The rooms have no cribs for infants, pets are not allowed in the lounge. The lounge specializes in local and international cuisine and serves breakfast, lunch and dinner. There are premium TV channels for entertainment and daily housekeeping for all rooms. All accommodations are sited with a splendid view out of the lake.
Check-in
Checking in time is 11AM up to 8 PM, the credit card, debit card or cash deposit is required when checking in for incidental charges. The government issued photo ID may be required and a minimum check-in age is 18 years of age.
For the case of Covid requirements, there are restrictions related to your trip for Covid-19 alert, there is need for pre-travel covid-19 testing and quarantine on arrival. There will be a front desk staff to greet guests on arrival.
Check-out
Check out time is 10:00 AM
Free services
 Free continental breakfast
Free Wi-Fi in the lobby
Free onsite self-parking
 Airport transfer
Other services
Concierge services
Luggage storage
Dry cleaning/ laundry service
Facilities
Self-deposit box at the front desk
Designated smoking areas
Garden
Picnic area
Terrace
Main amenities
52 guestrooms and 2 meeting rooms
Daily house keeping
Restaurant and bar/ lounge
2 meeting rooms
Airport shuttle
Terrace
For families
Premium TV channels
Free toiletries
Garden
Fire place
Terrace
Daily house keeping
Cable TV service
Food and drink in the hotel
Free continental breakfast
Onsite dining venue
Restaurant
Bar and lounge
Snack bar/ deli
24 hour room service
Barbecue grills
Getting there
The resort is situated in the south western part of Uganda 410 km from Kampala which takes you about 7-8 hours' drive to the resort. There is public transport from Kampala to Kabale which is available on a daily basis in a bus for 12$ and from Kabale town to the resort for 30$ in a special taxi. You can also take a private car which your tour guide can arrange for you.
Alternatively, one can take a flight to Kisoro airfield form Entebbe international airport, on your arrival in Kisoro, there are taxis for hire which can take you directly to the resort.
Another means of access is from Rwanda which is just 4 hours' drive from Kigali via Cyanika and Katuna boarders and from Kabale and Kisoro to the lodge is just 1-2 hours' drive each way to the lodge
Things to do in Bunyonyi overland resort
There are lots of activities that are available at the resort, for instance;
Fishing on site
Hiking/biking on site
Mountain biking on site
Rowing or canoeing on site
Indoor games, volley ball, badminton
Twice weekly local market
Community walks with guidance from local guides. Learn about the life skills of the local population of the Batwa and Bakiga, their farming activities and how this community tourism benefits the community.
Gorilla trekking and habituation experience in Bwindi impenetrable national park which costs 700$ for the foreign nonresidents, 600$ for the foreign residents and 250000 for east African residents. The park is just 45 minutes' drive from the resort via Rushaga sector.
Note that no one can trek without the permit. Also, one should book a permit in advance (about 3-4 months prior to your coming).
Bird watching at Lake Bunyonyi: you can spot over 400 bird species while on your stay in Bunyonyi overland resort which is just a minutes' walk from the lake. This can also be a full day birding activity.