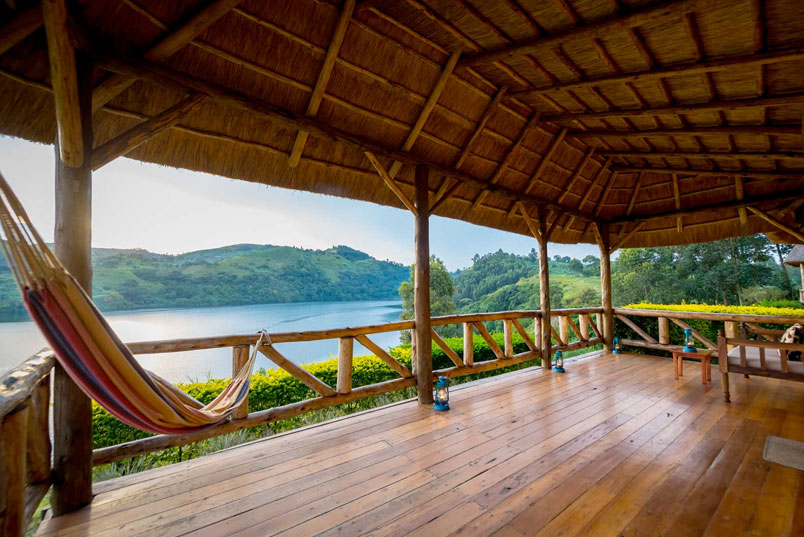 Overview
Crater Safari Lodge is an eco-friendly lodge in the prime location on a hill. In addition, it is overlooking Nyinabulitwa Crater Lake in Fort portal in the heart of the tropical rain forest of Kibale Forest National Park in Western Uganda.
Since the lodge is on a hill, one should expect clear views of the sublime Crater Lake, the Kibale National Park and the scenic view of the surrounding area which is a home to over 9 crater lakes and abundant tea/coffee plantations.
Facilities and services
Crater Safari Lodge has got over 21 sparkling rooms (deluxe chalets and standard cabanas) each with an outdoor dining area, outdoor furniture, and private balcony. There is a bedside table with a lamp, bathrobe, mosquito net, bath/shower, towel, linen and much more in every room.
The Lodge as well provides free Wi-Fi, free parking space, free breakfast, laundry services and babysitting services to its guests. Its restaurant is quite amazing. This is because of the delicious African and English dishes prepared by highly experienced chefs in the country. Additionally, they are served by friendly and professional waitresses/waiters.
Crater Safari Lodge has;
a sparkling swimming pool
a fully stocked bar/lounge
a camp fire
Activities
While at the lodge, don't miss out on activities like Hiking to the Nyinabulitwa Crater Lake and the other 9 crater lakes, canoeing/fishing, general nature walks, community/cultural visits as well as having a breakfast in the bush. Since the lodge is situated 7km from the tropical rainforest of Kibale National Park. Expect Chimpanzee trekking activities and other primates in the park.