Domel wilderness camp
Domel Wilderness Camp is among the best mid-range tented lodges at Nyaruswiga in Serengeti National Park, which is home to the biggest mammal migration in the world also known as the "wildebeest migration" and outstanding landscapes of Tanzania.
The camp is just 20 km from Serengeti information center at Seronera and 25 km from Nearest Seronera airstrip. The camp has 10 tents which has a friendly eco-systems to blend with the environment. Domel Wilderness Camp is one of the latest properties in Serengeti National Park launched on June 2018, offering the best in your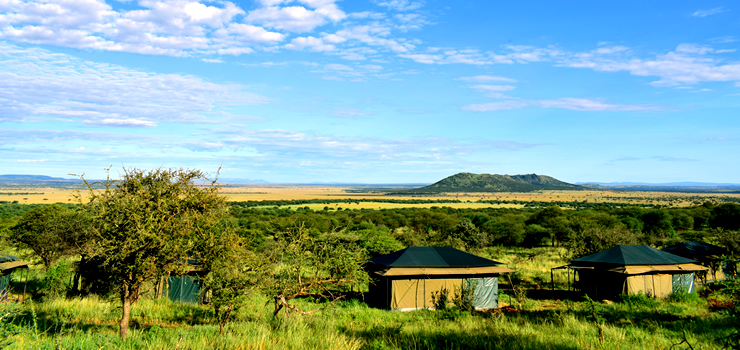 Each tent has a very unique test and gives you an amazing experience as you stay at t he lodge. It has a friendly atmosphere that makes you relax after your long day of game drives in the park. It is surrounded by ever green tree that make you forget the noisy environment back home. The air around you is so fresh and clean to keep you in a healthy environment as you explore the beautiful of Serengeti national park.
Domel Wilderness Camps is a short distance from where you can get services such as Shops. The property features a restaurant. All rooms come with a private bathroom. A buffet breakfast is available each morning at the property.  The camps have all the necessary camping amenities like Fine dining, bar, barbeque with bonfire, walk ways, mosquito nets, hot water shower and free Wi-Fi.
Accommodation
Domel Wilderness Camp offers 10 luxury and en-suite tents and 2 big family tents of which one accommodate 4 guests.
Each of the room tents consists of a large bedroom and a large en-suite bathroom. They also come with a comfortable twin and king-size bed with mosquito net and reading lights. Each tent also has a big private and shady veranda with wide reading chairs with great views.
While there, you will get experience the best time while appreciating the beauty of the park.
The lodge has a number of facilities that enable guests stay confortable while at the lodge, and these include:
Camp Facilities:
Restaurant which serves fresh and delicious food
Bar and a well-stocked drinks
Spacious & comfortable tents
Verandah with great view
Solar powered heated water
Solar power system
Camp fire
Types of rooms
The family room tent has capacity to accommodate up to two adults and three children. It comes with a number of amenities like a living room, two bedrooms with shower, toilet and a terrace.
There are double rooms that come with an en-suite bathroom, a spacious veranda as well as basic amenities such as: Queen sized bed, A Mosquito Net, Ensuite Bathroom and a Hot Water Shower etc.
There are single room suitable for sole travellers and comes with an en-suite bathroom, spacious veranda and all basic amenities.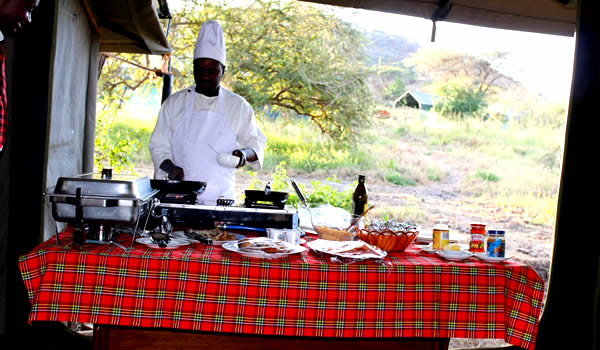 Room facilities at Domel Wilderness Camp
All the tents feature 24-hour power supply
A desk and clothes and luggage racks.
Clean towels and bottled drinking water are also provided.
Large windows
Activities you can do while there
While there, expect to do a number of game drives in the park including the morning game drives, afternoon game drives, evening game drives, night game drives, full day game drive. Depending on your travel month, the wildebeest migration takes place between the months of December to march as they are in Serengeti national park.
Children policy at Domel Wilderness Camp:
There's a special rate to Guests who come with children, whereby a child of 2 to 12 year sharing with adult are pays 50% of adult double rate. A guest of 13 to 17 years pays 75% of adult double rate and under 3 years, free of charge. And 2 to 17 years occupying their own room are charged 75% of adult rate. With this offer, feel free to travel with your whole family in order to save and enjoy your trip in Serengeti National park.
When planning a trip to any national park in East Africa, always go through a tour company or tour operator. Choose Pamoja Tours and Travel for all your travel needs, be it bookings, car hire services, honeymoon packages, family safaris, holiday retreats, group safaris and sole tour packages.