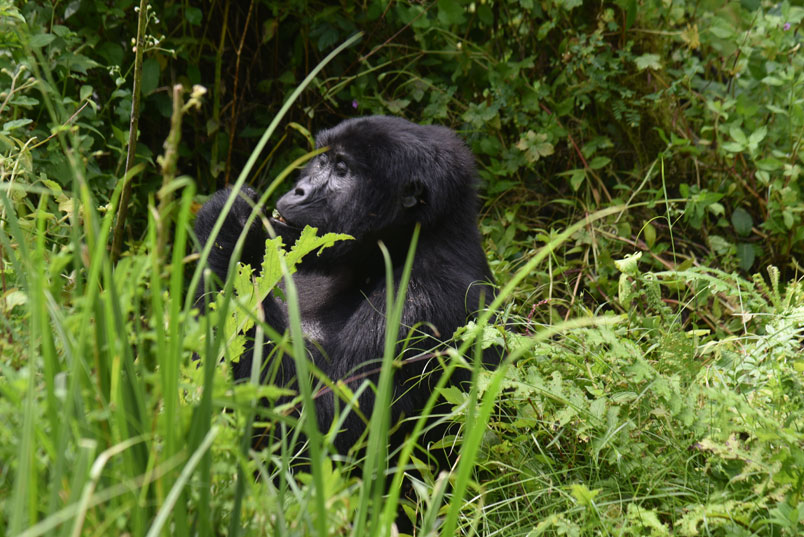 Gorilla Families in Buhoma Sector: Bwindi impenetrable national park is located in the south western part of Uganda at the border of Democratic Republic of Congo. This is a spectacular location famous for its gorilla trekking activities that take place there.
The park consists of four sectors of Buhoma, Ruhija, Rushanga and Nkuringo in which half of the world's endangered gorilla species live in their natural habitat. The visitors in the park have only one hour time to be with the gorillas. In addition, it only allows 8 people to trek a given gorilla family at a time. Bwindi and Mgahinga National park are the only parks in which mountain gorillas live in their natural habitat in Uganda. Additionally, the leader of each family is a silverback.
Gorilla permits
You must present a valid gorilla trekking permit which allows you to trek the gorillas and this allows you an hour to see the gorillas in their natural habitat. Booking for a gorilla permit takes time and it's a process. However, we guarantee a permit when you allow us to book it for you. This depends on your payments for the permit. For those who wish to book the permit themselves, follow few of these steps that we take to book the permits. It should be noted that the permits are sold by Uganda Wildlife Authority which centralizes and handles gorilla permits in Uganda.
Process of getting a permit
We will start your gorilla permit processing first by checking the validity of gorilla permits on the planned date of your trip. If they are available, we shall book your permit. We will send you an invoice which you need to pay as soon as possible. On payment, we will secure your permit with Uganda Wildlife Authority. We will later send you copies of your permits once we secure them. Thereafter, you will present them for trekking. The permits cost USD 700 for the foreign nonresidents, USD 600 for foreign residents and 250000 for all east African residents to go trekking.
Buhoma sector gorilla families
Buhoma sector is one of the most visited gorilla sector. It is located in the Northern part of Bwindi Impenetrable National park and harbors the endangered species of mountain gorillas. Trekking in Buhoma sector is done for 4 different habituated gorilla families. The sector had only three gorilla groups that is Mubare, Rushegura and Habinyanja gorilla families. However, after a while it emerged into five when Habinyanja and Mubare families split into two.
It is important to note that Binyindo gorilla family is still under habituation with 6 members. The family head is one dominant silver back. More to that, the group is not available for trekking because it's under habituation.
The other gorilla families in Buhoma available for trekking include the following;
• Mubare gorilla family.
This was the first gorilla family habituated in Bwindi national park (opened for trekking in 1993). The group has 9 members. However; there were 12 members of this gorilla family before the group split into two. Additionally, the group got its name from Mubare hills of Kanungu where Buhoma is located. The group was led by the dominant silver back called Ruhondeza. However, due to fights some members were lost leaving the group with 12 members (who were initially 18).
• Muyambi gorilla family.
This is the most recent group of gorillas in Buhoma sector with six members of the family. Muyambi was an adult family member of Mubare family. However, the dominant gorilla Muyambi split from Mubare group to form his own group.
• Habinyanja gorilla family.
This family was habituated in 1997 and open for trekking in 1999. It had one of the largest group of 30 members. The group was one of the first groups that were opened for trekking in the early years of Buhoma sector. More to that, it has 14 members with two silver backs and is currently open for trekking.
The group is under a dominant silver back Rwasingazi. However, there have been different power struggles between the silver backs called Rwasingazi and Mwirima which later split to form two different groups. Furthermore, the dominant female Kisho leads all the adult females in the group.
• Rushegura gorilla family.
The Rushegura gorilla family split from Habinyanja group in 2002 who left with 8 members. In addition, the group was open for trekking in 2002 after habituation under Habinyanja gorilla family. More to that, originally a 12 member family, people sometimes call it Habinyanja 2 family.
Additionally, the group received its name from a tree spice called Ebishegura. This tree species was abundant in the areas where the new family was staying.
Also, the family's head is Kabukojo, a black back. He took over the late Mwirima (the silver back) with 16 gorilla members is the group available for trekking.
• Katwe gorilla family.
This is one of the newest gorilla families. It consists of 9 gorilla individuals including 1 silver back, 2 black backs, 4 adult females and 2 infants. The gorilla family was one of the groups that went through the habituation process in Buhoma for three years.
Contact Pamoja tours and travel company to arrange for you a package. Trust us when we say that it is the most convenient way of booking a trekking safari.
We can help you book accommodation, secure your trekking permits, arrange different activities and transport you to your destination. Kindly contact us for more reliable and cheaper rates for a memorable gorilla trekking safari.