Overview
Bwindi Impenetrable National park is one of the four national parks with the endangered gorilla species which still exist in the whole world. The park has half the number of gorillas of those that still exist. The park is located in the South Western part of Uganda at the border of Democratic Republic of Congo. The national park has four sectors of Rushaga, Buhoma, Ruhija and Nkuringo with each inhabiting several gorilla families.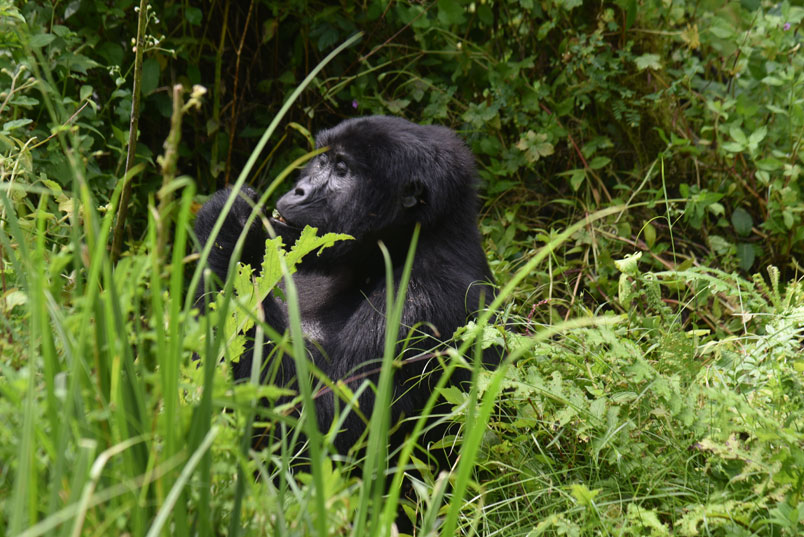 Main attractions
Some of the main attractions in Uganda include; gorilla safaris, cultural sites of Uganda, chimpanzees, Nile River, water rafting, silver and golden back monkeys, wildlife at large, bird species, butterfly species and Uganda's landscapes. The spectacular location famous for its gorilla trekking activities is Bwindi Impenetrable National Park.
Bwindi and Mgahinga national park are the only parks in which mountain gorillas live in their natural habitat in Uganda. Interestingly, each family has a unique individual called the silver back which is the dominant gorilla species. The visitors in the park have only one hour to be with the gorillas. Also, the activity only allows 8 people to trek a given gorilla family at a time.
Gorilla families in Rushaga sector.
Rushaga gorilla sector is in the South western part of Uganda (Bwindi impenetrable national park) which is a key sector when it comes to gorilla trekking and gorilla habituation experience. Rushaga sector has got a total number of 7 gorilla families that completed the habituation process. Unlike the other sectors, Rushaga sector has the highest number of gorilla families in Bwindi and the whole Uganda. These gorilla families include the following; Busingye gorilla family, Bweza gorilla family, Nshongi gorilla family, Bikyingi gorilla family, Mishaya gorilla family, Kahungye gorilla family and Mucunguzi gorilla family. This implies that there are 56 gorilla permits available for trekking in Bwindi impenetrable park every day since each gorilla group receives only 8 visitors per day.
• Nshongi gorilla family
This is one of the largest gorilla family where Bweza group split from. The group has 25 members of the family However, it had 36 members before it split in 2010. In 2013, the group split which left it with 18 members. The family is under Nshongi the oldest silverback and surprisingly, the group is very peaceful even with 2 other silverbacks. The family has a dominant silver back, 2 sub silver backs, 3 black backs, 6 adult females, 6 juveniles and three infants. Due to its large group, trekkers can easily see them.
• Bweza gorilla family.
The family has only twelve members one which split from Nshongi group in 2013. Interestingly, the group is famous to trekkers because of its exciting nature. More to that, it consists of 2 silver back, two infants and 4 black backs, 3 adult females, and one sub-adult.
Over time, the Bweza family group split into two and now has only seven members .
• Mishaya gorilla family
This is the group that split in 2010 from Nshongi gorilla family after a dispute between the two silver backs. The silverback was able to collect females quickly therefore making a total number of 12 gorilla members in the group (Mishaya the silver back, 3 infants, 7 adult females). However, because the silver back for this group is famous for fighting, the group later in 2015 split and now has only seven members.
• Kahungye gorilla family
The group had a total number of 27 gorillas in total with 3 silver backs. These were under Rumansi the silver back. However, the group split and was left with only 13 members under Rumansi and 2 other silver backs called Rwigi and Rhamuka, 3 black backs 3 adult females, 3 sub-adults, 3 juveniles and two infants.
• Busingye gorilla family.
This was the group that broke off from Kahungye gorilla family and is currently under the domination of Busingye who decided to break off in 2012. The group has 9 gorillas under one silver back, three infants, two adult females and 3 young ones. The silver back is very ambitious and is known for his legendary fights where he takes a female forcefully whenever he encounters another gorilla family.
• Kutu gorilla family.
The group is currently made up of 8 members under one dominant silver back. The gorilla family was once available for gorilla habituation experience which after years was allowed to be trekked.
Mucunguzi gorilla family
The group has a total number of 8 members under the dominant silver back called Mucunguzi. The silver back fought with a silver back in Bweza group. However, he was defeated and started living a solitary life. He later attacked another gorilla group where he ran away with some females and started his family.
• Bikyingi gorilla family.
The group came together as a follow up for members who had run from Mishaya family group. Moreover, the family was later put under habituation for close monitoring. Additionally, the group has a total number of 15 gorilla members; 1 silver back, 5 adult females, 2 sub-adults, 2 juveniles and 5 infants. Unfortunately, the group's leader is not yet long-standing because it is still undergoing the habituation process.
Payments
For any tourist to take part of this famous trekking activity, you must be ready to trek and also present a valid gorilla trekking permit which allows you to trek the gorillas which cost USD 700 for the foreign nonresidents, USD 600 for foreign residents and 250000 for all East African residents. The months of January, February, June and August are the driest months of the year the best for gorilla trekking and wildlife viewing. However; these months are very busy and hotels are usually at full capacity. This still applies to the gorilla permits therefore one should book his/her permit early enough before setting off.
Booking
Booking for a gorilla permit takes time and it's a process. With Pamoja tours and Travel Company, we guarantee a permit when you allow us book it for you as long as you make payments in time. Once you trust us with your booking, we will start your gorilla permit processing which is in a few steps; checking the validity of gorilla permits on the planned date of your trip, once they are available, we shall book your permit. We will send you an invoice which you need to pay as soon as possible. On payment, we will secure your permit with Uganda Wildlife Authority. We will later send you copies of your permits (after scanning) after securing them. You will then them at the entrance in order to get authorization for trekking.
Recommendations
With Pamoja Tours and Travel Company, your booking process can definitely become smooth once you trust us. We have a staff of skillful personnel who have experience in each field. Due to that, they can help you starting from planning and booking for your safari, getting permits, transport and accommodation. Kindly visit our website for more tour packages and information.