Gorilla trekking starting from Rushaga of Bwindi forest park. Trekking in Rushaga starts from 7am with a briefing at the park headquarters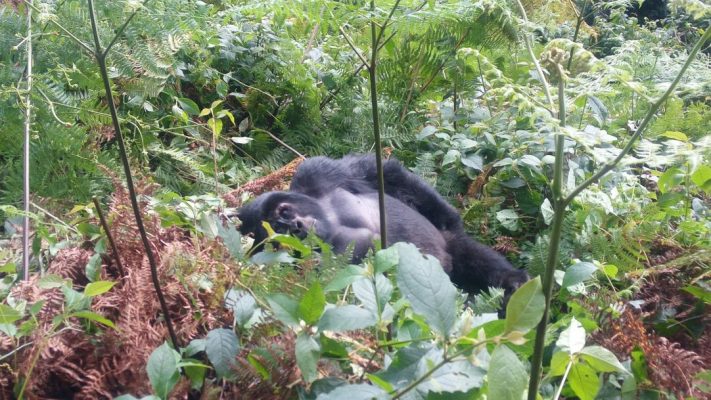 Uganda is one of the few countries with the endangered gorilla species in the whole world. These can be found in Bwindi impenetrable national park and Mgahinga national park deep into their tropical rain forests. Bwindi national park is the only destination in the whole world which consists the highest number of the gorillas remaining in the whole world. The park is located in the south western part of Uganda. Bwindi national park has got four sectors; Ruhija, Buhoma, Rushanga and Nkuringo sector. Uganda has got a total number of 19 gorilla families of which Bwindi as a whole has 18 gorilla families in total, this leaves Mgahinga national park with just one gorilla family. This is one of the reasons why Bwindi national park was acknowledged as a UNESCO natural world heritage site with one of the ancient forests on the African continent.
Rushanga gorilla sector is found in the south western part of Uganda in Bwindi impenetrable national park which is a key sector when it comes to gorilla trekking. Rushanga sector has got a total number of 7 habituated gorilla families unlike the other sectors, Rushaga sector has got the highest number of gorilla families in Bwindi and the whole Uganda. These gorilla families include the following; bushingye gorilla family, Bwera gorilla family, Nshongi gorilla family, bikyingi gorilla family, Mishaya gorilla family, Kahungye gorilla family and Mucunguzi gorilla family. This implies that there are 56 gorilla permits available for trekking in Bwindi impenetrable park every day since each gorilla group is only allowed 8 visitors per day.
Trekking starting from Rushaga trail head
Trekking is one of the most exiting activities with a lot of physical fitness benefits which involves visiting gorilla families in their natural habitats, the forest. As a visitor, you will get a chance to watch the gorilla families in their natural habitat as they continue to do their own daily activities like feeding, resting
Trekking in Rushaga starts from 7am with a briefing at the park headquarters with a lot of information, tips and guidelines that are important while trekking. This is intended to make you aware of what to do and not do during your search for the gorillas. You are divided here into groups of 8 people accordingly, and only visitors above 15 years of age are allowed to go for the trek.
After briefing, a group of rangers, guides, researchers and trackers lead you into the forest and you are only allowed just one hour to see the gorillas upon seeing them. After the trek, you are led out of the forest to the park headquarters where you are rewarded a gorilla trekking certificate for your participation in gorilla trekking on Uganda.
Gorilla trekking permit and prices.
All gorilla trekking permits cost the same money in Uganda, gorilla trekking requires you to have a permit and this is the only way that you can go trekking. Permit costs are US 700$ for the foreign nonresidents, US 600$ for foreign residents and UG 250000 for east African residents. The gorilla trekking permit should be booked in advance before you depart from your country to avoid inconveniences and disappointments especially during the peak seasons of the year when there is less rainfall. The months of January, February, June, July august and September are usually sell out very fast and therefore should be booked in time
Booking for the gorilla permits is very easy as long as you trust Pamoja tours and travel company with your bookings. There are a few steps followed to book for your permits; We will check the validity of the permits depending on your planned dates of coming and these will be reserved for seven days when you are expected to pay for them. You will then send us your payment invoice for us to secure your permit.
When the permit has been secured, we will then send you scanned copies of receipts from Uganda Wildlife Authority. It is only when you have the permit that you will be allowed to go trekking in these parks.
Best time to go for trekking
The best time for trekking gorillas has always been the dry season when there is less rainfall or no rainfall expected to interrupt you during your trek. The months of January, February, June, July, august and September present the best time for trekking. However, the fact that Bwindi national park is a tropical rain forest and it is under the tropics, expect rainfall anytime of the year. This should always find you prepared with your rain jackets, waterproof hiking boots, long sleeved dull shirt, long trousers, a pair of gardening glove, insect repellants, a hat and sunscreen, camera and binoculars to make your hiking experience better.
Sometimes the rainy season is considered the best for trekking because the gorillas don't move a lot because food is readily available in abundance making them easy to trace and see and there are discounts on the accommodation facilities offered by different lodges.
Accessing the sector
You can either get to Rushaga sector using air or road means of transport. Once you organize your tour with us, there is no need to worry about taking public, this can be organized and your tour in the pearl of Africa will be brilliant.
Using road transport directly from Kampala to Bwindi forest in Rushaga sector will take you approximately 8-9 hours' drive, there are some stop overs like the equator for refreshments.
You can also drive from Kigali Rwanda to Bwindi which is a 4-5 hours ride using Cyanika or katuna boarders. This is quicker route and therefore implies that you should book an east African visa which gives you multiple entries into Kenya, Uganda and Rwanda and it is only US100$.
While using air, there are scheduled and chattered flights that are organized in Kajjansi airstrip which fly directly to Kihihi airstrip Kanungu which is just a 2 hours flight. It's from here that you continue to your final destination in Rushaga sector.
Accommodation facilities in Rushanga
The sector has got a number of accommodation facilities which offer various services, the best for customer's comfort. You can stay in any lodge you wish which fits your budget and interests. These facilities vary in prices and services starting from budget accommodation, midrange accommodation and luxury accommodation. Since it is a famously visited area, there are plenty of hotels here from which you can make your choice. Ensure that you book your accommodation in time to avoid disappointments especially during the peak seasons of the year. Rushaga gorilla camp, four gorilla lodge, Rushaga gorilla havens lodge of Rushaga. You can also stay in the other sectors of the park of your choice i.e. In Nkuringo; Nkuringo Bwindi gorilla lodge, clouds mountain gorilla lodge, in Buhoma; Buhoma lodge, mahogany springs lodge, Bwindi lodge, gorilla forest camp, in Ruhija; trekker's tavern lodge, Bakiga lodge or in Lake Bunyonyi lodges in Kabale.