Gorilla Trekking starting from Ruhija Sector in Bwindi national park. The sector has the second highest population of gorillas in Bwindi.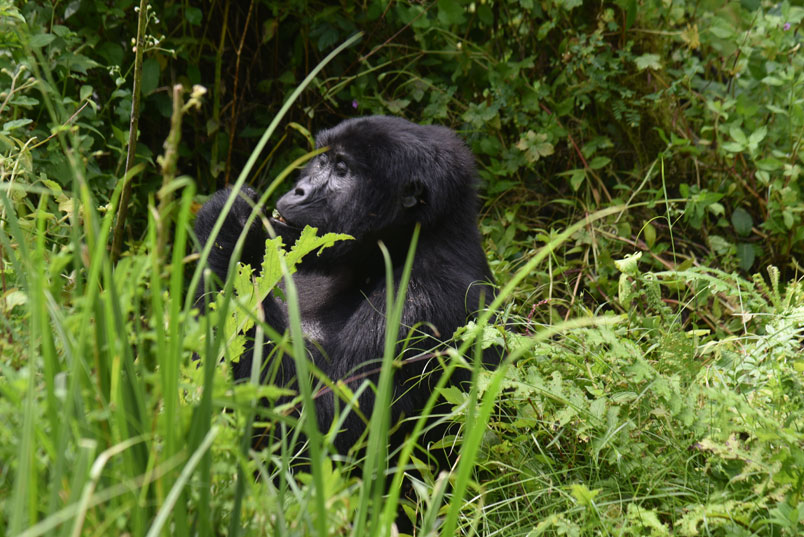 Overview
Bwindi impenetrable national park is located in the south western part of Uganda with four different sectors. The park protects half of the remaining mountain gorillas in the world. It is not only a home to gorillas but also other primates like monkeys, baboons, bird species which are around 350 in total, 120 mammal species, 27 frog species, 104 fern species, 1000 plant species and 163 tree species. All these species stay in the four sectors of Ruhija, Buhoma, Nkuringo and Rushaga sectors of Bwindi forest. Note that each sector offers a different experience therefore, a tourist can organize trekking in all the sector of Bwindi national park.
Ruhija sector
This is one of the good sectors of Bwindi impenetrable forest which has the second highest population of gorillas in Bwindi. Ruhija is the coldest sector of Bwindi impenetrable forest of all the other sectors. Trekking in this sector take place in the eastern part of Bwindi forest. The sector's trekking is famous because it is the most preferred in terms of location, trekking difficulty, gorilla families and the slopes are not so steep making it easy to trek through. This makes the sector good for aged travelers. Ruhija has got a total number of four gorilla families of Bitukura gorilla family, Kyaguriro A gorilla family, Oruzogo gorilla family and Kyaguriro B gorilla family. Note that Kyaguriro gorilla family was reserved only for gorilla research and has been fully habituated for gorilla tourism.
• Bitukura
This was habituated in 2007 which was available for trekking in 2008 and this family was first sighted near river Bitukura hence its family name. The gorilla family is dominated by Ndahura a silver back with 13 members of 4 silverbacks, 2 juveniles, 4 females and 3 infants. Ndahura is surprisingly the youngest silver back which is unlike the other groups.
• Kyaguriro A and B gorilla families
This is the oldest habituated gorilla family in Ruhija sector habituated in 1995. This family was dominated by Zeus who was banished by Rukina to exile. Rukina was struck by lightning and was succeeded by Mukiza a young silver back who led the group until 2016 and later split into two; Kyaguriro A and B.
• Oruzogo gorilla family
This group has 23 members with fantastic playful juveniles and toddlers in the family and this is a famous group. Trekking this group started in 2011 and its one of the new families in Bwindi national park.
Apart from gorilla trekking in his sector, it also gives a chance for primate walking where you will be able to spot a number of primates in this sector. The sector is a few meters away from Lake Bunyonyi which is a very beautiful lake with a number of islands. Additionally, this is the lake of hills and islands because the islands on it total to 29.
How to access the sector;
By air
There are scheduled and chattered flights in Entebbe and Kajjansi airstrip however, there are no direct flights to Ruhija. The only option here is flying via Kihihi which is ideally on Buhoma side and it's just a 2 hours' drive to Ruhija. You can as well use charter flight to Kabale and drive to Ruhija. You can also branch off from Ntungamo to Rukungiri, Kihihi, Bogota then drive another two hours to Ruhija.
By road
In case you want to use the road, on landing in Entebbe airport, you can take public transport taxi or special taxi.
However, in case you booked your tour with us, we organize transport from the airport to the sector. This is an 8-9 hours' drive to Ruhija using Kampala highway or you can use Cyanika or Katuna border from Rwanda Kigali airport to Ruhija which is 4-5 hours' drive from Kigali. While using the road, you will have a chance to see the different parts of Uganda starting from the equator, the terrain of the area, make stops in different places for refreshment or in another park like Queen Elizabeth which is the same area as the Ruhija for another adventure with the second largest national park of Uganda.
Note that Ruhija is in the positioned between Buhoma sector to the north and Kibale town from the south making the park easily accessible.
Gorilla permit booking and fees
The permit is very important and necessary in case you want to go trekking. No tourist can trek the gorillas without a permit. It is important to book the permit in advance before you leave for your tour, about 4-5 months prior especially during the peak season of the year. This season has a lot of tourists therefore, you should get permits quickly. In case you want to book for a permit by yourself or you need Pamoja tours and Travel Company to process you the permit, follow these few steps.
• Check the validity of the permits depending on your planned dates of coming. We shall reserve the permit for seven days when you have to make a payment.
• You will then send us your payment invoice for us to secure your permit.
• After securing the permits, we will then send you copies of receipts from Uganda Wildlife Authority.
Note that it is only when you have the permit that you can be able to go for trekking in these parks.
Gorilla permits here cost US700$ for foreign nonresidents, US600$ for foreign residents and 250000UG shillings for the east African residents respectively.
When to go trekking
You can visit Ruhija all year around however, the drier months (January, February, June, July, august and September) of Uganda give the best temperate climate in Bwindi impenetrable forest. It is easier to travel through the park, spot animals and gorillas when the vegetation cover is not too much. Gorilla permits in this months of the year tend to sell out quickly therefore, you should book quickly.
The wet months of the year have a lot of food growing even on the mountain slopes making the gorillas easily seen since they don't move deep into the forest searching for food.
Accommodation facilities
Ruhija caters for two categories of budget and midrange. Up market visitors can consider staying in Buhoma sector lodges which is just 1 hour's drive. The lodges include; Ruhija gorilla lodge, trekker's tavern lodge, Bakiga lodge, Ruhija community lodge,
You can enjoy the lodges around the sector in case you don't want to stay in Ruhija. There are a number of choices to make from budget, mid-range and luxury accommodation like;
Buhoma lodge
mahogany springs lodge
Bwindi lodge
gorilla forest camp
Rushaga gorilla camp
four gorilla lodge
Rushaga gorilla havens lodge
Lake Bunyonyi lodges in Kabale like Bird nest Bunyonyi resort, arcadia lodges Lake Bunyonyi, Bunyonyi overland resort
Recommendation
You can contact Pamoja tours and travel company to arrange for you a package and this is the easiest way of booking a trekking safari. You are sure of arranged safari from the start of you trip to dot. We can help you book accommodation, secure your trekking permits, arrange different activities for after trekking and transport you to your destination. Kindly contact us for more reliable and cheaper rates for a memorable gorilla trekking safari.