Hotel des Mille Collines
Hotel des Mille Collines is a 4-star hotel situated in Kigali city, close to the Kigali Genocide Memorial site. The hotel is better known as Hotel Rwanda, and popular by the 2004 film about the Rwandan Genocide. A Belgian airline called Sabena built Hôtel des Mille Collines in 1973 and owned it during the Rwandan Genocide. The hotel acted as a refugee hide-out for over 1,268 people during the Rwanda Genocide of 1994 when the Hutu attacked the Tutsis. Hotel des Mille Collines translates as 'a thousand hills', and the name was got after the breath-taking landscapes of Rwanda.
The 4-star hotel is surely the most famous hotel due to the history it holds, that attracts thousands of people. It has over 112 rooms, a bar and restaurant, a café, a swimming pool, three conference rooms, plus tennis courts. The hotel being located in the central business district, it allows you to enjoy the breathtaking views over the hills of Kigali, alongside the culinary experience from fine restaurants with international cuisines and local dishes!
Hotel des Mille Collines
Hotel des Mille Collines has for long been known to promote local artists as well as the Rwandan Culture. This is evident through the display of local art pieces around the hotel which not only beautifies it, but generates income for the local artists as the art pieces when the guests buy these items. Every Friday, the hotel holds a Cultural Night dedicated to give its guests a taste of the Rwandan culture through live performances of songs and dances. More of that, the hotel uses 90% of local produce for example fresh ingredients, and locally sourced food from within.
Kigali city has a population of more than 1 million and since 1962, it has been the center of economic, cultural and transport for Rwanda. The city is divided into three main districts, Gasabo, Kicukiro, and Nyarugenge and also known as the cleanest and safest capital city in Africa. Kigali has organized gardens and no garbage on the streets as the residents takes part in cleaning the city every last Saturday of every month.
While staying at Hotel des Mille Collines, you combine business with pleasure at the top floor of the building. Here you get to hold your business meetings in the ballroom and meeting rooms available over the stunning views.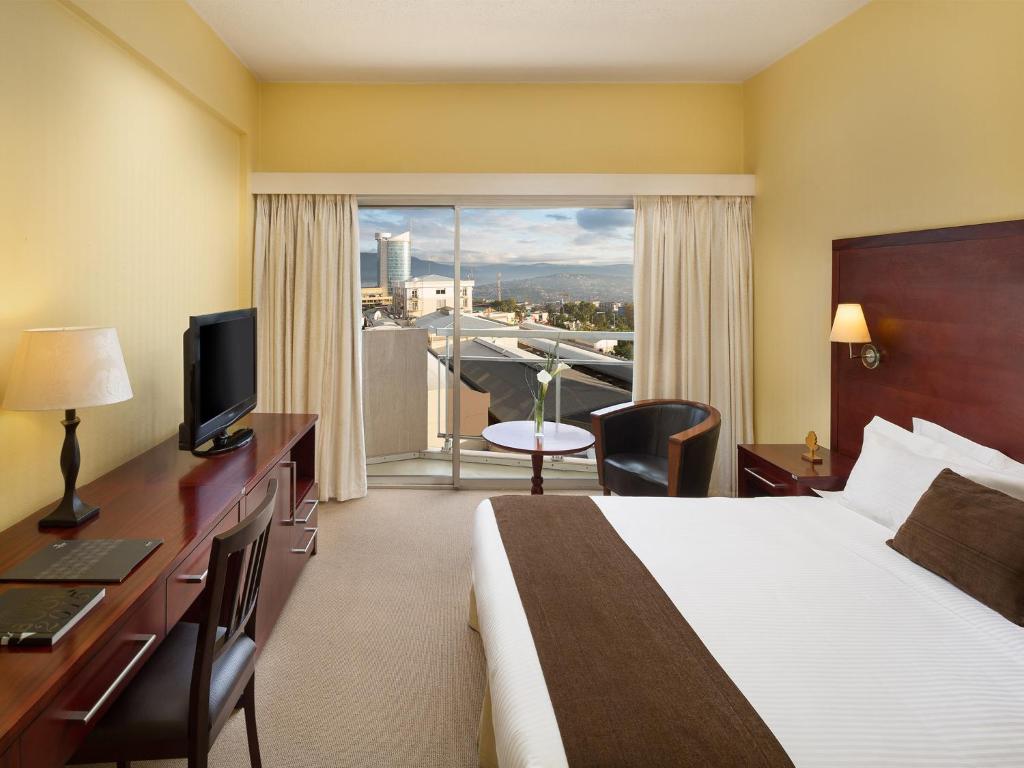 Accommodation
Classic Room
The classic Rooms are decorated with a contemporary touch, comfort and air-conditioned with one Queen size / twin beds. They are also equipped with a working desk, a flat-screen TV with international TV channels, safe and a bathtub. The rooms also have other features like, WI-FI, 24/7 Service among others.
Classic Room Garden View
Classic rooms are luxurious rooms offering a view overlooking the garden and the pool of Hôtel des Mille Collines, it is the ideal room to let all your stress behind and enjoy the evening on your private balcony. Farther on, the rooms have more features like, WI-FI, 24/7 room service, working desk, Safe among others.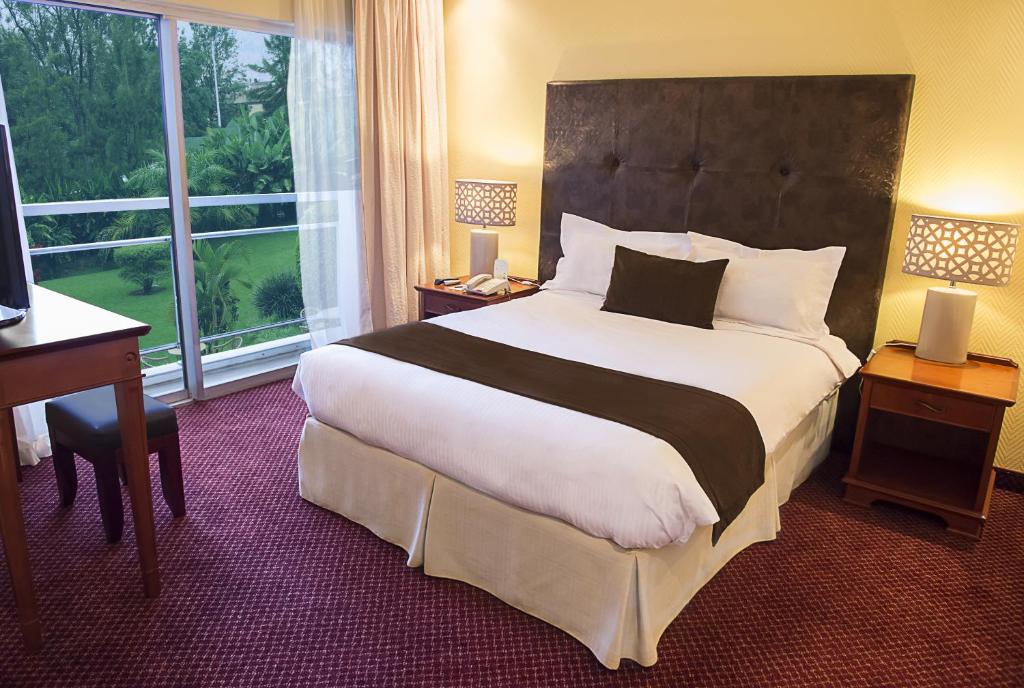 Classic Room Panorama View
These cozy rooms ensures you a relaxing and comfortable stay at the hotel with 180° panoramic breathtaking views on Kigali. The rooms over-look the stunning hills of Kigali city by day, and glimmering lights of the night on your balcony. More of the room features include: WI-FI, 24/7 room service, working desk, safe among others.
Junior Suite
Junior Suite provide you with a beautiful view and comfortable living room as you indulge in pure luxury. They contains a number of room features like, WI-FI, 24/7 room service, Working Desk, Safe, Separate Living Room and Bedroom, In-room Coffee/ Tea / Minibar Facilities and Nespresso Machine.
Superior Suite
This is the top level of comfort and elegance within Hôtel des Mille Collines, from the breath taking view, cozy living room to a private dining area. Th superior suite offers everything you would need for a luxurious stay as the perfect sanctuary. The room houses a number of features like, WI-FI, 24/7 room service, working desk, Safe, separate Living Room and Bedroom, In-room Coffee/ Tea / Minibar Facilities as well as a nespresso machine.
Activities and places to visit.
While at Hôtel des Mille Collines, you can base from the hotel to visit a number of attractions and destinations as well as doing many activities.
Kigali is a hab that connects you to Rwanda's national park, and these play the biggest role in Rwanda's tourism industry. These parks include:
Akagera National Park
Gishwati-Mukura National Park
Some of the tourism destinations in the city include:
Rwanda Art Museum
Inema Arts Center
Kimironko Market
Nyamirambo Women's Center
Amahoro Stadium
Question Coffee Cafe
Camp Kigali Memorial and many others
While at the hotel, you can also goo for souvenirs shopping in Kigali city, and buy a number of items such as:
Art pieces
Books.
Clothes and Fabric
Food and Drinks.
Imigongo Paintings.
Jewellery.
Maps.
Pottery and many others.
How to reach the lodge
The hotel is just a 20 minutes drive from the airport located in the heart of Kigali.
Book with Pamoja Tours and Travel for your safari in Rwanda to see the Gorillas and other amazing wildlife species.