Is Mgahinga national park safe for Gorilla trekking? It is very safe for any tourist to take part of trekking in Mgahinga national park.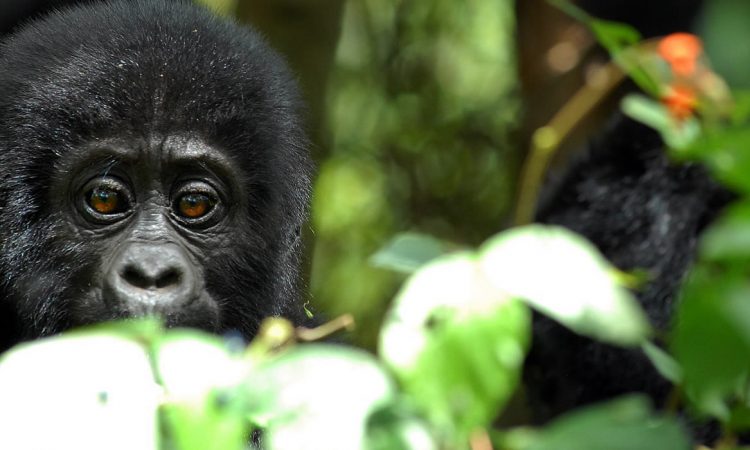 Overview
The park is in the South western of Uganda which forms the volcanic linkage of Uganda, Rwanda and Democratic Republic of Congo. This linkage is famous for endangered gorilla species which bring everyone from around the world to trek them. The park is surrounded by Bwindi national park of Uganda, Virunga national park of Congo and volcanoes national park of Rwanda. This is the smallest park of the ten national parks in Uganda. It has 3 extinct volcanoes namely; Muhabura, MT Sabinyo and Gahinga mountains which are part of the 6 Virunga Mountains.
A home for mountain gorillas and golden monkeys
The park is a home of different endangered species of mountain gorilla species and golden monkeys. It is covered in a montane rain forest in the tropical rain forest with mountain bamboo, equatorial green forest and tropical seasonal forest. Gorilla trekking in Mgahinga national park is a challenging activity. However, it is very safe for any tourist to take part of trekking in Mgahinga national park. The park is protected by a joint security force of Uganda Wildlife Authority armed rangers and Uganda Peoples Defense Forces manning the park 24/7. It is therefore safe for trekking.
The only gorilla family
Mgahinga national park has one gorilla group available for trekking; Nyakagyezi family. The family has 9 members; 4 silver backs, 3 infants and two females and a juvenile with the oldest silver back of 56 years. A visitor here has got 99% chances of seeing this gorilla family.
Trekking takes a lot of energy that's why it is better to start early in the morning with a briefing. This is very crucial and important where you will be given instructions on how to handle the gorillas when you meet them, park rules and regulations and you will be assigned a guide and a ranger to escort you on your trek.
While on your trek, ensure that you carry the following;
Camera and a pair of binoculars
Warm long-sleeved shirt and long trousers with dull colors
Pair of gloves
Pair of waterproof hiking boots
Walking stick
Insect repellant
Sunscreen and a hat
Rain jacket in case it rains
A porter to carry your language
Price of gorilla trekking permit in Mgahinga national park
There are just 8 gorilla permits available for trekking the gorillas since the park has only one habituated gorilla family. The gorilla permits cost 700$ for foreign nonresidents, 600$ for foreign residents and UG 250000 shillings for east African citizens. The permits grant you an hour to see the gorillas in the park. Thereafter, you will receive a certificate for gorilla trekking.
Prior booking for gorillas is advisable for all visitors especially during the peak seasons of the year . Due to the fact that that there is just one gorilla family to trek, only 8 people can trek the family at a time. Pamoja tours and travel can help in booking the permits when you contact us with your details and the exact date you are planning to come for gorilla trekking.
What is the best time to go for trekking in Mgahinga national park?
Gorilla trekking in Mgahinga national park occurs throughout the year. You will enjoy your trip the most with little or less interruptions from the rain and weather changes during the months of January, February, June, July, august and September. These months receive less rain fall which makes trekking easier with the dry slopes and trails, it's easy to forge your self through the thick forests during the drier months than the wet season.
I the wet months of the year, there is green everywhere, food is in abundance in the forests which improves the chances of seeing the gorillas in a short time. There are discounts on the accommodation facilities around the park and this makes your trekking less costly.
Accessing Mgahinga national park
Mgahinga Park is located in the southwestern part of Uganda in Kisoro district. Accessing the park is very easy using air or road
By road
From Kigali via Cyanika boarder, it's just a four hours' drive to the park from Kigali international airport where our guide will pick you from.
From Kampala to the south western direction, it takes you just 9 hours to the park in our 4×4 vehicles, comfortable enough for you.
By air
You can use the Kajjansi /Entebbe chartered flights to Kisoro air strip which takes just two hours and extra two hours to Mgahinga national park from Kisoro airfield.
Accommodation
There is a number of accommodation facilities in Mgahinga gorilla national park where you can have comfortable stays when you visit. Most of the lodges here lie at the forest edge giving you clear views of forests and volcanoes. Every kind of accommodation is available here starting from luxurious to budget accommodation. There are some common lodges which offer the best services, restaurants and bars, entertainments, fresh prepared local and foreign food like Lake Mulehe lodge, Gahinga lodge, and Lake Chahafi lodge among others. You can as well stay in Kisoro town which is about 30 minutes' drive from Mgahinga headquarters. For any inquiries and information needed, please feel free to contact us for bookings and advise needed.