Giraffe ark game lodge
Giraffe Ark Game Lodge is a mid-range accommodation in Aberdare National Park and serene sanctuary that graces the famous plains of Kieni in Nyeri County, and is strategically placed between the majestic Aberdare Ranges to the south and the imposing snow-capped Mount Kenya to the north. The lodge sets just 6 km off the Nyeri-Nyahururu Road.
Luxury and class echo throughout the hotel with extensive polished Mazeras floors and wood finishes which give the hotel a touch of class and a sense of wild nature. The hotel is a rich fusion of Pan African, Western, Oriental, and Arabian themes with a homely atmosphere.
The lodge has various different restaurants and also bars for guests to choose from
 Rooms
Executive Double Suite
Room Facilities: Desk, Hairdryer, Mirror, Kettle or coffee maker, Telephone, Toiletries, Towels, Bottled water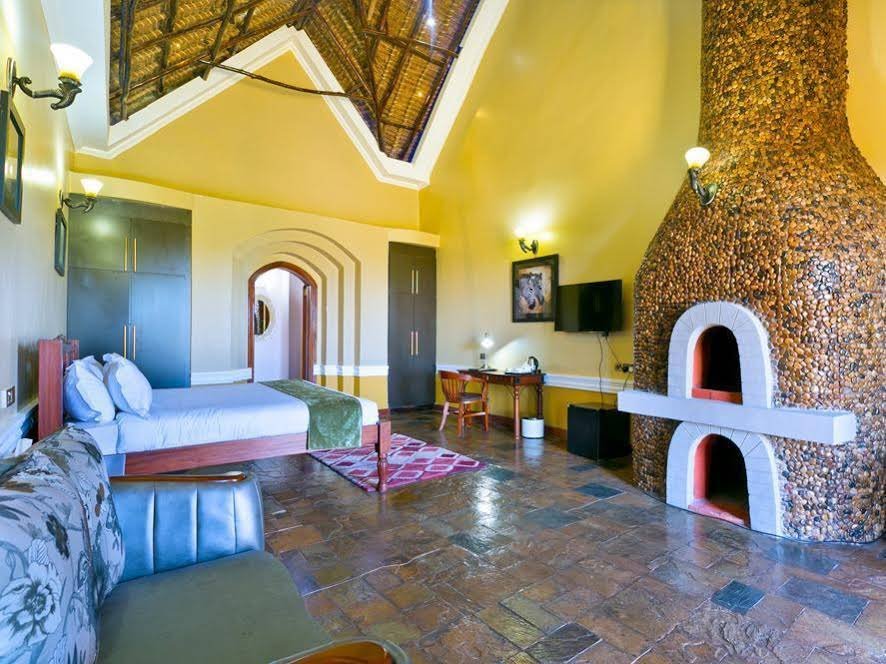 Luxury Suite
Room Facilities: Desk, Hairdryer, Mirror, Kettle or coffee maker, Telephone, Toiletries, Towels, Bottled water
Deluxe Suite
Room Facilities: Desk, Hairdryer, Mirror, Kettle or coffee maker, Telephone, Toiletries, Towels and also Bottled water
Rhino watch safari lodge
The Rhino Watch Safari Lodge is in the central Kenyan highlands and offers a beautiful view of Mt Kenya. Surrounded by three wildlife reserves the lodge provides an ideal base for safari game drives.
The Rhino Watch Safari Lodge is located in the vast plains between Mount Kenya and the Aberdare Mountains. It is our concern that all our guests feel comfortable with us.
That is why there are different accommodations for different requirements. In the upper area of ​​the complex, there are 5 double chalets and 2 family chalets. These are pure feel-good accommodations where you also like to stay, relax, and enjoy. In the lower area, there are 9 exclusive safari tents that were lovingly built in a bush forest. Since September 2013 there has also been the new, exclusive honeymoon chalet, which is located slightly outside the complex.
Restaurant and bar
They serve drinks in a cozy bush bar. The hotel complex is only accessible to guests of the Rhino Watch Lodge and is closed to the public. So all guests are among themselves. The bush restaurant, completed in September 2012, offers maximum comfort in a warm atmosphere. Here we serve delicacies from our bush kitchen. Also new is the outside terrace directly in front of the restaurant.
In the middle of the lodge, there is a pond where weaver birds like to nest. Right next to it we built a library with a small sunset bar. Here is a TV with cable connection available to learn the latest from all over the world. On the roof, you have a great view and you can watch birds in the roofs of the trees. A bird watching veranda at the pond has also been open since December 2014.
The veranda
This is the ideal place to take tea. Next to the Sunset Bar, there is a pavilion that we use for demonstrations. They also accommodate small seminar groups here. Special interest groups can also make excellent use of this space, such as yoga or meditation.
There has been a small spa section since December 2014. This has a sauna, a relaxing jacuzzi, and a massage room. Here we offer various relaxing massages, a real relaxation after an exhausting safari day. We are constantly striving to further align the lodge to the needs of our guests and thus to create the highest standard for your well-being. Visit us on Rhino Watch, experience pure wilderness in the surrounding protected areas and relax in a family atmosphere, and enjoy the friendly, professional service
The Lodge offers a beautiful view of Mt Kenya. Surrounded by three wildlife reserves the lodge provides an ideal base for safari game drives. The warm hospitality and a friendly atmosphere await you.
Rhino Watch Lodge is an oasis of peace and relaxation, a perfect place if you need to get away from it all. We offer lovingly designed rooms in different categories. They also specialize in accommodating nature and wildlife enthusiasts, families but also professional photographers and film crews.
Sangare Farm house
A mid-range accommodation in Aberdare National Park located adjacent in the Sangare area 3 hours' drive from Nairobi and 7 kilometres from the main Nyeri – Nyahururu highway. Sangare Farm House magnificently situates on expansive farm. Here, the gardens offer a breathtaking breeze combined with excellent views of Mount Kenya and the Aberdare ranges which is one of Kenya's water towers
Accommodation
Sangare Gardens has a total of 10 rooms. All with 1 large king size bed. There is no facility for twin beds or extra beds. We have one baby cot and one toddler bed.All rooms have shower and also WC contained.
Family room
Located on the first floor in the main house, this room features a balcony overlooking Mount Kenya. This is a combination of 2 rooms with a shared bathroom and WC preferably for children. There is also 1 baby cot for toddlers. In essence the family room will stay 2 adults and children and baby. Please note beds are only king size. There is also Wi-Fi in this room.
Deluxe room
These are stand-alone units separate from each other. Each of these rooms has a private romantic Verandah, spacious, cosy lounge overlooking the Mount Kenya. The rooms have a modern ensuite bathroom with large hot & cold rain shower cubical, 2 wash basins.
Situated on the ground floor with part tent roof alike and designed to give a breathtaking view of early morning sunrise against the back drop of the mountain, these rooms have antique and local decor to enhance homely atmosphere with wall drop and a working station for your utility
The white Rhino Hotel
"A heritage of warm hospitality"
In 1910, three Europeans – Berkely Cole, Lord Cranworth and Sandy Herd – founded the White Rhino Hotel in what was then, British East Africa. According to various historical accounts, they name the establishment after a rhino. It was shot at the site during one of the numerous game-hunts conducted by the white settlers. The White Rhino Hotel was well-known across the region as the first segregated exclusive pub. This was to keep off attacks on whites and local Africans by guard dogs. These would pounce on them if spotted in the vicinity. In 1965 after independence, the hotel was sold off to an Asian businessman. It has only 27 rooms – most of which were not self-contained – at the time.
The hotel offered mainly single rooms and lodging facilities and a bar and restaurant for guests. The bar section was then converted into a seminar hall and the hotel began to allow in the first African patrons. Five years after in 1970, the hotel was sold again. It was at this point that the "whites-only" sign, which had been put at the entrance, was removed, ushering in a new era for the hotel. The White Rhino Hotel was gazetted as a National Heritage site on 9th March, 2001.
Accommodation
Penthouse Suites
Our Penthouse Suites are the ultimate embodiment of opulence. They are spacious and provide the guest with an amazing greenery view of Nyeri town. Our guests can choose from two penthouse suites: Royal Suite (1 Bedroom), Lord's Suite (2 Bedroom)
Executive Suites
Our 12 Executive Suites combine a residential decor with gracious sense of space to provide an exquisite and warm setting for our guests. The warm decor creates a homely atmosphere which is an ideal setting for guests travelling with children.
Deluxe Rooms
They beautifully decorate the 23 Deluxe rooms with earth tone colors and fabrics. They design the furniture and accessories to create a comfortable and also elegant ambience
Superior Rooms
Our 65 Superior rooms offer a spacious ambience and have earth tone colors to create a cozy and welcoming atmosphere. Three of these rooms are able to accommodate the disabled.