The ark Lodge
The ark lodge is a luxury accommodation in Aberdare National park set in the heart of the Aberdare National Park, iconic and yes, quirky. The Ark overlooks a floodlit waterhole and salt lick, which attracts a host of awesome wildlife. Resembling and named after Noah's Ark, The Ark comprises of three decks from which numerous balconies and lounges provide a superb location for wildlife to be seen. So that you don't miss any animal sightings, the night guard will buzz your room when special animals come to the waterhole. The Ark has four viewing areas for observing the ever-present animal activity.
There is also a ground level bunker – the perfect hideout for the discerning photographer. This is a circular pillbox-like structure, and it is from this vantage point that pictures of animals on the salt lick only yards away may be taken through the view holes in complete safety.
"In this intimate recess one can almost, but not quite, pat the animals, hear their sounds and smell the aroma of the night. This is a magical corner, where there is close contact with the essence that tells of an unexplored Africa, and where, very often, the visitor may enjoy in solitary state the beauty of it all."
Accommodation/Room
We have had a complete renovation of the property!
All "cabins" have an en-suite shower and bathroom. Accommodation in The Ark is in the form of cabins that are self-contained with a shower and toilet.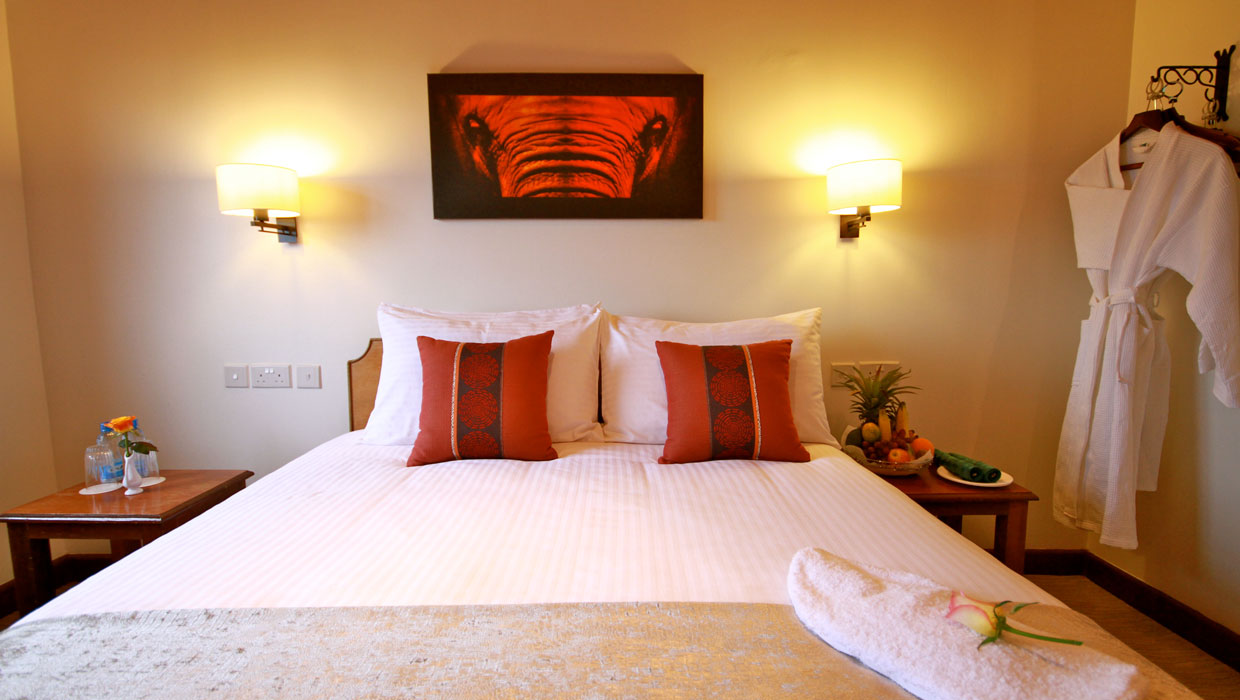 The rooms are on three levels – Deck A, Deck B and Deck C.
Deck  C  is the main deck where all the main lodge facilities are located, including the restaurant, cloakrooms and bar. There is also access for wheel chairs, for those who require it.
From the safety and comfort of all the four decks, one can watch the wild animals visiting the water hole in front of The Ark.
Six single bedded rooms
Thirty seven twin rooms with two single beds in each room
Ten double rooms with one queen bed in each room
Seven triple rooms with three single beds in each room
Aberdare Cottages & Fishing Lodge
Aberdare Cottages & Fishing Lodge is a prestige royal cottage surrounded by the Aberdare National Park, the Mathioya River, small scale tea farms and their interlocking valleys and ridges.
It is a Romantic Country side retreat with 15 tastefully and spacious Chalets with spectacular views, mouthwatering food, great service, nature walks, biking and Trout Fishing.
We are the home of Fly Fishing, Hiking, and Biking in Murang'a County and the Aberdare Ranges
Offering numerous attractions, relaxation in intact nature, walks, waterfalls, and a series of activities from hiking and cycling to boat riding and also river swimming
We are available for exclusive group bookings to ensure absolute privacy for our guests to grow Murang'a county tourism.
We are a luxury countryside travel destination for nature lovers, travelers, hikers, campers, holiday-makers and tourists from all over Kenya and abroad. Spend more time outdoors and take a break from everyday life. If you want to trade in the old 9-to-5 for lush greenery, fresh countryside air, quiet stillness of nature, breathtaking rivers and streams, or luxury accommodation, you're in the right place!
It is a Romantic Country side retreat with 15 tastefully and spacious Chalets with spectacular views, mouthwatering food, great service, nature walks, biking and also Trout Fishing.
We are the home of Fly Fishing, Hiking, and Biking in Murang'a County and the Aberdare Ranges.
Accommodation
Aberdare Cottages and Fishing Lodge is a romantic countryside retreat with 15 tastefully and spacious chalets that have spectacular views.
All our rooms have a private veranda overlooking the North Mathioya River and our lush mini forest.
Every room has an en-suite bathroom with flush toilet and also a hot shower.
Treetops lodge
A Luxury accommodation in Aberdare National park originally built in 1932, Treetops is famous as the place where the then-Princess Elizabeth learned of her father's death and ascended to the British Throne in 1952.
Styled to resemble a ship, the lodge comprises four decks and a top viewing deck. Timber built, it is raised on stilts overlooking a water hole and salt lick, while living tree branches form part of the fabric of the building itself. Solely dedicated to game-viewing, the accommodation is compact. At 6450 feet above sea level it can also be chilly at night at all times of the year (and especially during the Kenyan winter, from June to September). Typically guests take lunch at the Outspan Hotel in Nyeri before journeying to Treetops. Upon arrival, a ranger briefs them on optimum safety and game viewing.
Location
Treetops is located just inside the gates of the Aberdare National Park, overlooking a waterhole and saltlick.
Accommodation
The 48 guest rooms (called 'nests') are small and dark paneled in wood – they do not offer private bathrooms. Communal bathrooms are down the hall. Two suites (with private shower rooms) are also available.
Dining and bars
The wood paneled dining room features long communal tables and bench seating. There is also a lounge and bar. The waterhole habours rhino, elephant, buffalo, lion, bushbuck and waterbuck.
What to view and activities
The lodge offers nightly talks on the flora, fauna, avifauna and history of the park. 2-hour game drives are also offered in the 'Salient' of the Aberdare National Park (the lower slopes of the range) and full-day game drives take in the upper slopes or moorlands area. The lodge has a gift shop.
Wildlife highlights: colobus monkey, leopard, lion, serval cat, elephant, warthog, black rhino. There is also giant forest hog, reed and bushbuck, buffalo, duiker, suni, eland and the rare bongo antelope. Birds: 250 recorded species.
The Aberdare Country Club
The Aberdare Country Club is a Luxury accommodation in Aberdare National park area only a two and a half hour drive northeast from Nairobi, is nestled on a slope of Mweiga Hill in the Aberdare Highlands, part of the Great Rift Valley. This captivating site was the homestead of an English couple that decided to settle in Kenya. Almost a half century later, their home. "The Steep", they rename the Aberdare Country Club and opened for guests and Considered a heritage property in Kenya. The Aberdare Country Club has retained the charm of a private home with the simple comforts of a country inn.
"Today, despite the fast-changing tempo of the outside world, the old home still retains that comfortable, solid feeling. It is based on traditions from a time when life proceeded at a far more leisurely and gentle pace."
– Monty Brown's book, Haven under the Hill
Accommodation
All the rooms at The Aberdare Country Club are in the form of cottages and one standard suite. The cottages are as follows:
19 Two bed room cottages, 01 Three Bedroomed Cottage, 01 Five Bedroomed Cottage, 01 Standard Suite
From the above cottages, the under listed are suitable for families, honeymooners and those wanting something extra.
Honey Suckle, the Nursery Cottage, Kinangop Cottage, 2 Deluxe Rooms, VIP Suite
Our two deluxe rooms set within The Nursery and the Kinangop cottages. They have their own doors and do not interconnect to any other room. This makes them suitable for the individuals as well as families.
Facilities and activities
Horse riding, Spa with gym, sauna, steam & massage, WIFI in all areas and rooms, biking, disabled accessibility & special room, weddings venue, team building, golf carts to rooms, animal sanctuary.