About Ngorongoro Crater
Ngorongoro Conservation Area-Ngorongoro Crater is among the world's breathtaking natural wonders and is one of the places to see the big five. Once a giant volcano and now a world heritage site, the Ngorongoro crater in northern Tanzania is the main caldera found in the whole world. Some people still believe that before its eruption it was more elevated than Mt. Kilimanjaro.This has the uppermost peak in Africa.
This one of the most beautiful natural wildlife Tanzania safari sites and also a must-go to place if you would like to interact with people of the Masai tribe who have a very rich culture.
Highlands surrounding the crater together with the crater itself make up one of Africa's most unique and beautiful regions. The volcanic craters create a stunning backdrop to several of the majority rich and fertile grazing grounds in Africa. The walls of the crater rim are steep and soar 400 to 610m high giving off an incredible natural drama as predators and prey stalk and graze their way into the open grasslands, acacia woodlands and swamps on the crater floor thereby giving off a heavenly sight.
Wildlife Game Viewing In Ngorongoro
You will find very few safari destinations that deliver the same experience as Ngorongoro crater safari Tanzania does; it is one place you go to when you need the easiest and most rewarding game viewing in East Africa.
The globe's largest intact caldera is habitat to the highest mass of big game in Africa as well as an abundance of wildlife and the famous big five. A well-to-do populace of endangered black rhinos protected with its rims as well as a number of the hugest tusker elephants (200 to 300) left in the world that wander all day in the forests are the prize spots here.
There is also a good population of black manned lions that stalk the grasslands, hale and hearty herds of wildebeests along with zebras, hyenas (600) and leopards. In total large mammals residing in this bowl is estimated to be 25,000 with a population of 6000 resident wildebeests, 70 lions and about 30 endangered black rhinos inhabit the crater floor.
Flamingos can be seen crowding the soda lake giving off a pink hue from a distance. In addition to these there are other wildlife including serval cats, bat eared foxes, Giant and Thompson's gazelle, cheetah, jackal and a population of about 400 different species of birds. In addition you find plenty of hippos converging on the Ngoitoktok springs picnic site. Though less commonly seen, warthogs, hartebeests, water bucks, bush bucks and Bohor's reed bucks also inhabit here.
All this wonder is in plenty mainly because of the presence of water both the permanent springs which make sure they maintain the swamps as well as the permanent streams and rivers that flow off the crater rim.
Ngorongoro Vegetation
Ngorongoro is a mixture of lush green, rain-watered vegetation, and desert plants. The area is made up of semi-arid plant communities, uncultivated lowland vegetation, highland forests and abundant short grass that are used for grazing. Lofty open highlands, grasslands, scrub health as well as the remainder of thick evergreen forests line the steep inclines of the crater as highland trees which include yellow-wood, peacock flower, sweet Olive, and Kousso (Hagenia abyssinica) form an exciting mix.
On Makarut Mountain are far-reaching stretches of Pencil Cedar to the west and pure bamboo on Oldenani Mountain can be seen as Dove weeds that take over the lesser slopes. Gum Acacia and Red thorn Acacia constitute the upland woodlands and these are very important for shielding the watershed.
The crater basin is enclosed by open undersized meadow plains which are dotted by brackish and clean water lakes, swamps, marshes and two areas of Acacia woodland. Inside there you will find Lerai forest which is dwelling to the yellow fever and Acacia tree as well as Laiyanai forest that has Acacia Lahai and Pillar wood. The rare umbrella acacia and Commiphora Africana trees make up the grass covered heaving plains in the west as the Zebrawood and Blackthorn acacia take over in the dry settings beside Lake Eyasi. The richness of the extensive grassland and bush which is moderately unscathed by farming supports the large population of wild game.
How To Get To The Ngorongoro Crater
You can get to Ngorongoro crater through Arusha airport which is located just outside Arusha. The crater is only a 3 hour drive on a tarmac road from Arusha which is the starting point of most safaris in northern Tanzania. Once in Arusha you can get go around the parks of northern circuit with a chartered flight or you can use safari vehicle and drive the whole circuit. It is a usual occurrence that your tour operator will pick you from the airport and then handle all your ground and domestic operations.
The other option to get to Arusha is to fly to Kilimanjaro International Airport which is just 46 kilometers from Arusha. You can as well as go through Julius Nyerere international airport in Dar-es-Salaam and fly to Arusha airport.
Ngorongoro Crater Accommodation
Ngorongoro Crater Lodge
Sitting on the rim of the crater, Ngorongoro crater lodge has spectacular views to die for. This lodge is best access by aircraft which lands at Manyara airstrip from which you drive to the lodge in an hour's journey. If you plans of visiting Serengeti national park, this is the best lodge to be at as Serengeti plains are close. This gives it a unique intrinsic part of any top end to a Tanzanian safari holiday or better yet a honeymoon.
The lodge is divide into three camps which has a very similar feel with the rest of the camps. The camps are known as South, North and tree. Tree camp is nearer the rim and lower down among the trees although at times the views are obstructed by the trees. The main communal area in tree camp is huge and slightly over the top with massive windows for expanse and magnificent views, grand chandeliers and open log fires which give that cozy feel in the wake of the night.
Their Bandas are private and spread out into the green grassland that lies in front of the lodge, chandeliers, and the deep reds. This lodge is very different to anywhere else in north Tanzania mainly because of this lodge.
The major activity that takes place here is game driving in the crater itself which normally takes about 6 hours. Masai villages are in the vicinity of the lodge which you can visit on return from the game drive.
North and South camps
These camps are slightly higher up the hill and these are very similar. Their main lounge of the camps is has large beaded chandeliers. Also, it has wood panel walls, velveteen sofas and raw silk curtains. Their roofs are creatively craft from banana leaves as Persian rugs make up the floor and fresh roses are here on a daily. There is an expanse of decking on the outside of each camp is has terracotta pots all full of Masai spears and a large fireplace in the middle gives off the perfect setting for pre-dinner drinks with the moon sought high above over the crater rim.
Ngorongoro Serena Safari Lodge
This is a truly marvelous location set in the western rim of the crater and it has views of the magnificent caldera with an almost "flintstones" design. The lodge is uniquely decorated with a hand painted cave type illustration and style all over giving the lodge quite a large outlook. The large arches in the walls combined with a central fire place that sticks out in the communal areas and the lovely views down the restaurant make this lodge exceptional. The crackling wood fires in the dining room and bar give a warm invite as the menu offers both delicious and extensive choices of food incorporating at least four courses.
The rooms which total to 75 are on two levels in long lines along the rim of the crater making one think they were in the natural gradient of the crater. All necessary requirements are inside these rooms; bathrooms, large double beds and large windows giving you a great view.
Ngorongoro Sopa Lodge
Located on the eastern side of the crater, Ngorongoro Sopa lodge is only an hour and half drive from Manyara airstrip and about 3 and a half hours from Arusha. This lodge has an ancient lavishly decorated establishment and has one of the best prices on the crater rim for budget travelers.
Ngorongoro Sopa lodge is at the center around a striking glass central atrium that overlooks the swimming pool. Only the brave ones can bare the highland chill and swim in. To the left is the lounge and the restaurant is at right and is someplace you can get to sit and relax away in the peaceful environment. The restaurant is famous for its excellent atmosphere especially when the central open fires are burning accompanied with the mouth watering dishes they offer.
There are a total of 92 rooms at this lodge and each of them is spacious, warm and have a glass fronted veranda that gives wonderful views of the crater. They have self containing bathtubs with warm water available. This is the ideal place to spend your night the moment you are here.
Best Time To Visit Ngorongoro Crater
The wild experience at Ngorongoro crater is all year round but there are peak seasons just like all other places that offer an optimum game viewing experience. During the dry season that is July to September and even December to February, high visitor numbers are travelling. Putting this in mind, you may consider coming between April to May which is a rainy season when the visitors are fewer and you will have the crater to yourself. At this time the crater is wonderfully with a green lush blanket of vegetation as to the dusty dry landscape.
Ngorongoro Crater Safari Activities
Tanzania cultural tours
The rhythm of African music is a very unique one and experiencing it first hand is one the unforgettable things you can do for yourself. A group of local drummers entertain guests with their unique culture and skill. The Tanzanian culture has a unique instrument called marimba that gives it the melodic drive and will have you to your feet in no time. This is an outdoor event so it entirely depends on the weather and a few charges may be in addition.
Experience Bushmen In Tanzania
Bushmen are ancient hunter-gatherers. They inhabit the land near Lake Eyasi. Also, these are one of the few remaining people whose tradition and culture remains crude and untouched. This is a fascinating cultural highlight that they offer to guests visiting the crater. You will see their traditional way of life as well as the obvious harmony with the earth is spellbinding. In the company of a guide, you will engage with the Bushmen and learn all you can about their survival skills, time-honoured hunting tactics, cultural norms and their kitchen secrets. This undeniably authentic cultural journey into the rural Tanzania is a veritable step back in time that every one ought to encounter.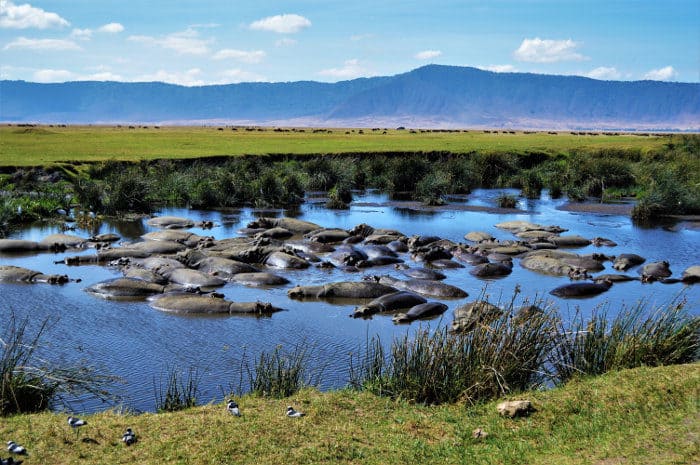 Ngorongoro Conservation Area Walking Safari
This is a late afternoon walk which is very popular where guests get to walk along the western rim of the Ngorongoro crater allowing them to experience various natural habitats say like open grasslands, thick lush forests and acacia woodland. Here you can get the opportunity to see Masai with their cattle en route, see Schalow's wheatear and mountain white eye very clearly and lastly excellent birding route with sightings of African cytrill, golden winged sunbirds, mountain buzzard and white eyed slaty flycatcher.
Hike The Empakaai Crater
This is an energetic full day hiking experience right from the beautiful forests that encircle the Empakaai crater to the fabulous birdlife, impressive strangler figs. Ardent birdwatchers will have paradise here, and you will also have an opportunity to sight the Grey-headed Negro Finch, Crowned eagles, Barred tailed trogon, Greater and Lesser Flamingo and Steppe Eagles.
Book a safari to Ngorongoro Conservation Area with Pamoja Tours and Travel
6 Day Magical Private Manyara, Serengeti, Ngorongoro & Tarangire Wildlife Safari
Tanzania Safaris Game Drives
Game drives at the crater take quite a big amount of time. Therefore you will have a morning or afternoon game drive per day. You will go down into the crater through a lush highland forest.You will enjoy sights of rich birdlife. Once on the crater floor you will be discover a large variety of grazing animals and predators lingering around for prey. You may also see a huge flock of pink flamingos around the shores of Lake Magadi depending on the time of the year as hippos inhabit the surrounding swamp.
A Walk Along Lake Eyasi
Enjoy a half day walk through Masai villages and open grazing lands which will get you to enjoy the culture as well as their lifestyle. This coupled with spectacular views of Lake Eyasi you can never go wrong.Take a visit at Olduvai Gorge and shifting sands tour
Olduvai Gorge is an archaeological site and the cradle of Mankind. It is mostly know as the home of the most primitive remains of Homo sapiens. From here you will then move to the crescent shaped volcanic ash ridges famously identified as shifting sands that amazingly creep athwart the desert ground in response to the prevailing winds.
This amazing adventure is a must go to if you are looking for an unforgettable experience in the wild, it will get you to your toes and fill you with ecstasy.
Ngorongoro Conservation Area-Ngorongoro Crater
Cost Of A Ngorongoro Crater Safari
When we talk about the cost of a safari in the Ngorongoro crater you will realize that there are a number of factors. These determine this among which are: the type of accommodation.Also, the number of days on safari, time of year you choose to visit (seasonality) and how many people you visit on your holiday.
Book you safari now:
6 Day Magical Private Manyara, Serengeti, Ngorongoro & Tarangire Wildlife Safari