Ol Seki Hemingways Mara (In the Naboisho Conservancy, this camp is ideal for honeymooners)
Ol Seki Hemingways Mara is a luxury tented camp in the Naboisho Conservancy. It is adjacent to the world-famous Masai Mara National Reserve.  Furthermore, the camp, which can accommodate only 12 guests, is magically peaceful and secluded. This provides a perfect environment for those looking to get away from the crowds at the Mara Reserve.
Location
Ol Seki Camp sits in the Naboisho conservancy, adjacent to the world-famous Masai Mara National Reserve. The Conservancy itself sits on 200 square kilometers of rolling savannah. Certainly, we can find elephants, buffaloes and plains game grazing as well as prides of lion roaming. Game drives into the reserve are possible. These are usually good for those who want to see a migration crossing or the sheer size of the herds.
Layout
On an elevated ridge, the camp homes six en-suite tents that can accommodate up to 12 guests. Dining at Ol Seki is communal and the camp manager hosts a magnificent meal in the bush. Occasionally, guests may prefer the solitude of a private al fresco meal on the tent's private deck.
Rooms
The size, style and elegance of the Ol Seki tents usually blow the guests' minds. The canvas tents are round and offer a 270 degree view of the acacia scrub below. In addition, the tents themselves are extremely spacious, with huge beds, en-suite bathrooms and all of the modern amenities to provide guests with a genuine Safari experience.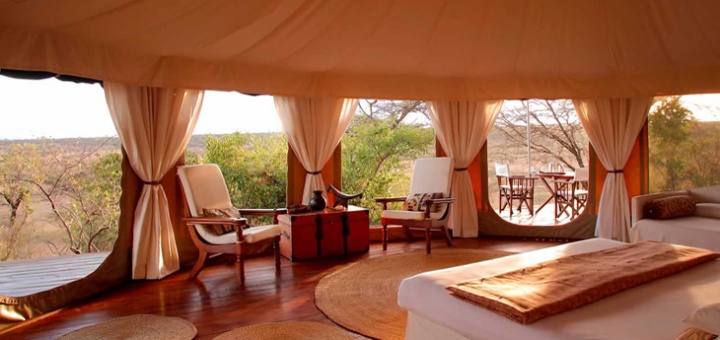 Activities
As a result of being in a conservancy, Ol Seki  is able to offer a much more varied game viewing experience to its guests. Activities are mainly about the wildlife, which you can see on day and night game drives, walking safaris or a hot air balloon ride.