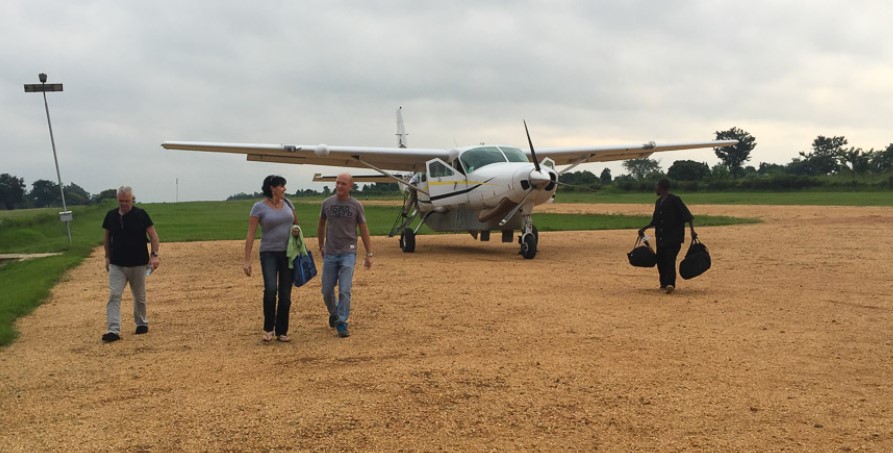 Organizing a fly-in Safari to Mweya and Kibale Forest National Park? Well, read this blog. Kibale Forest National Park and Mweya sector are located in the northern part of Queen Elizabeth national park Mweya sector is popularly known for wildlife viewing and game drives since it provides some of the best viewing options for different wildlife. Kibale forest national park is famous for chimpanzee trekking which can be visited from Mweya to Kibale national park. There are a number of activities that can be done when you visit these areas. For those who plan a fly-in safari to Mweya and Kibale forest park, consider booking your flight on time and all other services required on a fly in. Pamoja tours and Travel Company can help you plan and secure all your chimpanzee permits, transportation means, flight booking and accommodation if you contact us.
Flights to Mweya and Kibale national park
Flights to Mweya or kasese airport are the easiest since they are located just near queen Elizabeth national park.  The flight from Entebbe/Kajjansi airstrip to Mweya/ kasese airfield take 1 hour and 15 minutes. Both parks can be accessed through Kihihi, kasese and Mweya airstrips depending on the available domestic flight and the routing you plan to use.
Aero link Uganda and fly Uganda prepare daily scheduled and charter domestic flights to Mweya, kasese and Kihihi airstrips. These are two daily flights one in the morning and another in the noon. You are required to check in 90 minutes before the departure of your flight therefore, we advise you to book your flight earlier.
Distance from kasese airstrip to the parks is 1-2 hours, from Mweya is 45 minutes and from Kihihi is 3-4 hours' drive. Mweya airstrip is very convenient and for those who wish to reduce the distance from the airstrip to the parks, you can take charter flights although expensive but they can land in even smaller fields.
Organizing and booking a fly-in to Mweya and Kibale national park
After planning for your trip, we can help you organize and book for your fly-in safari to Mweya and Kibale. When booking for such safaris, we will first need your planned dates of going for a safari and verify your booking by paying 50% of the total safari cost after agreeing with your tour operator the cost of your safari. His will help us secure some of the necessary services like the local flights and accommodation. Flight fares cost USD283 for a one way flight and USD472 for a return flight with aero link Uganda or fly Uganda. Once you have confirmed your booking, we will send you a receipt of your payment.
What to do in Mweya and Kibale national park?
Visiting Kazinga channel
This is one of the most comforting and relaxing activity done where you will enjoy the boat cruise to Kazinga channel in Queen Elizabeth Park. The boat cruise provides a spectacular view of Mweya peninsula and different fishing villages as the shores of Kazinga channel a place for numerous birds which birders see. You will also be able to encounter herds of elephants, buffalos, crocodiles on the shores. This can be on the fly in to the park as you view the beauty of Mweya peninsular of Queen Elizabeth Park.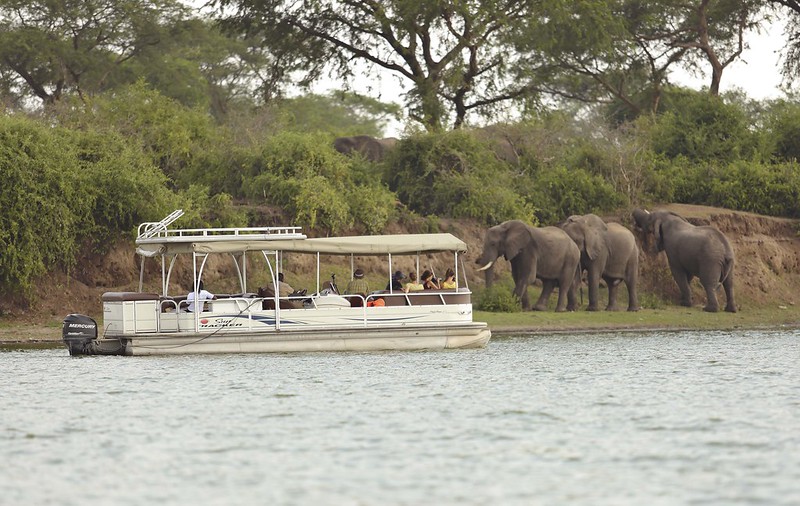 Game drives
These are usually in Mweya which is popular for wildlife viewing. Queen Elizabeth Park is rich in wildlife species giving you a wide range of wildlife species including the big four, water bucks, herds of buffalos, topis, elephants and many others. With luck, you will also be able to spot lions and leopards, see the strange candelabra tree of Uganda and view a number of crater lakes that surround the park and different mountain ranges in the park.
Bird watching
Queen Elizabeth national park is a home to over 600 bird species. Some of these are Albertine rift endemic birds , savannah and water birds most of them that can be spot on your boat cruise to Kazinga channel. Birding here is perfect, through the open savanna grass lands and along the water banks where you will be able to spot various bird species like African crake, long-crested eagle, broad-billed roller, African white-backed vulture, African green pigeon, Ross turaco, white headed barbet, grey woodpeckers among others. These can be even on your game drives in the park, others like water birds, swamp birds, savannah birds and some Albertine rift endemic birds in Queen Elizabeth national park.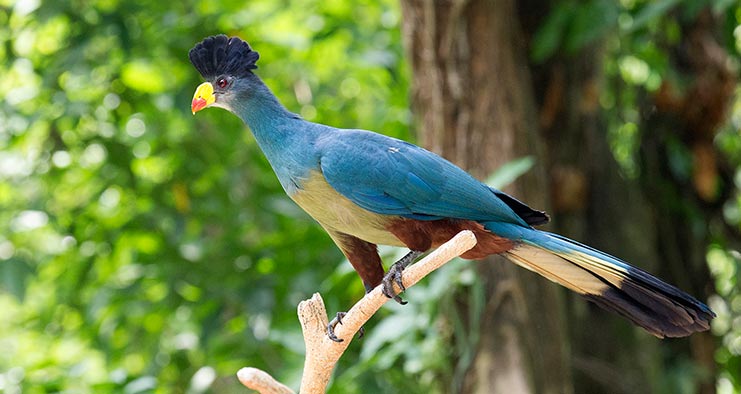 Chimpanzee tracking.
Chimpanzee tracking is one of the famous activities. It can be at kyambura gorge and Kibale forest national parks. There are researchers, guides and trackers who help you during your trek for chimps, you will then have to share 1 hours' time sharing the chimps daily lives and watching them as they continue to do their day-to-day activities. This will need you to spend more time in Queen Elizabeth Park or Kibale forest park since it takes place in the morning and in the afternoons taking almost half of the day. This activity requires you to get a permit which allows you to be part of the activity. This is very easy if you trust Pamoja tours and travel company to help you acquire the permits.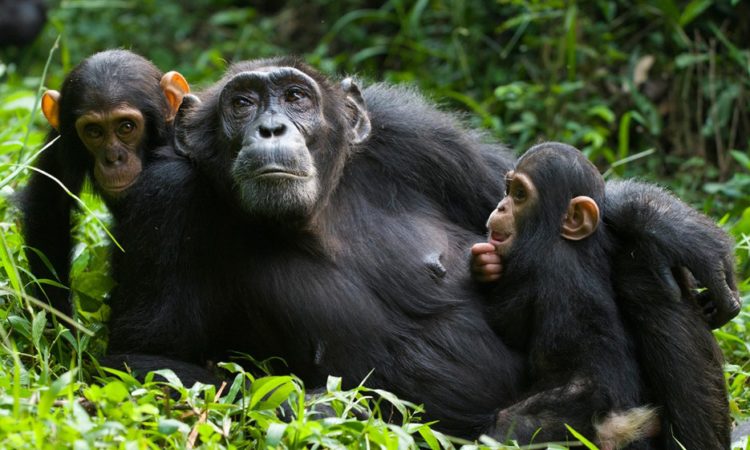 Cultural tours and Bigodi wetland walk
Wetland walks happen in Bigodi wetland sanctuary in magombe swamp which has a number of primates and birds living there. Primates like baboons, red colobus monkey, blue monkey, velvet monkey among others are some of the best primates that you see when you visit this wetland. The sanctuary is also a home of different bird species like red-chested owlet, green-breasted pitta, and brown chested aletha among others.
For those who have interest in exploring outside the park, you may choose to visit the local communities around the park and those making a living near Lake Katwe. There is a project that was under kasoga community where they get to share about their hard life experiences near the park. The peace between the local people and the park who work hand in hand is intimidating. For those who desire to explore something out of wildlife, cultural tours are the best options for you to meet and interact with the local people.
Organizing a fly-in Safari to Mweya and Kibale Forest National Park?
When is the best time to organize a fly-in safari to Mweya and Kibale national park?
The best time to visit any park in Uganda is during the drier seasons which is in the months of January, mid-December, February, June, July, august and September. During this time, the park is really dry with limited water holes where animals gather for water. This makes it very easy to spot animals and also, the grass in the park is really short making it very easy to see these wild animals.
During the wet season, it becomes hard to make trips with very slippery trails where cars pass making it hard to drive through the park, also rain interrupts the whole experience and the grass is usually long making it hard to see the animals. When it comes to chimpanzee tracking in Kibale forest park, it becomes very hard for you to see the chimps than when the season is dry. It should however be noted that queen Elizabeth national park is crossed by the equator therefore, it has an equatorial climate which implies that the park receives rainfall anytime of the year.
Where to stay on your fly-in to Mweya and Kibale forest national park.
Mweya is located in Queen Elizabeth national park therefore, there are lodges recommended for you in Queen Elizabeth national park. These are midrange, budget and luxury accommodation facilities like mazike safari lodge, katara lodge, bush lodge, kyambura gorge lodge, buffalo lodge, elephant hab lodge and many other accommodation facilities. Feel free to contact Pamoja tours and travel company for more information, bookings and inquiries on where to stay. We will advise you according to your budget and interests.
Lodges in Kibale forest national park also range from budget to midrange and luxury accommodation facilities. Theseinclude: chimpanzee forest guest house, isunga lodge, Kibale homestay, and Kibale forest camp. There is also primate lodge, ndali lodge, papaya lake lodge, kyaniga lodge among others.
Organizing a fly-in Safari to Mweya and Kibale Forest National Park?
Our company has gained experience over years in organizing the best and most memorable trips with tailor-made booking safari. The first thing to do when it comes to booking a safari is to getting a legit and experienced safari operator. We will help you book all your permits and other services necessary in advance. Pamoja tours and travel company organizes safaris in different parts of Uganda by experienced guides. These safaris go beyond Uganda but also Kenya, Rwanda, DRC and Tanzania with the best and memorable experience. Contact us to help you plan, and tailor any safari of your own interest throughout east Africa.
Book a safari to Queen Elizabeth NP and choose whether you would want to fly-in or drive there:
8 Days Uganda safari to Bwindi, Queen Elizabeth, Kibale and Murchison Falls
3 Days Queen Elizabeth Wildlife safari and Experiential Lion Tracking Experience