Bigodi Wetland Sanctuary is a small sanctuary that protects the Magombe swamp. It is on the edge of the Bigodi trading center outside Kibale National Park in Kabarole District. It is located 6km from the Kanyachu information center and measures about 4 square kilometers. Bigodi wetland sanctuary is also a community-based project.
The local community organization called Kibale Association for Rural and Environmental Development (KAFRED)manage this project. This organization was established in 1992 to support eco-tourism enterprises. This was to ensure that local communities benefit from tourism hence reducing poverty while protecting the environment.
Bigodi wetland derived its name from a local Rutooro word "Kugodya" which means to walk tiredly. The history behind is that when travelers visit Bigodi swamp on foot, they get too tired. They would then decide to rest before continuing to the park for chimpanzee tracking and other activities.
Vegetation
The wetland has rich green and beautiful vegetation that comprise of trees, wild palms, plants, flowers that they use in making handicrafts. These include mats, baskets, etc. It favors wildlife including over 138 bird species with the Great Blue Turaco, butterflies, and insects. It also has eight primate species which include: Chimpanzees, Monkeys. Also it has Mangabey, mammals like sitatunga, mongoose, otters, bushbucks, warthogs among others.
Bigodi wetland has a circular 4.5km trail with wood platforms to enable the visitors to take a guided nature walk in the swamp. This is to view wildlife, biodiversity among others.
The KAFRED manage Bigodi Wetland Sanctuary who recieve money from tourists which they use to fund community projects. For example they use it to build and maintain Bigodi secondary school and a nursery school. Here, students living within the village get sponsorship for advance studies. Also, they use this money to pay school teachers, build streams within the village, bridges over the swamp. There was also construction of the road through the village, health center construction.
Also it was used in creation of Bigodi women group that consist 40members who make beads, baskets, bags, mats among others. They make these items from swamp material like phoenix palm leaves, raffia among others. They export these products internationally to Europe. Money raised from tourists has changed the peoples' standards of living in Bigodi village. This has hence protected the environment and promoted tourism in Kibale NP.
How to get to Bigodi wetland sanctuary
You can get to Bigodi wetland by either private means with a tour vehicle or public means of transport in a taxi. Between Fort portal and Kamwengye, it is a 45mins drive and 6hrs drive from Kampala to Bigodi.
Top itineraries that have Bigodi wetland experience:
3 day Kibale Forest National Park https://africasafaritravellers.com/3-days-kibale-forest-national-park-safari/
18 day best of Uganda gorilla chimp trekking, birding and wildlife safari https://africasafaritravellers.com/18-day-best-of-uganda-gorilla-chimp-trekking-birding-and-wildlife-safari/
10 days Uganda Gorilla, chimps and wildlife https://africasafaritravellers.com/10-days-uganda-gorilla-chimps-wildlife/
Activities done in Bigodi wetlandsanctuary
Bird watching
Birding in Bigodi wetland will leave even the most seasoned birder impressed. The sheer variety and density of birds find the swamp a perfect sanctuary and breeding ground (fewer predators). The Bigodi wetlands sanctuary is also a great feeding ground because has insects and frogs which birds love.
The main species found in the sanctuary include: Abyssinian groundthrush, African pitta, black bee-eater, black-capped apalis. There is also black-eared groundthrush,blue-breasted kingfisher, brown-chested athlete. Also there is collared apalis, crowned eagle, dusky crimsonwing, green-breasted pitta, little greenbul. There is purple-breasted sunbird, yellow spotted nicator and yellow-rumped tinker bird.
Cultural and village nature walks
This is an activity where the visitors walk on broad walks through the wetland on foot with trained local guides. These guides lead them to the best areas to view the forest and wetland from a tall tree house. They also identify vegetation types, animals, plants, and bird species among others.
Guides will share information about the role of the community in preserving the Eco-system. They will also share how the Bigodi community has benefited in preserving the environment. Nature walks in Bigodi wetland sanctuary are in the morning at 8:00am or afternoon at around 3:00pm. They start with a briefing at the visitors' center. The walk lasts 2-3hrs. Visitors also experience a cool and quiet environment in the forest where they get to relax their minds and have a clear view for great pictures.
Community visits
This is a must do activity in Bigodi wetland sanctuary where you visit the local community comprising of Batooro and Bakiga.
Visitors get to interact with these people, visit the community projects including the health center, church, Bigodi secondary school. The KAFRED fully establish and sponsor these projects.
Bigodi women group who make art and crafts like baskets, mats, bags, beads. They export most of their products to Europe.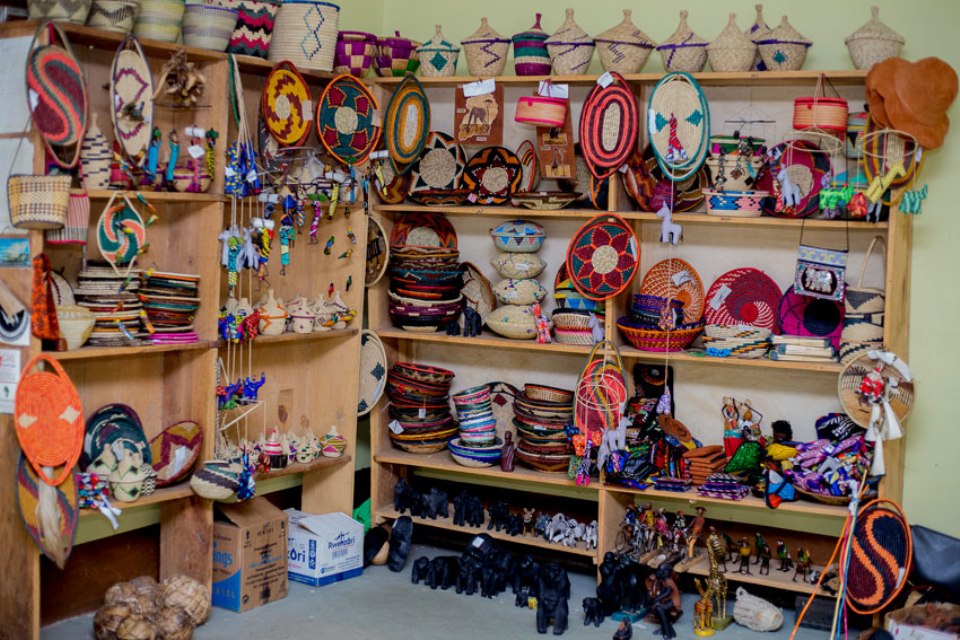 The project provides employment where the people in the community earn income to improve their standards of living. It also helps to promote tourism in Bigodi.
Tourists also visit the local community businesses. Medicine men that treat different diseases with herbs and community home stays made of mud and bricks. They get to experience local foods, see performances from community groups and many more in Bigodi Wetland Sanctuary.