Sanctuary Gorilla Forest Camp is one of the few luxury lodges inside Bwindi Impenetrable National Park. It is one of the only two lodges located in the real forests of Bwindi impenetrable National Park. The lodge is strategically located very close to the starting point of the gorilla trekking trails in Buhoma, just 5 minutes away. The lodge features quit a number of facilities like the main lounge with a very comfortable lounge, a bar area, dining area as well as a mini spa.
Bwindi Impenetrable National Park is a UNESCO World heritage site, home to over 50% of the world's remaining mountain gorillas. On the entire African continent, Uganda, Rwanda and D R.Congo are the countries with these endangered mountain Gorillas.
The lodge is a paradise in the forest in-that it's known to be visited by some gorillas occasionally. At the lodge, guests can have an opportunity to see gorillas even before their actual gorilla tracking activity. This alone makes Sanctuary Retreats Gorilla Forest camp more unique and special to spend a night there.
Accommodation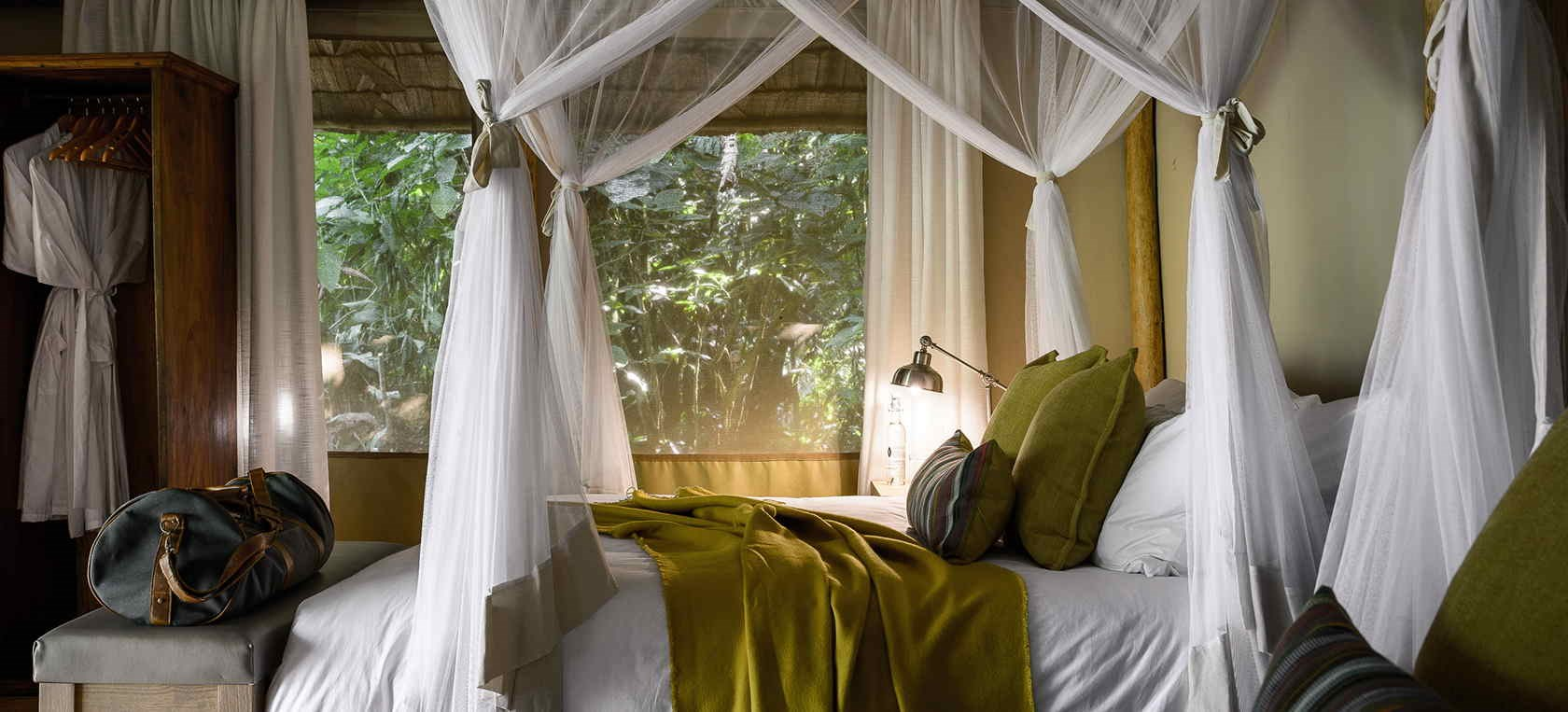 This accommodation establishment being located in one of the most remote places in Africa, offers comfortable tents dressed with indigenous prints and furniture made from natural materials. The lodge is mainly made of wood, thatch and canvas built together with tented luxurious accommodation.
Sanctuary Gorilla Forest camp comprises of 10 luxurious tents each raised on a wooden platform, with each having a spacious, stone-walled bathroom. The rooms also have a private section with a free-standing bath for a relaxation soak after the day's Gorilla trekking. The rooms are private, tented cottages with queen-sized beds and artifacts that set a memorable scene both in and out.
Other room amenities
changing room
a separate bathroom containing flush toilet, shower and a stand-alone bath
a well-furnished veranda perfect for some quality time.
Dining at Sanctuary Gorilla Forest camp
Sanctuary Gorilla Forest Camp has an amazing restaurant offering expertly prepared dishes in a professional kitchen. The communal area features a comfortable lounge with a well-stocked bar and dinning area with epic views of the rain-forest. At Gorilla Forest camp, guests get to dusk under star-strewn skies plus the campfire place where they swap day stories. Furthermore, you get to taste of both international and local dishes like smoked beef in peanut sauce served with 'Kalo' millet-bread.
Book with Pamoja Tours and Travel
Property amenities
Free breakfast
Evening entertainment
Body massage
Outdoor fire place
Airport transportation
24 hour security
Laundry services
Restaurant
Mosquito net
Private deck/ veranda
Activities
Gorilla tracking
Bird watching
Nature/ forest walks
Hiking
Community walks
Location
Sanctuary Gorilla Forest camp is located in Buhoma hear the trail head on the north side of the Bwindi forest. Buhoma is the most popular trekking route, and is where gorilla trekking all began in 1993. The distance from Enteebe to Bwindi impenetrable national park is about 489km (9 ½ hrs) driving on road.
Access the lodge
You can reach Bwindi by both air or road. Particularly fly from Enteebe and then land at Kihihi airstrip, afterwards you connect by road driving for about 1 and a half hours to the lodge.
Alternatively access the lodge from Kigali international airport driving for about 8 hours or less (depending on the weather)
Book here
Book a safari with Pamoja Tours and Travel to enjoy Gorilla tracking in Bwindi Impenetrable National Park and golden monkey tracking in Mgahinga Gorilla National Park, plus amazing wildlife in Uganda.