What to see while in Entebbe-Uganda
What are the top Places to visit in Entebbe Uganda? Most Ugandans only go to Entebbe when visiting one of the beaches or on their way out of the country through the only international airport. This shouldn't be the case because Entebbe town has so much to offer. Entebbe is one of the most naturally beautiful towns in Uganda. It is part of Wakiso District and is found 40 kilometers away from Kampala city. The town is surrounded by Lake Victoria, lush green vegetation and great landscapes. This combination ensures that there is cool temperature and natural charm all year along.
Despite its small size, Entebbe is a key town in Uganda with important historical roles. Entebbe was the administrative capital of Uganda before the role was shifted to Kampala after independence. It is why the town is relatively well organized and having many attractions for its size. Entebbe still hosts the official state house, one of the largest UN logistics bases in the world, government offices and the only international airport in Uganda.
Entebbe town
For anyone visiting Uganda, Entebbe town is a place you must visit or explore in more detail. You can never be bored while in Entebbe because the town offers so much. Even those who have lived in the town for decades still find it charming. It is a town where you can spot amazing wildlife or visit some of the best beaches and hotels Uganda has to offer. Entebbe is arguably a better place to stay than Kampala city or Mbarara town for those who want a clean town, cool temperature, clean air, a serene atmosphere, and fewer crimes.
For first-timers
This article can be useful for those visiting Entebbe for the first time or those who have missed their flight and still have a day or two in the town with nothing to do. By the time you complete reading, you will have an idea of the best places to visit while in Entebbe. Don't be surprised to find places or activities you never knew existed. We hope the article will help you know the popular places and plan accordingly.
You might be interested in a similar article covering cultural tourism in Uganda as a country or car rental services in Entebbe. We also have an article about the tourist attractions in Mombasa Kenya. You can also checkout our amazing 1-day Kampala city tour package for those who want to visit the key landmarks in Uganda's capital. If you are targeting Jinja, check out the 1-day Jinja tour package.
Visit the zoo
Facts about Entebbe town
Entebbe is found on the northern section of Lake Victoria – the largest lake in Africa.
Entebbe has a population of about 70,000 people.
In the Luganda language, the word "entebbe" means to sit on a chair. The town was named Entebbe because it was where the local Baganda chiefs sat to resolve legal cases.
Entebbe has Uganda's largest and only international airport. Because of that, most visits to Uganda start and end in Entebbe.
Entebbe is home to the official residence and office of the head of state. It is therefore the main center of power
One of the Tarzan movies was shot at the Entebbe botanical gardens.
Entebbe is one of Uganda's best birding destinations. The botanical gardens and Mabamba swamp are the first places a birder should check out while on a birding tour in Uganda.
Entebbe town has the oldest golf course in Uganda and East Africa. It was established as early as 1900.
Entebbe has some of the most amazing beaches in Uganda and the world when you factor in the amazing Ssese islands.
Entebbe became famous in July 1976 when a team of Israeli commandos stormed the airport and rescued over 100 hostages (mainly Jews) who had been kidnapped while on board an Air France jet. The Ugandan dictator Idi Amin supported the hijackers.
To reach Entebbe town from the airport, you will need to hire an airport taxi for about $10. While in town, there are three modes of transport – by boda boda, special hire or public minibuses.
Getting decent accommodation in Entebbe for long term use is not easy and can be quite expensive. This is partly because of the large UN personnel living and working in the town.
Book your safari with Pamoja Tours and Travel and you can enjoy some of these activities before or after you safari.
Best Things to do in Entebbe town
Visit Lake Victoria:
Lake Victoria is the largest fresh water lake in Africa. It is also the second largest in the world after Lake Baikal in Siberia. The lake is one of the leading tourist sites in Uganda and Entebbe is arguably the best place to explore it. Lake Victoria surrounds the town on almost all sides. There are several activities that can be done at the lake including swimming, fishing, boat cruises, canoeing, island hopping or simply relaxing by the lake shores.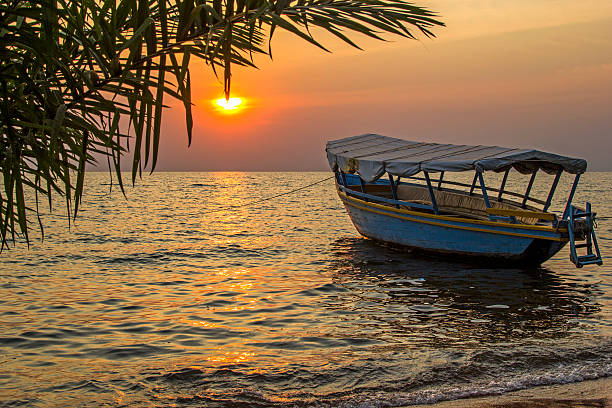 Visit the beaches:
As a town surrounded by water, Entebbe has arguably the best and most popular beaches in Uganda. Some of the beaches include white sand beach, Sports beach, Lido beach, Aero beach, Imperial resort beach and Spena beach among many others. The hotels and resorts in Entebbe also have their own beaches like Anderita and Botanical beach hotels. On weekends, these beaches are full of revelers from Kampala and other nearby towns. Expect to find revelers swimming, drinking and dancing to loud music playing in the background. Some even organize boat cruises on the lake in shifts for revelers.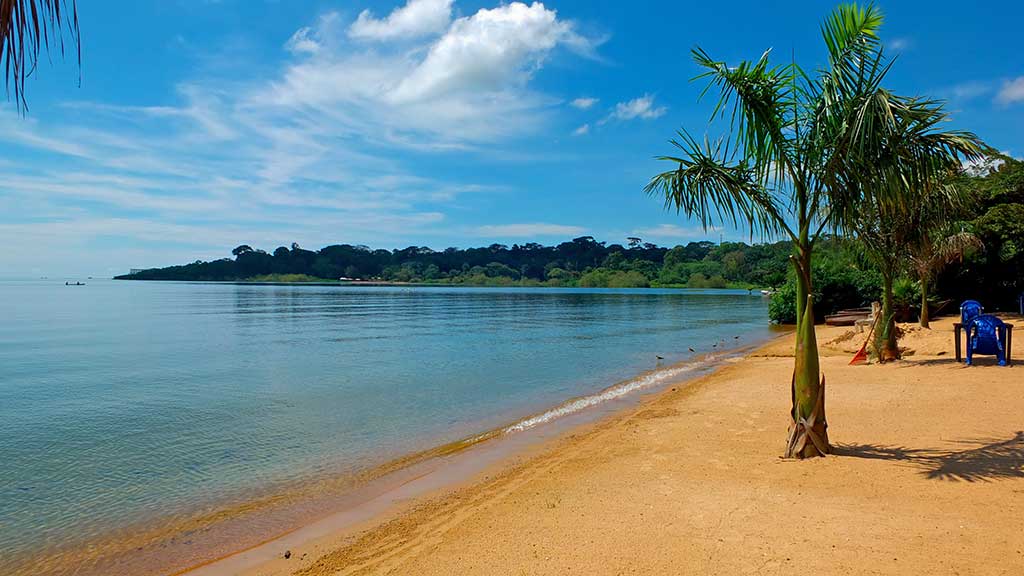 Swimming in these beaches is a great way of mingling with the locals and seeing how they go about their daily lives. Despite living in a developing country, Ugandans love to enjoy life. Ugandans are very friendly and you will find this out while visiting one of the beaches. If you are afraid of swimming, you can just go and relax by the beach and swim in one of the high-end hotels in town.
Visit the Entebbe Sailing Club or go for a sunset boat cruise:
Entebbe has one of the oldest sailing clubs in Uganda. The club is busy over the weekend and you will spot several boats in the lake with members. The Club organizes sporting competitions to reward the fastest boats. Entebbe Sailing club is a perfect place to go with your friends for a fun-filled weekend. Sunset boat cruises are also organized with food and drinks starting from the Uganda Wildlife Educational Centre all the way to some of the Ssese Islands. You need to be a registered member to enter the sailing club. Friends of members may also be allowed inside on recommendation.
Visit Entebbe International Airport:
Entebbe town is host to the only international airport in Uganda. The airport is built close to the shores of Lake Victoria and is about 25 miles away from Kampala city. Entebbe international airport hosts one of the largest UN logistics bases in the world. You can find several UN and other humanitarian aircraft stationed at the airport and ready for missions in the Democratic Republic of Congo, Kenya, South Sudan and other humanitarian zones of Africa.
Visit the UN Base in Entebbe:
As the best things to do in Entebbe mentioned earlier, the United Nations uses the old Entebbe international airport for storing some of its heavy military and humanitarian equipment before being taken for use in peacekeeping missions all over Africa. Visiting their offices is not easy without an appointment. Security is tight because they have their own customs/immigration procedures. The easiest way to visit is to befriend one of their staff from the town bars or hangout places and request a tour of the site. You might have interest in our article about the things to do in Dar es Salaam.
Visit the Entebbe Botanical Gardens:
The Entebbe Botanical gardens have been around since 1901 and one of the original Tarzan movies were filmed here. The gardens are a popular hangout place for locals and tourists who want a quiet place for relaxation and getting close to nature. The Entebbe Botanical gardens are considered important learning centers by academics within and outside Uganda because of their remarkable biodiversity . You can visit the center for plant identification and birding. Expect to also spot Colobus and enjoy a more private tour.
Visit the Uganda Wildlife Education Center:
Popularly known as Entebbe Zoo, this facility has become one of the best educational centers for wildlife in Africa. The facility was opened in 1952 as a center for rescued animals before turning into a zoo later. The facility is still used as a rehabilitation center for rescued animals before being released back into the wild when possible. The Centre has an amazing collection of wildlife and beautiful scenery. It is a quick place to go if you cannot visit Uganda's national parks. Here you will see DeBraza monkeys, baboons, hyenas, pythons, lions, ostriches, antelopes, leopards, buffaloes and chimpanzees among many other creatures. Over 121 species of birds can be sported at the Centre including the African fish eagle, the Shoebill Stork, Hammerkops, sunbirds, Giant Kingfishers and the Great Blue Turaco.
Most of the animals are held in spacious areas which are similar to their former natural surroundings. You will not only see but learn how the animals communicate, play, eat and live together. The Centre strives to educate visitors about wildlife conservation and their importance to prosperity/the ecosystem. After seeing all the animals in the zoo for about 2 hours, you can go down to the beach and take a swim or relax with the family as you enjoy camel and donkey rides.
One of the most visited
As already noted earlier, the Uganda Wildlife Education Center is one of the most visited places in Uganda and is a favorite learning place for schools and other educational institutions. The Centre receives generous funding from donors and institutions around the world enabling it to expand and put together an excellent team of caretakers. Visiting the center costs $15 for international visitors and about 10,000 for Ugandans. Those interested in a more comprehensive visit can opt for the Keeper for a Day Experience, the behind the Scenes Tour, and the Chimpanzee Close-up experience. Tour operators in Uganda can organize trips to the Entebbe zoo but at an extra cost.
The Reptile Sanctuary:
Visiting the Uganda Reptiles Village is excellent for those who love reptiles. The sanctuary takes care of all kinds of reptiles including crocodiles, turtles, tortoises, lizards, chameleons and snakes (vipers, cobras, mambas and puff adders). Most of these reptiles where rescued and rehabilitated after being found in people's homes and gardens. After they receive a call from someone who spotted a reptile in their compound, staff are sent to pick it up. When the number of reptiles increase, some are released back into the wild.
The staff at the sanctuary are always eager to educate visitors about these often misunderstood creatures. The Reptiles village is located a short drive away from Entebbe town. You stop at a small town called Abaita-ababiri as you head towards Kampala. From Abaita, you leave the main highway and follow the 4km dusty road to the Reptile village. Entrance to the Reptile sanctuary is 15,000 Uganda Shillings at the time of writing this article. The Entrance fee includes a Guide to take you around the site.
Visit the Uganda Virus Research Institute:
If you are an academician, a good place to visit is the Uganda Virus Research Institute. This is a government institute that was built to do carry out research about communicable diseases among animals and humans. The Uganda Virus Research institute is a leading Centre for research in East African and has been responsible for some amazing findings in the area of communicable diseases. It houses some of the brightest minds in Uganda as well as short-term international Researchers from all over the world.
Ngamba Island Chimpanzee Sanctuary:
This sanctuary is home to more than 40 orphan chimpanzees that have been rescued from within and outside Uganda. The young chimps are brought at the Centre for rehabilitation and to start a new life in the beautiful island. Here they are looked at attractions in Entebbeafter by some of the best caretakers and researchers. To reach the Ngamba island Chimpanzee Sanctuary, one would need to take a boat or public ferry. Once in the island you have an opportunity to observe the chimps feeding from an enclosure before retreating back to the forest. Visitors to the island can also feed the chimps or volunteer for a while in the facility. Flights can be from Entebbe International Airport to the sanctuary at a cost.
State House Entebbe:
Uganda has two main state house buildings. One in Entebbe and the other in Nakasero. Although visiting is only by invitation, you can still take a walk around the structure to admire the beautiful gardens. If you are lucky you will might even spot the presidential convoy entering and departing from the man gate.
Entebbe Golf Club:
This 18 Hole Golf Course is the oldest in Uganda. It was as early as 1901 and is close to the shores of Lake Victoria. It is a large golf course that offers a unique feeling of privacy and serenity even on busy weekends. This gold course remains green throughout the year because of the cool weather from the lake and enough rain throughout the year. You might see a signpost at the entrance Things to see in Entebbe stating that playing is for only members but they allow in tourists at an affordable fee.
Golfing is now becoming very popular among the middle class in Uganda and has received wide media coverage. Because of that, you will meet some of Uganda's top businessmen and middle-class citizens playing side by side. You can learn a lot about Uganda, the politics, and the opportunities available while playing and hanging out at the club. Apart from the golf course, the club also has a basketball court, a cricket oval, and a basketball court. Members can also play snooker, darts, and badminton.
Visit Entebbe's main Markets:
The best way to learn about a new place and the local people is to visit the main markets. Entebbe has two main markets. One is close to the first shell petrol station from the Kampala side and the other is in Kitoro. There are also smaller markets on specific days of Tourist attractions in Entebbe Uganda the week such as the one close to Manyago. I shouldn't forget to mention the Nakiwogo Market.
The Nakiwogo market is a beehive of activity and the best place to watch vendors sell off their products or offload goods from the Ssese Islands. While in all Entebbe markets, you can buy Uganda's tasty tropical fruits and foods from a kiosk. If you have nothing to buy, you can just choose a place to sit and observe the local Ugandans hustling to make ends meet. You might even get a chance to hear some of the most current gossip.
Explore Kitubulu Forest and Beach:
This forest is located just as you enter Entebbe town from Kampala and start getting a clear view of the lake. Kitubulu forest is perfect for nature walks that end at the beach/Lake shores. Entrance is free but be cautious while there because free sometimes attracts the wrong person. Avoid taking forest walks late in the evening or in the night. Beware of pick pockets.
Visit Zika Forest:
This is the forest where the Zika Virus was first discovered by scientists in 1947.   A group of researchers are currently studying the insects trapped in the forest to come up with groundbreaking findings that will be of benefit to the world. Zika forest is a favorite for birders and those who just want to explore a tropical forest within reach. Expect to spot monkeys, birds and countless butterflies. And just to be clear, there is no chance of catching the Zika Virus in the forest these days.
Nkumba University:
Nkumba University is a private Institution in 1994. It started as an institution specializing in promoting business management but has now grown to also offer science-based courses. Unlike many private universities in Uganda, Nkumba is not affiliating to any particular religious'/Christian organization. The University is on Nkumbi Hill which is 10 kilometers away from the Entebbe airport in the District of Wakiso. The University compound spreads all the way to the shores of Lake Victoria.
Mabamba Swamp:
Mabamba bay wetland is along the shores of Lake Victoria. This extensive marshland covers an area of 16,498 hectares and consists mainly of Miscanthus sp along the main bay and papyrus towards the clearer waters of the lake. A narrow water channel extends inside the swamp allowing birders to visit the inside by boat. The most popular bird species sighted here is the amazing shoebill stork. The Mabamba wetlands sanctuary is also the best place to spot Shoebill storks in Uganda. These elusive birds are often standing on drifting papyrus islands as they feed on insects and frogs. Apart from the Shoebill storks and other birds, swamp antelopes (Sitatunga) can also be while exploring the swamp.
Sport Fishing on Lake Victoria:
Uganda is home to the largest freshwater fish in Africa – the Nile Perch. Entebbe provides one of the best and most organized fishing areas in Uganda. You can hire a boat and go out with your equipment for an adventure of a lifetime with the possibility of a big catch to show your buddies and fellow anglers. Some of the hotels and resorts can help you acquire fishing gear and a professional angler to take you to the best fishing spots while on a whole-day fishing trip in Uganda.

Visit the Ssese Islands:
The Ssese Islands are a collection of 84 Islands in Lake Victoria. Only 43 have constant human presence. All the islands offer pristine tropical vegetation with amazing wildlife. The Ssese Islands offer some of the best fishing spots in Uganda. So prepare for a whole day of fun, fishing, swimming, canoeing, quad biking and even horseback riding in some of the islands. Visiting the Ssese Islands should be in three days to experience the best of what the Islands have to offer.
Go shopping:
Entebbe is a major shopping Centre with large supermarkets like Victoria shopping mall, Imperial Mall, Pearl Supermarket, Shoprite, and many other smaller ones built within the magnificent hotels and resorts. All these shopping malls have ATM Machines which accept Visa and MasterCard. The banks with branches in Entebbe town include Stanbic, Ecobank, Diamond Trust bank, and also Standard chartered.
The Entebbe Craft Village:
This Craft village was build in 2002 and is one of the largest in Uganda. While visiting the craft village, you can buy wood carvings, bags, African fabrics, sandals, paintings, batiks, placemats, tableware, clothing's, ornaments and jewelry. You can also buy the fabric and have it adjusted to your size if you are staying in town for a while.
Eat Out:
If you want to taste some of Uganda's local dishes, check out 4 Points for its calming environment and Indian food. They even have a pool table and bar that is by the town's expert community. Gately Inn Entebbe is one good open-air restaurant with beautiful gardens and all kinds of international dishes you could want. For the best pizza, visit Bologna or hotel Anderita. Other pizza points include Arthur's Café, and also Goretti's Pizza. We can't forget to mention Faze 3 for Indian and continental food. Faze 3 is close to the airport and has some of the tastiest fried pork, chicken and tilapia.
Go Drinking and Clubbing:
To experience Entebbe's nightlife and sample some of the local beer, start with 4 Turkeys Pub located along Kampala Road. They have international beer brands in stock like Guinness and Heineken. Red Rooster Sports Bar is a favorite of UN Personnel and also hence security is tight. You will find a pool table and giant TV screens to watch your favorite sports teams over the weekend in all the bars. If the two are not to your taste, you can visit O's Bar located close to the golf course with its indoor lounge and large television screens. Club Knight Riders is arguably the most popular dance club in Entebbe. You should also read our article about the places to see in Kinshasa. Thank you for reading.