Best 6 Reasons to Visit Bwindi Impenetrable National Park In Uganda
The best 6 reasons to visit Bwindi Impenetrable National Park are; Mountain Gorillas, Bird watching, Flora and Fauna, Hiking, Batwa experience, and Landscape.
What is a true wild African safari if it cannot make you break in a sweat as you manually embark on its treks and hikes?
Impenetrable and easy cannot co-exist when describing Bwindi Impenetrable National Park. Bwindi Impenetrable National Park is a densely populated park comprised of closely packed tree species. These include Bamboo that forms thick forests that are home to the rare but famous endangered Mountain Gorillas alongside other animals such as; bush pigs, several bird species, and several butterfly species among others.
The thick canopy deters penetration of sunlight, this in turn makes the park dark and damp with a variety of intertwined and closely packed undergrowth which is indeed impenetrable and tricky to drive through. This is the main reason as to why most of it can be accessed and toured by walking on foot which makes it a lot more fun and adventurous.
You would not want to miss out on this thrilling experience at this park, so here are the best 6 reasons to visit Bwindi Impenetrable National Park.
Mountain Gorillas in Bwindi Impenetrable National Park
Did know that Uganda has the highest percentage of Mountain Gorillas in the world? There are currently less than 1200 mountain gorillas in the world. Almost half of the world's Mountain Gorilla population is in Uganda specifically at Bwindi Impenetrable National Park. This endangered species is precious enough for you to go check it out with your own eyes. What makes the experience even more fun is when you get to witness Mountain Gorillas.
Gorilla Habituation at Bwindi is when the Mountain Gorillas while still in the wild, are slowly taught to comfortably get used to the presence of people with the aim of studying them and conducting research about them alongside efforts to conserve the Mountain Gorillas.
Gorilla Trekking simply means to physically walk on foot through the thick forests under the guidance of well- trained tour guides in search of actual Gorilla homes. This can take some hours because the dense ground cover makes walking difficult but after spending quality time with the Gorillas, studying their ways and creating memories it all feel worthwhile.
Bird Watching in Bwindi Impenetrable National Park
The fact that Bwindi Impenetrable National Park is a rainforest, Bird watching is inevitable because it is also home to more than 320 different recorded Bird species. Some of these include; The crowned Hornbill, African Green pigeon, Giant Kingfisher and so many more others. The air is filled with their unique chirping and sounds which gives the park an authentic wild feeling. While up close, you can take pictures and make video recordings to share back home so that your friends and family can also enjoy and soak in the beauty of the amazing bird species.
Flora and Fauna in Bwindi Impenetrable National Park
Apart from being famous for harboring mountain Gorillas, Bwindi Impenetrable National Park is home to so many other wild animals, these include; Buffaloes, Elephants, bush pigs, chimpanzees, bugs, butterfly species, giant bush hogs and many more animals.
There are also golden monkeys, which dangle high up on the trees of the bamboo forest areas, as well as grey-cheeked mangabeys, L'Hoest monkeys (on the lower slopes), and blue monkeys. Also, there are bushbuck and several species of duikers, as well as a rich array of bird species, including Equatorial akalat and green bulls. There are also some elephants, although these are rarely spotted.
Hiking in Bwindi Impenetrable National Park
Since Bwindi Impenetrable National Park is on densely forested mountains, mountain hiking is an enjoyable activity for tourists. This involves walking either on the steep slopes of mountains and hills or right through the Forest all for the love of nature and for fun. Hiking can take between 3 to 12 hours depending on how long the trail is, how fast the hikers are moving and the time the hiking starts. Tourists get to feast their eyes on the most breathtaking sights, animals, and several other wonders of nature.
Mountain hiking is mostly done from the following hiking paths; Mubwindi Swamp Trail, Bamboo Trail from which Lake Bunyonyi is in full view, Ivy River Trail which takes the whole day and involves lots of Bird watching and so many more hiking trails.
The Batwa Cultural Experience
At Bwindi Impenetrable This is an ancient cultural experience that was practiced by the Batwa people as a way of passing on knowledge and skills to their young ones.  The Batwa Cultural experience is now mimicking by tourists and tour guides, it is just outside Bwindi impenetrable Park. The Batwa Cultural Experience starts with an educative nature hike through the forest as tour guides from the Batwa Culture tell their traditional stories and show off their hunting skills and unique way of living in their homesteads.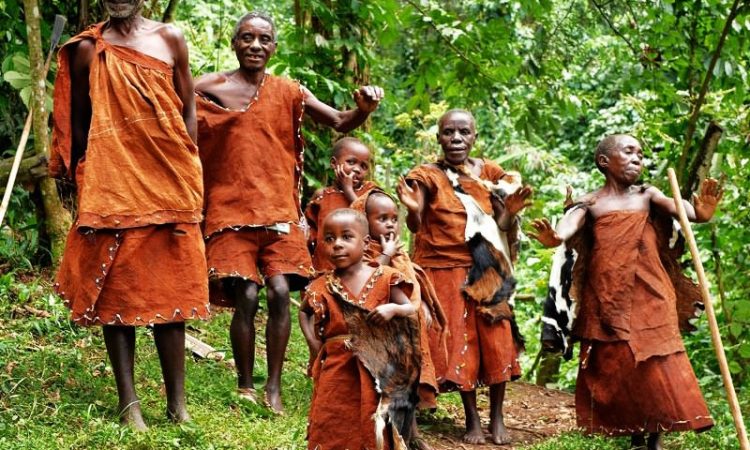 Landscape At Bwindi Impenetrable National Park
The Park lies in the South Western parts of Uganda on the edge of the East African Rift valley. This entire region has several rainforests. More than 8 different tree species whose dense nature makes them impenetrable. The area is full of hills, valleys, and lakes thus creating a breathtaking scene. This beautiful landscape should encourage you to visit and tour the Park.
You should pay a visit to experience the real adventure at this amazing park.
Location of Bwindi Impenetrable National Park
This Park is located in the southwestern part of Uganda.
Frequently Asked Questions About Bwindi Impenetrable National Park
Why is Bwindi impenetrable? This name comes from the numerous bamboos stands that scatter throughout the bigger forest hardwoods. Direct access on foot is very difficult due to the bamboo and dense undergrowth of ferns, vines, and other plant growth.
Is it better to see the gorillas in Rwanda or Uganda?
Do you need to book in advance to visit Bwindi Impenetrable Forest? What is Bwindi Impenetrable Forest famous for?
Is gorilla trekking worth the money?
This park has rain forests, it is prone to heavy downpours of rainfall.
I, therefore, advise you to visit during the dry season because on sunny days. The sunny period is usually from December to February and June to September. The great news is that the park is open all year round, feel free to book any month of your choice to tour.
Where To Sleep in Bwindi Impenetrable National Park
The park and its surrounding areas offer a variety of places such as camping sites and lodges to reside in while on tour.
This accommodation is provided in three sections Luxury, Mid-Range, and Budget accommodations in each Gorilla trekking sector.
Luxury Accommodation includes:
These provide the very best top-notch services to their guests. Bwindi Forest Lodge, Gorilla Heights Lodge, Gorilla Safari Lodge, Bwindi Guest House, etc. Mid-Range Accommodation includes; This type of accommodation is for guests who are willing to spend but not that much.
Here are some of the places that offer Mid-range accommodation; Gorilla Close-up Lodge, Gorilla Mist Lodge, Bakiga Lodge, Goro Cottages, Kisoro Tourist Hotel, etc.
Budget Accommodation includes
This type of accommodation is for clients who are on a tight budget. Those not willing to spend. Places include; Suba Motel, Gift of Nature Lodge, and several other affordable places.
Whichever category you would prefer to stay in, please endeavor to book your stay at least a month before your trip.
This is because most of the accommodation places can get full and there would not be space for you.
How To Get To The Bwindi Impenetrable National Park
You can access this park by road located in the South Western part of Uganda. The journey starting from Kampala would take between 7 to 9 hours.
On rainy days 4×4 tour buses are recommend to avoid slipping off the trails.
By Air, This would be the fastest way to get to Bwindi Impenetrable Forest. By booking a Flight at Kajjansi Airfield you would be at Bwindi in less than 3hrs.
In conclusion, this park is generally a lifesaver, especially for the endangered Mountain Gorilla species. Now we all have hope that even for thousands of years to come, those great giants will still be on the face of the earth for future generations to look at, enjoy and study. The Bwindi Impenetrable National Park is a very beautiful place. It gives nature a new meaning and provides a safe haven for many other bird and animal species. It should be among your priority must-see places when you plan to go on a wild African safari.
Book your safari now to Bwindi Impenetrable National Park: