Top 5 Camps for Luxury Travel on a Uganda Safari: Experiencing Wilderness in Style. When it comes to luxury travel on a Uganda safari, the country offers a range of high-end camps that combine exceptional comfort with unrivaled wildlife experiences. These camps provide a perfect blend of luxury and immersion in nature, allowing travelers to explore the breathtaking landscapes and encounter the remarkable wildlife of the Pearl of Africa. In this article, we will explore the top five camps for luxury travel on a Uganda safari, highlighting their unique features and the extraordinary experiences they offer.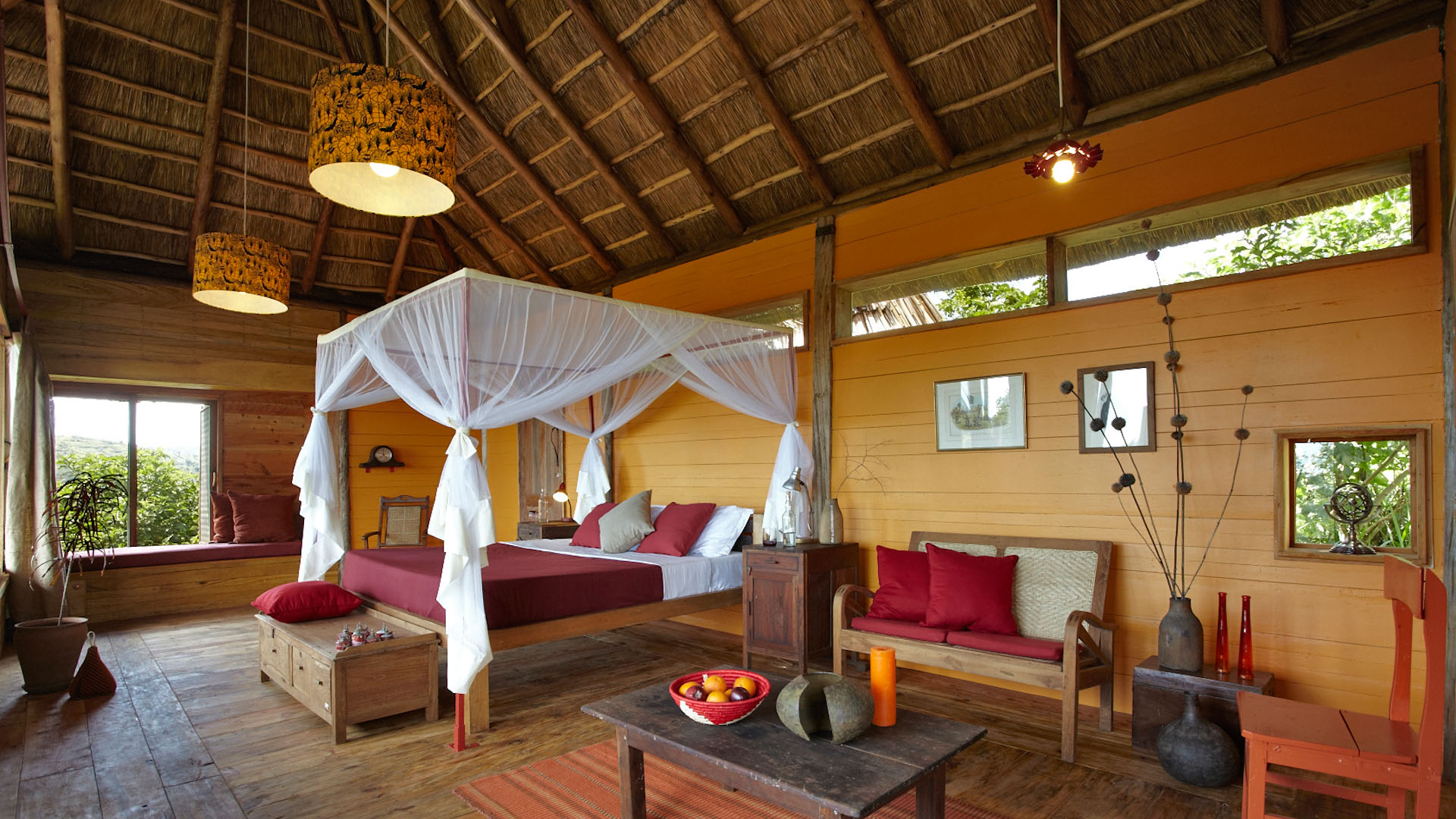 Sanctuary Gorilla Forest Camp:
Nestled deep within Bwindi Impenetrable Forest, Sanctuary Gorilla Forest Camp provides a truly exclusive and intimate experience with the endangered mountain gorillas. The camp offers luxurious safari tents, each featuring a private en-suite bathroom, comfortable furnishings, and a spacious wooden deck where guests can unwind and soak in the natural surroundings. With only eight tents, the camp ensures privacy and personalized service. Early morning gorilla tracking expeditions are also the highlight here, allowing guests to trek through the dense forest in the company of expert guides to witness these magnificent creatures in their natural habitat. After an exhilarating encounter with the gorillas, guests can return to the camp and also indulge in delectable cuisine and relaxing spa treatments.
Apoka Safari Lodge:
Situated in Kidepo Valley National Park, Apoka Safari Lodge offers a luxurious retreat in one of Uganda's most remote and untouched wilderness areas. The lodge features spacious thatched-roof cottages, elegantly decorated with local crafts and natural materials. Each cottage boasts a private veranda with panoramic views of the vast savannah plains. The camp's infinity swimming pool provides a refreshing respite from the African sun, while the open-air dining area offers delectable meals made from fresh local produce. At Apoka, guests can embark on game drives across the park, encountering a wide variety of wildlife, including lions, elephants, giraffes, and also zebras. The lodge also organizes guided walks to explore the park's diverse landscapes, where guests can spot unique bird species and take in the awe-inspiring scenery.
Chobe Safari Lodge:
Located on the banks of the Nile River in Murchison Falls National Park, Chobe Safari Lodge is a luxurious haven offering breathtaking views and unparalleled access to wildlife. The lodge offers a range of accommodation options, from elegant rooms to private safari tents and luxurious cottages. Each room is tastefully designed and equipped with modern amenities. Chobe Safari Lodge is renowned for its boat safaris along the Nile River, providing guests with the opportunity to witness the iconic Murchison Falls up close and encounter a wealth of wildlife, including elephants, buffalos, hippos, and also Nile crocodiles. The lodge also offers game drives, nature walks, and birdwatching excursions, ensuring a comprehensive safari experience.
Bakers Lodge:
Set on the southern bank of the mighty Nile River in Murchison Falls National Park, Bakers Lodge offers an intimate and luxurious safari experience. The lodge features spacious thatched cottages, designed with a blend of traditional and modern elements. Each cottage offers stunning river views, private decks, and en-suite bathrooms with open-air showers. Guests can relax by the lodge's infinity pool, savor delicious meals prepared with fresh local ingredients, and enjoy sundowners overlooking the river. Bakers Lodge offers various activities, including game drives, boat safaris, and birdwatching, providing opportunities to encounter the park's abundant wildlife, such as lions, giraffes, hippos, and numerous bird species.
Kyambura Gorge Lodge:
Nestled on the edge of Kyambura Gorge in Queen Elizabeth National Park. Kyambura Gorge Lodge offers a luxurious and eco-friendly safari experience. The lodge features stunning contemporary architecture and provides panoramic views of the surrounding landscapes. Guests can choose from eight spacious and stylishly decorated bandas, each equipped with modern amenities and a private deck. The lodge's infinity pool offers a refreshing retreat, and the open-air dining area serves delicious cuisine. This is made from locally sourced ingredients. Kyambura Gorge Lodge provides unique experiences. These include chimpanzee tracking in Kyambura Gorge, also game drives in Queen Elizabeth National Park. Also, it includes boat safaris along the Kazinga Channel. Here, guests can spot a wealth of wildlife, including chimpanzees, elephants, lions, and hippos.
In conclusion, luxury travel on a Uganda safari offers a range of exceptional camps. These provide a blend of comfort, exclusivity, and remarkable wildlife encounters. Whether it's the immersive gorilla experience at Sanctuary Gorilla Forest Camp. The remote wilderness of Apoka Safari Lodge, the Nile River adventures at Chobe Safari Lodge and also Bakers Lodge. Also, with the stunning vistas and unique activities at Kyambura Gorge Lodge. These top five camps offer an unforgettable journey into the heart of Uganda's natural wonders.