Budget accommodation in Tsavo west national park
Rhino valley lodge
Rhino Valley Lodge is a tented Budget accommodation in Tsavo west national park set against the backdrop of the rugged but scenic Ngulia Hills of Tsavo National Park, the Rhino Valley Lodge offers the most idyllic view of the pristine Tsavo West National Park which teams with thousands of wildlife including rhinos.
These can be viewed all year round from the verandas of the Rhino Valley Lodge bandas as they frequent the water pond just a few meters below the camp.
Accommodation
The lodge has 6 standard rooms, 10 luxury rock rooms and a campsite for discerning traveler.
The rock room is one of the most unique 'caveman' indulgences you will not find anywhere else in the world
The self-catering bandas tastefully furnished with rugged twin beds, a well-equipped kitchenette, and a complete bathroom suite will provide with the comforts of home away from home
The Tsavo Rhino River Lodge has modern gourmet restaurant with an elaborate menu specifically designed for those who love the out outdoors
There is a stocked 'tree bar', another extra-ordinary experience under wide starry tropical skies and in the warmth of a campfire
Kitani Catering Bandas
The Kitani Bandas are self-catering units located in Tsavo West National Park the largest game reserve in East Africa which is the largest game reserve in East Africa. The lodge is 5 kilometers from the Mzima Springs and 2 kilometers from the poacher's lookout.
Kitani Bandas are now affiliated to the nearby Severin Safari Camp. Being a short distance to Mombasa and Voi, the guests can easily tour these towns for leisure and other many sites and places to visit.
  Kitani Banda Accommodation
The Kitani lodge offers 8 bandas. The little houses have kitchenettes with tables and chairs, plates, pots, cutlery, glasses and cups and a herd with a gas and a washing basin. Each has its own bathroom equipped with towels, running cold and warm water, toilet and shower. Also, there are three beds per banda with clean white bed linen and mosquito nets.
A baby bed can be provided on prior request. Due to its proximity to Severin Safari camp about 1.5 km away guests can have their meals from their restaurant and refreshments in the Thorn tree bar.
Kiwanjani Eco lodge
To begin with, Kiwanjani Eco lodge is in the middle of the two Tsavo (east and west) and is the perfect choice for any visitor looking for a wildlife and bush experience in a remote part of Kenya. Additionally, the lodge has magnificent wild views of the game reserves. Therefore, it is ideal for game visits, nature walks and bird watching. Furthermore, the secluded and spacious thatched cottages are a reflection of contemporary Africa. They portray a combination of the traditional African building style with the modern luxuries to create a true eco lodge in all aspects.
Kiwanjani Eco Lodge Accommodation
Kiwanjani Eco lodge has thatched cottages that can accommodate 12 guests at any one time.
Additionally, all the rooms are en-suite with a toilet, bathroom and private veranda. All these are overlooking an animal waterhole where elephant and buffaloes drink water.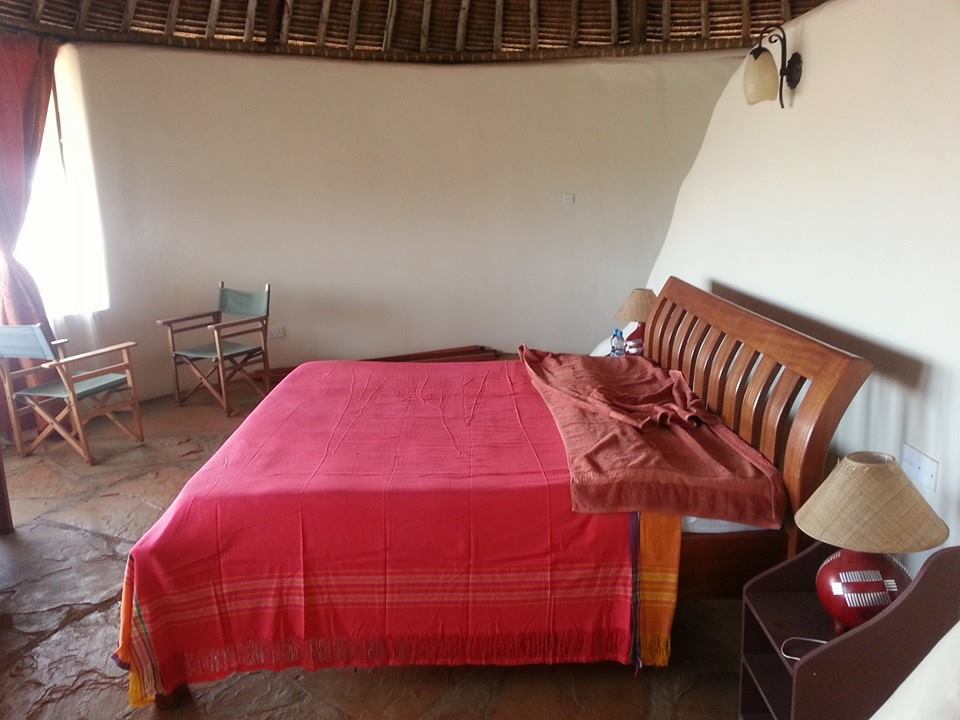 The bathrooms are large and spacious with overhead showers, flush toilets and wash basins. Also, guests can enjoy night game drives for a better opportunity to view the nocturnal wildlife. There are other activities, for instance;
bush breakfasts
sundowners in Gae Rock
hiking Mount Kasigau for the adventurous
visiting some of the community projects that we support